Hawaii – the tropical jewel of the Pacific. With its jaw-dropping natural beauty and world-class hospitality, this tropical archipelago is an ideal backdrop for a luxurious getaway. 
Those seeking an indulgent vacation are in for an unforgettable treat. Outfitted with this list of once-in-a-lifetime, pinch-me-I'm-dreaming experiences, Hawaii will leave an indelible mark on your heart.
Aloha, luxury traveler – your paradise awaits.
White glove hospitality on Maui
On Wailea Beach, one of Maui's most breathtaking stretches of sand, the Four Seasons Maui at Wailea stands as a beacon of opulence and natural beauty. This world-famous luxury resort, featured in season one of The White Lotus, is a paradise within paradise where visitors will discover the essence of Hawaiian beauty and hospitality.
The Maile Presidential Suite, named after the fragrant Maile plant native to the Hawaiian islands, is the most desirable lodging on the property. The suite exudes sophistication, featuring contemporary furnishings, a spacious primary bedroom with a soaking tub and rainforest shower, floor-to-ceiling windows, and multiple private lanais with sweeping views of the Pacific Ocean.
Its outdoor living space is nothing short of spectacular. The suite's expansive terrace has a private plunge pool, loungers, and a dining area. It's a great place to work on your tan or enjoy a meal al fresco and offers a front-row seat to Maui's famous sunsets.
If that wasn't convincing enough, the Maile Suite comes with dedicated 24/7 butler service, catering to your every need throughout your stay.
Unforgettable dining in Honolulu
Fine dining in Hawaii, particularly Honolulu, may not receive the accolades of other foodie destinations like New York City or San Francisco. But truth be told, Hawaii's restaurant scene is on par with its natural wonders.
In a recent conversation with Honolulu native Gaby Maeda, the Michelin-starred chef raved about the vibrant restaurant scene on Waialae Ave in Kaimuki and her go-to Chinatown spot Pig and the Lady. Honolulu's rich, multicultural history paired with its ubiquitous supply of fresh seafood and local produce, put a lot on the figurative mixed plate. 
If you're searching for the pinnacle of haute cuisine in Honolulu, book a stay at Espacio Waikiki with its Kaiseki in-suite dining experience.
Kaiseki is a sophisticated culinary tradition in Japanese culture featuring multi-course meals that emphasize seasonality, balance, and fresh, locally sourced ingredients. Espacio's Kaiseki chef Mamoru Tatemori is a masterful artist; each plate is a canvas, and the colorful ingredients paint a picture of the season.
Related:
Breathtaking Big Island views from above and below
Witness Hawaii's breathtaking beauty from above with a private helicopter tour of the Big Island. As you soar over lush jungles, waterfalls, and volcanic craters, then make an unforgettable landing on a secluded cliff, remote beach, or otherwise inaccessible location, you'll feel like you've unlocked a travel achievement in the game of life.
If you've touched down on the Kona side of the Big Island, it's worth a trip to Pu'uhonua O Honaunau National Historical Park to snorkel at Two Step Beach, where the crystal clear waters reveal a rainbow of tropical marine wildlife. Wait until sundown, and you might see the emergence of manta rays as they sup on the abundant schools of fish in these protected waters.
Luxury pampering on Lana'i
Amid lush gardens framed by calm ocean views on Lana'i, a remote island in Maui County only accessible by ferry or charter plane, you'll discover a gorgeous wellness retreat. Sensei at Lana'i takes relaxation and rejuvenation to a new level, creating an oasis for those seeking personal transformation and a deeper connection with nature.
At Sensei's state-of-the-art spa facilities, guests can indulge in traditional Japanese treatments, hot stone massages, and therapeutic body scrubs. The serene, private relaxation areas and meditation gardens provide a space for peaceful reflection.
Outside of the resort, you'll find an abundance of tropical flora and fauna hiking to Kehekili's Leap or diving near Lanai's Lava Pinnacles.
Romance in the waters of Kauai
Kauai's Nā Pali Coast should be considered one of the great wonders of the world. Inside this beautiful state park, emerald-green cliffs, carved by volcanic activity and centuries of erosion, tower above the ocean below. The contrast of verdant foliage against sapphire waters creates a mesmerizing panorama worthy of a postcard.
The best way to take it all in? A romantic sunset dinner cruise, of course. As you sail in a catamaran along the rugged, majestic coastline, you'll be rewarded with an evening of jaw-dropping scenery, delectable cuisine, and unforgettable memories.
Keep an eye out for dolphins and sea turtles. Lucky travelers might even spot humpback whales if they visit during the winter migration season.
Elevate your spirits on Oahu
You've heard of farm-to-table cuisine. A visit to Kō Hana Distillers on Oahu gives you a chance to try farm-to-table liquor. This homegrown distillery brings together the island's most cherished ingredients from local farmers to create unique, single-varietal Agricole rum.
Kō Hana's Rum Tasting Tour, offered hourly throughout the day, begins with a shot of raw, freshly pressed sugarcane juice. Tour guides then take you through the fermentation and distillation process, sharing their knowledge of Agricole rum and sugarcane's royal history in Hawaii.
The tour passes through a garden that showcases Kō Hana's different sugarcane varietals, some of which can only be found in Hawaii. The tour then makes its way to the heart of the distillery, the barrel room, where rows of reclaimed koa wood barrels line the walls.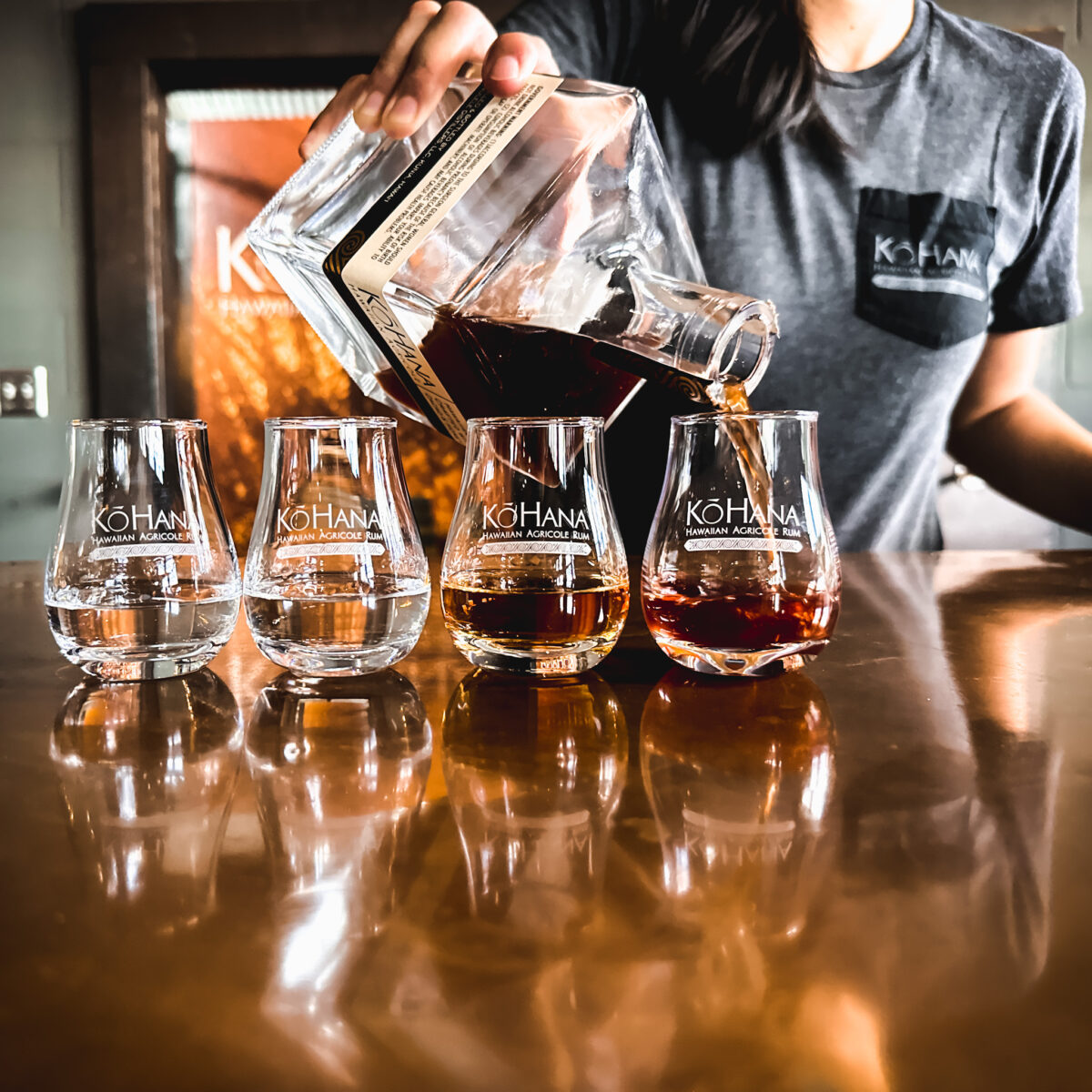 The tour culminates in the tasting room, an intimate space where you're invited to sample the distillery's finest rums and mixed drinks. We recommend opting for Kō Hana's specialty tasting menu, a sampling that highlights the distiller's reserve selection of small-batch, single-varietal spirits.
Related:
Pack your bags, we're going on an adventure

Subscribe to our weekly newsletter for the best LGBTQ+ travel guides, stories, and more.