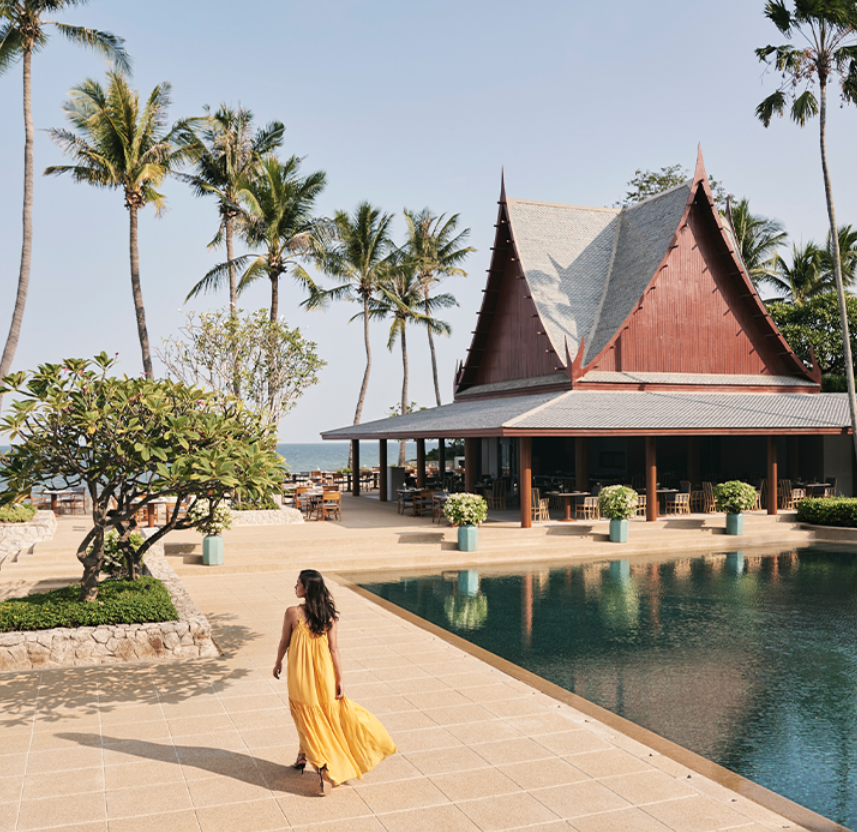 In the journey to self-discovery and self-love, few experiences compare to visiting a destination spa. Whether you're seeking a romantic rendezvous, a soul-searching solo adventure, or the camaraderie of a friends' retreat, these eight destination spas across the globe offer unforgettable, one-of-a-kind getaways that create a peaceful backdrop for relaxation, self-care, and harmony.
Ten Thousand Waves – Santa Fe
Nestled in the high desert foothills of the Sangre de Cristo Mountains, 10 minutes from downtown Santa Fe, this exquisite resort's verdant setting and breathtaking views provide a sense of escape from the ordinary. Ten Thousand Waves is more than just a spa – it's a bucket list destination that combines natural beauty and a commitment to holistic well-being to deliver an authentic Japanese onsen experience.
Ten Thousand Waves will indulge your senses. From its vast selection of treatments and services to its Japanese-inspired hotel, Houses of the Moon, and onsite restaurant Izanami. One of the highlights of Ten Thousand Waves is its outdoor soaking tubs, each set in a private garden area. You can book these clothing-optional escapes for a relaxing hot bath experience au natural.
Izanami, the highly acclaimed restaurant next door, is an excellent place to treat your tastebuds post-pampering. It boasts a menu of sushi, robata grill dishes, and shabu shabu alongside a noteworthy selection of Japanese whiskey and sake. Its stellar adult beverage program is brought to you by a woman with a truly amazing palate, master sake sommelier Deborah Fleig.
The Blue Lagoon – Iceland
Set in Iceland's dramatic, almost extraterrestrial, volcanic landscape, the Blue Lagoon gives visitors an otherworldly bathing experience.
Surprisingly, the lagoon is not a naturally occurring hot spring but a human-made geothermal spa heated by a nearby power plant that harnesses energy from Iceland's volcanic activity. The result is milky-blue, mineral-rich waters thought to have therapeutic properties.
Elongate your visit by relaxing in the lagoon's steam room, sauna, cold showers, and swim-up bar, where you can enjoy drinks while you float and soak. Guests can also indulge in DIY silica mud masks supplied by attendants or scraped directly from the lagoon's walls. 
If you prefer to leave your skincare to the pros, we recommend booking a stay at The Retreat, a luxury hotel in the Blue Lagoon complex. It presents a high-end experience with elegant suites, private terraces, a Michelin-starred restaurant Moss, and access to the Blue Lagoon Retreat Spa. Guests can also enjoy in-water massages and the Retreat Lagoon, a quieter section secluded from the main lagoon area.
Most travelers visit the lagoon for just a few hours, returning to other accommodations at the end of the day. But for the flossy few who want to splurge, make a reservation at the Silica Hotel. This world-class hotel is just a short walk, an even shorter shuttle ride, to the Blue Lagoon. It features chic, well-appointed rooms and suites, many with views of the surrounding lava fields.
During their stay, guests at the Silica Hotel enjoy complimentary access to the Blue Lagoon. However, if you're searching for solitude, you can avoid the crowd and enjoy the hotel's private silica mud lagoon, a mini Blue Lagoon, if you will, available to guests only. A highlight is a delicious all-you-can-eat breakfast buffet that will satisfy even the most discerning palate, complete with every breakfast food imaginable.
The Retreat Costa Rica
The Retreat Costa Rica offers an idyllic escape for those seeking a deeper connection with nature. Located in the coastal town of Playa Hermosa, ​​The Retreat Costa Rica's stunning views of the Pacific Ocean and tranquil atmosphere will help you find your inner peace.
​​Primarily known as a wellness and yoga center, The Retreat prides itself on its commitment to sustainability and holistic health. It creates a peaceful and rejuvenating environment where guests can focus on their physical, mental, and spiritual well-being.
Daily yoga and meditation classes are held in open-air yoga pavilions with panoramic views of the ocean and the surrounding natural beauty. The Retreat's luxurious yet eco-conscious accommodations are designed to provide comfort while helping you integrate with nature.
The onsite restaurant serves farm-to-table cuisine, emphasizing locally sourced, organic ingredients. Guests can tailor their experience with personalized retreat packages to meet their specific wellness goals.
Beyond yoga and wellness, The Retreat Costa Rica encourages guests to explore the region's natural beauty through activities like hiking, birdwatching, and visits to nearby beaches.
Chiva-Som – Thailand
Chiva-Som is a sanctuary for those seeking a transformative wellness journey. Situated in the coastal town of Hua Hin, near Bangkok, Chiva-Som will guide you on that journey in a peaceful, luxurious environment surrounded by lush tropical gardens, tranquil pools, and ocean views. Guests have direct beach access, allowing for unencumbered seaside relaxation and water activities during your stay.
This destination spa is world-renowned for its comprehensive approach to wellness. At Chiva Som, guests consult with experienced professionals to create personalized health programs that cater to all aspects of well-being — physical, mental, and emotional.
In addition to its many spa services, including massages, facials, hydrotherapy, and traditional Thai healing techniques, Chiva Som emphasizes the importance of holistic wellness through meditation practices.
Tassajara Zen Mountain Center Hot Springs – Central California
If you want to retreat into your innermost self and wash away your ego, then Tassajara is for you.
The Tassajara Zen Mountain Center is a remote Zen Buddhist monastery deep within the Ventana Wilderness near Big Sur in California. It welcomes resident monks and lay visitors seeking spiritual reflection, relaxation, and immersion in nature.
The most iconic feature of Tassajara is its natural hot springs, nestled along Tassajara Creek. The 2.5-hour journey from Monterey includes a rugged, winding road, adding to the sense of remoteness and seclusion. In this part of California, one of its most stunning viticultural areas, you will feel very much "off the grid" without leaving certain comforts of home.
However, you will not find the same materialistic opulence here compared to other selections on this list. Visiting Tassajara provides an excellent opportunity to adopt the Zen way of life. This immersion can be a profoundly transformative experience for those seeking spiritual growth.
Visitors can choose between dormitory-style lodging shared with resident monks or private cabins. Guests are encouraged to participate in the daily schedule of meditation, chanting, and chores alongside resident monks. Tassajara serves delicious vegetarian meals as part of its communal dining experience prepared with ingredients from the center's organic garden. (The Tassajara Bread Book is a great keepsake and famous among home bakers.)
Beauty Suites at Harrod's – London
Now, for something completely different…
The Beauty Suites at Harrods is a luxurious destination spa in the world-famous department store in Knightsbridge, London. Harrods is known for its opulence and high-end offerings, and the Beauty Suites are no exception. The decor is elegant, the ambiance is serene, and the treatments are divine. A spa day here will make you feel like British royalty.
The Beauty Suites serves a comprehensive menu of wellness treatments provided by highly skilled therapists and aestheticians. Its wide range of services, like microdermabrasion, facial peels, massages, body wraps, manicures, and more, incorporate the finest skincare products in the industry from brands like Chanel Privé, Dior, Chantecaille, Clarins, and La Mer. This, coupled with Harrods' vast collection of designer and luxury apparel and goods, is like a one-stop luxury shop where you can carry out your own "Princess Diaries" makeover montage.
The Dior Institut at the Hotel Plaza Athénée – Paris
The Dior Institut is a prestigious spa and wellness center that marries the elegance of the iconic Hotel Plaza Athénée with the renowned skincare expertise of the Dior brand. Located in the heart of Paris's haute couture district on the Avenue Montaigne, this destination spa is a uniquely indulgent experience that is sure to live rent-free in your head for the rest of your life.
Like the Beauty Suites at Harrod's, this wellness destination gives each guest a professional consultation to tailor its signature treatments, exclusive to the Dior Institut. In addition to treatment rooms, spa guests can access its relaxation lounge, a hammam, and fitness center, as well as the hotel's other amenities, such as its Michelin-starred restaurant, Jean Imbert au Plaza Athénée, and its bar, Le Bar du Plaza Athénée.
Moana Lani Spa – Waikiki
"Moana Lani," in Hawaiian, means "Heavenly Ocean," reflecting this spa's tranquil setting by the Pacific Ocean. Situated within the historic Moana Surfrider, a beautiful beachfront hotel known as the "First Lady of Waikiki," Moana Lani Spa feels like a paradise within paradise.
Whether you're looking for a relaxing couples massage, facial, manicure, or a full day of pampering, this heavenly destination spa will help you feel the aloha spirit in the heart of one of Hawaii's most popular places. 
Moana Lani's highly skilled, attentive therapists provide personalized services, including signature treatments like the Lomi Lomi Massage, a Hawaiian bodywork technique that combines physical manipulation with spirituality and intention. Lomi Lomi massage is characterized by long, flowing strokes that mimic the rhythm of ocean waves.
Its communal spa area, complete with a hot tub, steam room, relaxation lounge, and sauna, overlooks picturesque Waikiki Beach, a stunning location to catch the sunset and create memories that will last a lifetime.
So, pack your bags, leave your worries behind, and embark on a journey of self-discovery and self-love at a destination spa tailored to your unique needs and desires. Before planning your visit, check the spa's website or contact them directly for the latest information, services, and availability.
Stay up to date on the latest travel and nightlife stories…