Burning Man often evokes aspects of distinct narratives, from the post-apocalyptic aesthetic of Mad Max to the sculpture-laden desert landscapes of Salvador Dali's Destino. But this year's Burn was more like the tale of Noah's Ark.
Embracing the theme of Animalia, various Glamcocks, Pink Ponies, Mudskippers, and the rest of the Burner bestiary frolicked in the garden of earthly delight that is Black Rock City. Then suddenly, their dust-stained debauchery was washed out by a flood of biblical proportions, forcing the beasts of BRC to seek refuge. After several days of the deluge, they emerged to find a sunny (albeit muddy) Playa, complete with a double rainbow.
For those who missed Burning Man 2023, we've compiled the hottest, and soggiest, photos from the affectionately nicknamed "Drowning Man" shared exclusively with GayCities.
All photos by Mike Ciriaco
Of the many structures populating the Playa of Black Rock City, the most iconic is The Man. The tradition of burning this eponymous effigy harkens back to the inaugural Burning Man of 1986, then hosted at San Francisco's Baker Beach. As a nod to the year's theme of Animalia, the Man's design incorporated honeycombs, which served as both seating for visitors and sanctuary during duststorms.
Another relevant Playa structure was Nosotres, a tribute to Mictlan, the Aztec underworld. Visitors were encouraged to scale up the wooden planks comprising the building, an analogy of transcending the nine levels of this ancient culture's afterlife. The inclusion of non-binary faces on its facade is a reminder that queer people have always existed.
Animalia was also reflected by the identities of several queer tribes, such as Camp Fur, an oasis for the Burn's furry, anthro, and pup communities. Fur's paw-shaped logo could be seen from deep Playa, acting as a beacon for lost Burners trying to get back to BRC's gayborhood.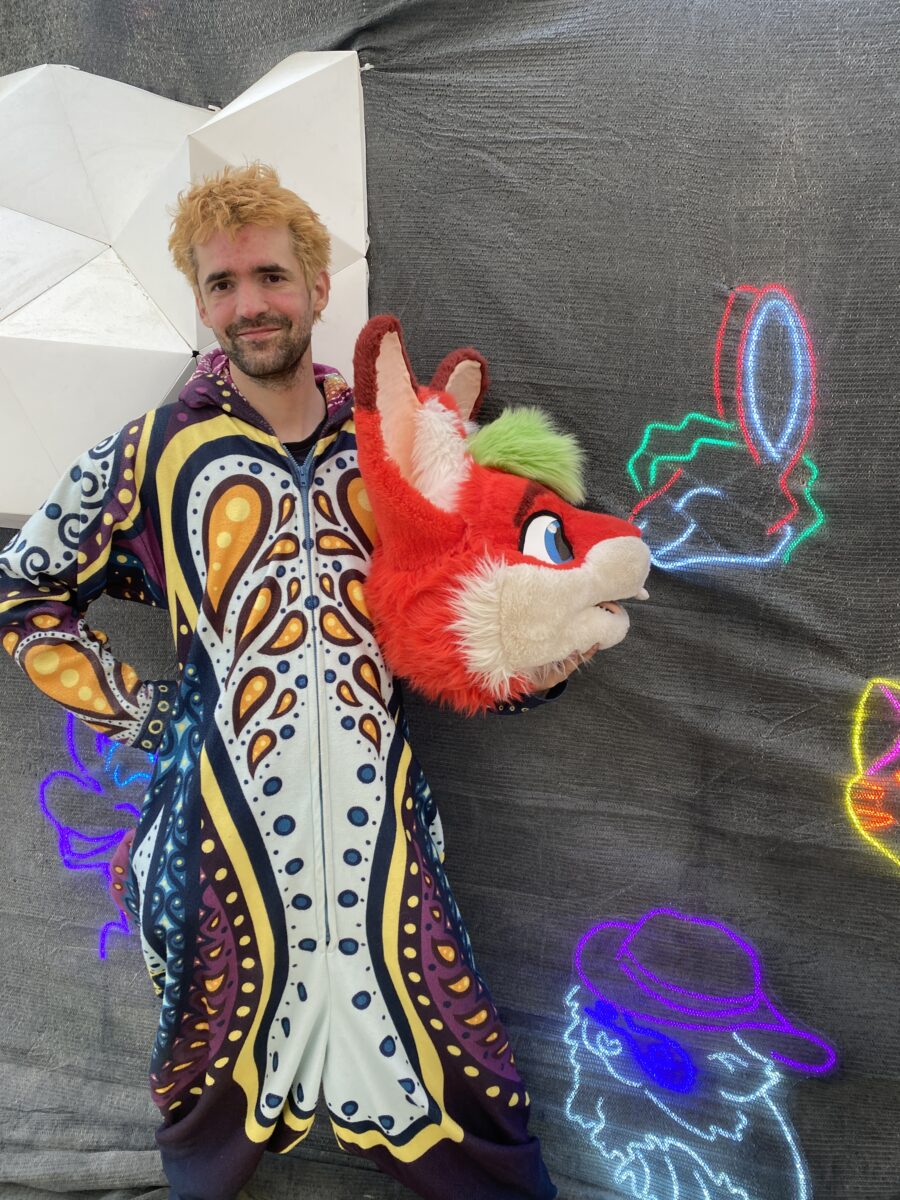 Another queer camp that embodied Animalia is The Glamcocks. This prominent gayborhood glamily serves as a quasi-LGBT Center for Black Rock City, offering cold brews and workshops during the day, and thematic parties at night. This year's festivities included 'Catpocalypse Meow,' 'Ei Ei Glow,' and 'It's Britney, Beach.'
Some Burners embody the theme of Animalia in their personal identities. Dustin "Dusty" Schur has long been associated with sloths, tracing back to his work on a nature documentary he did years ago. He's often accompanied by sloth stuffed animals, such as Rescue, a motorized sloth gifted to him this year by a campmate.
Dusty infused a dollop of Animalia at this year's Tighty Whities Tuesday party. Hosted by the homocentric Camp FruitPOP, this annual tradition encourages Burners to strip down to their skivvies and tear up the dance floor.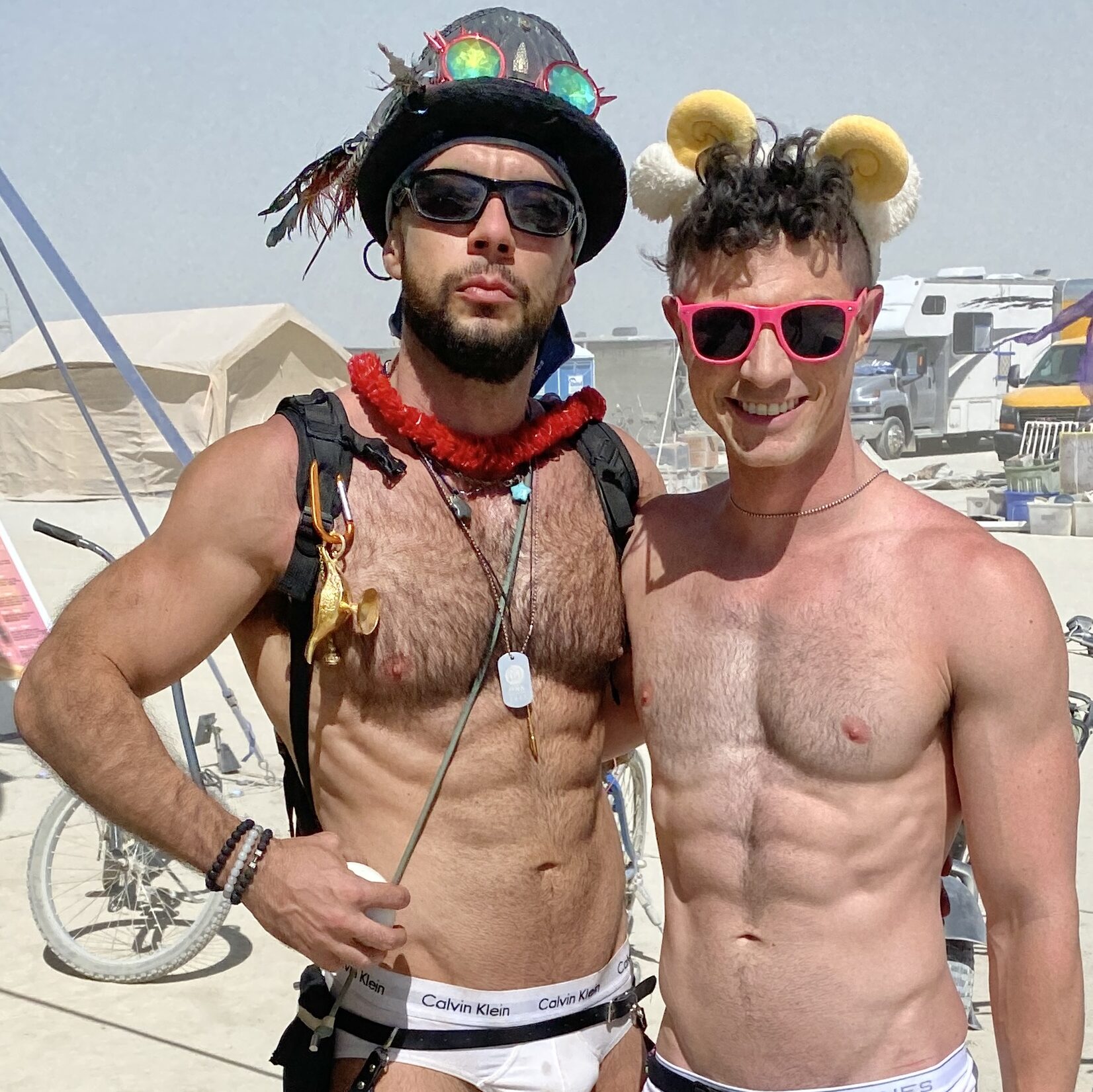 Fashion intersected with Animalia at Camp Conception for their loincloth-making workshop. Participants dug through animal-print fabrics and assembled them into skimpy primal garments. This workshop proved less is more.
This year's Burn was most notable for the intense storm that flooded the Playa over its weekend. While some camps canceled their events, others adapted. For example, the Glamcocks relocated their annual Friday beach party into a shipping container refurbished as a speakeasy.
By Monday, the storm clouds dispersed, but Burners still had to contend with a very muddy Playa.
Once the mud hardened and the air dried, the beasts of BRC resumed their annual rituals. Two days behind schedule, the Man finally burned. The fact that it occured on Labor Day was an inadvertant reminder that Burnign Man isn't just a week of sex, drugs, and EDM. Its a prinicpled labor of love.