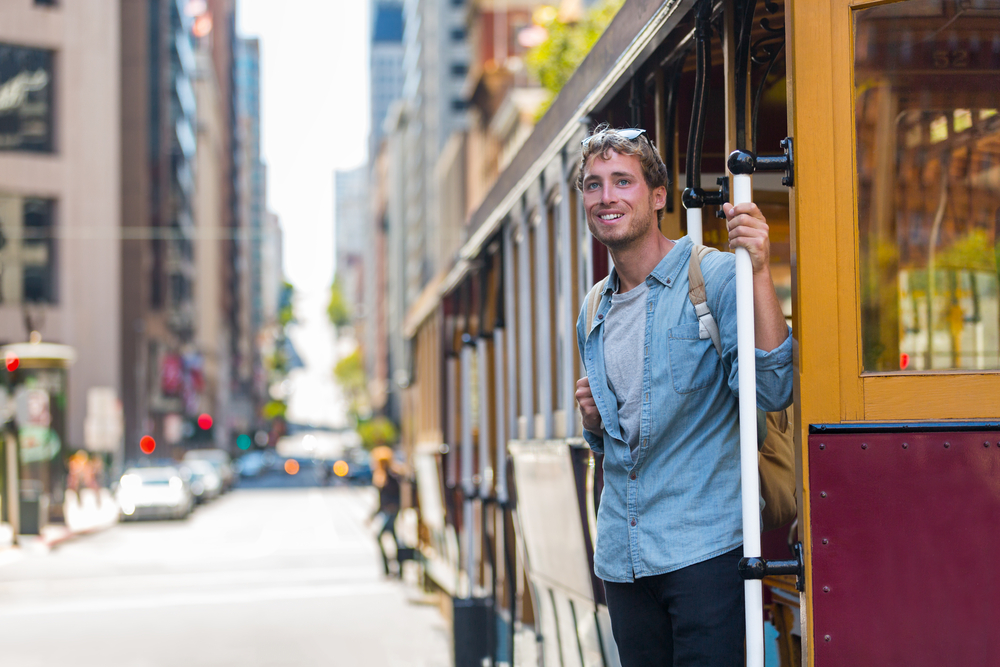 From frothy ocean to calming bay, San Francisco is only 7 miles wide, making it one of the most walkable cities in the world. So leave the car behind and lace up your walking shoes. Whether sunny or famously foggy, the weather will likely be perfect.
One of our favorite foot journeys is from the Fillmore District through Golden Gate Park to Hayes Valley and back again. Along the way, you'll experience much of what the City by the Bay has to offer, from gorgeous parks to great food and cocktails, all replete with queers as far as the eye can see.
1. Hotel Kabuki
Start your day at the funky yet elegant Hotel Kabuki, where you can sip complimentary coffee in the colorful lobby or its garden courtyard with a koi pond.
This well-situated hotel in Japantown is the perfect place to rest before you start your walk–and to relax afterward.
2. Jane on Fillmore
There's no shortage of eccentric breakfast spots in San Francisco. Jane on Fillmore is one of the coolest. Carb up for your urban hike with a cappuccino and one of their fresh pastries baked only a few blocks away at Jane's own bakery.
3. National Memorial AIDS Grove
Head south on Fillmore Street, past The Fillmore, the iconic rock concert hall, and walk about a mile to Golden Gate Park. In the heart of this expansive urban park, you will find the National AIDS Memorial Grove, a 10-acre memorial dedicated to those lost to HIV/AIDS.
Take your time wandering around the grove, which is painstakingly maintained by the park service, where you can contemplate how much we have lost to the international pandemic but also the strength the community has shown in taking on the health crisis over the last four decades.
4. de Young Museum
Walking through Golden Gate Park, you can't miss the de Young's austere pyramid-like facade peeking over the tree line. After paying homage to the Keith Haring sculpture at its entrance, feel inspired as you meander through the de Young's collections of contemporary, modern, and classical fine art.
After your tour, have a lunch break at the de Young's stylish café overlooking the Barbro Osher Sculpture Garden Terrace. This grassy knoll is a serene spot to gather your energy before venturing out of the park.
5. The Archive San Francisco
No trip to San Francisco is complete without stopping at its many boutiques, from retro fashions to the most modern.
One tucked-away jewel in this city's style scene, just north of Golden Gate Park, is The Archive. The sweet and knowledgeable owner Arthur will give you a private tour of Italian and Japanese fashions.
Check out his stunning collection of Boris Bidjan Saberi, the great German designer based in Barcelona.
6. Zuni Cafe
At this point, your energy may be flagging and you are ready to recharge with some gourmet grub. Grab an Uber (or driverless Cruise) and head to Zuni Cafe on Market Street.
This buzzy, bi-level restaurant, set in a triangular building with floor-to-ceiling windows, is perfect for watching the crowds march up the block to the Castro.
Start with a handmade cocktail at the bar, stretching across the entrance to the restaurant's seating area, and then order Zuni's famous roast chicken, a kind of San Francisco tradition not to be missed.
7. Martuni's Bar
Just up the block from Zuni lies Martuni's, a legendary San Francisco piano bar.
Grab a cocktail at the bar in the front then head to the back of the bar to hear amateurs and professionals alike take their turn belting out hits on the grand piano.
8. Kabuki Springs & Spa
After hitting the softest pillow you can imagine back at Hotel Kabuki, you'll wake up feeling yesterday's long walk. Complete your San Francisco journey with a short trip next door to Kabuki Springs & Spa, where you can treat yourself to a first-rate massage and enjoy the communal bathhouse complete with a hot tub, sauna, steam room, and cold plunge pool.
This is not that kind of bathhouse. Kabuki Springs & Spa is nirvana where you're sure to feel the rejuvenation you need to take off on your next San Francisco experience.
Make sure to book in advance, and note that there are mixed and same-gender days, depending on your preference.