The San Francisco Arts Commission is presenting Juanita: 30 years of MORE!, showcasing the life and work of Juanita MORE!, the grande dame of the San Francisco drag scene.
The exhibition will be available to the public at the SFAC main gallery in the War Memorial Veterans Building from September 30 to November 12. It will feature over 40 pieces of commissioned artwork and dresses. These items offer a glimpse into the fabulous, purpose-driven life of Juanita and the thousands of artifacts that she has collected throughout the course of her career.
"When I think about the past thirty years, it all plays like a movie rewinding at high speed—full of detail, stories, and characters, rich with visuals that are full of vivid colors and textures that blur together like a kaleidoscope," says Juanita. "Yet, I've never claimed complete ownership of Juanita's realization or activism. Instead, I've been the vehicle that brought her to life through the work of many talented artists, non-profits, and a community I consider my chosen family. And this exhibition is my loads of love letters to all of them." 
In celebration of this exhibition and Juanita's contributions to philanthropy, activism, and performance, we asked Juanita to help us compile a snapshot of her glamorous life in pictures.

Origins of Originality
She was born! The weekend before Halloween in 1992, Glamamore put Juanita in drag for the first time. "You're gonna be hideous!" she said. Juanita's responded, "Well, I wasn't, and I loved it!"
Juanita's drag mother Glamamore contemplated her name over dinner at the now-closed Leticia's Restaurant on 7th Street. They had already decided that she would take the last part of their name (more). While dining, they noticed they noticed a poster for the film Imitation of Life above their table. They looked at one other when they saw the name of one of the film's stars – actress Juanita Moore and said BINGO!
The drag performance troupe The Fishstix was founded, consisting of Mad Azell, Velveeta Chez, Staci Gives, Glamamore, and Juanita MORE! Their first show was at The Improv on Mason Street in San Francisco.
The MOREboys were born as part of an artistic subculture that surrounds the drag queen artist and socialite Juanita MORE! They are her entourage who participate in her artwork, persona, philanthropic efforts, and lifestyle. Juanita's underground Moreboy clique began in San Francisco, California. In a San Francisco Examiner article, writer Bill Picture describes Juanita MORE!: "She travels with her gaggle of devoted young hunks, whom she calls her "MOREboys," and regularly rubs shoulders with some-bodies across the social and class spectrum – it is her very willingness to cross boundaries (and the relative ease with which she does it)."
Juanita MORE! took over the "Ladies" room on the second floor of The Warfield Theater for a Gus Bean production. Dubbed "The Toilet Room," these parties included DJs, a bar, and a dancefloor while the circuit party played on the main floor.
Projects in the Arts
This photo is from the Booty Call Photo Series, Live Art Gallery. The Booty Call Photo Exhibitions were an ongoing series of photographic portraits taken by the artist Juanita MORE!, with installations held at various local galleries.
Tenderloin Rendezvous for Tenderloin AIDS Resource Center at the Great American Music Hall. As part of the celebration, they honored Les Pappas and the employees and staff of SFDPH Tom Waddell Health Center/Homeless Programs and GATX Capital to support and commit to residents of San Francisco's Tenderloin. In addition, over $52,000 directly went to support the great work at TARC.
For her first European tour, Juanita traveled to France, England, Germany, and Spain, falling in love with every country she visited.
In 2004, Juanita became a first-time mother. "My first drag daughter was born and named Candi Gurl."
RELATED: Juanita MORE's epic Pride party brings loads of love to San Francisco
Juanita's Sainthood confirmed
In 2005, Juanita MORE! served as the Community Grand Marshal of San Francisco Pride. Grand Marshals are local heroes who have significantly contributed to the SF Bay Area.
In 2006 Juanita MORE! was sanctified. The admission into Sainthood goes like this: "Our lady of boundless lashes and bottomless boys – Sisters of Perpetual Indulgence. Be it decreed that from this day forward – that your transgressions shall be reduced to mere fluff in the eyes of the Goddess who knows all and forgives all. Your good works shall be remembered in honor and perpetuity. You shall forever stand as a pillar of strength in The Community. You are hereby perpetually allied with the Order of The Sisters of Perpetual Indulgence, Inc."
Is there nothing they can't make a little brighter with their glittering presence? And here we must pause to tip our feathery fedora to she who reps the platinum standard of awe-inspiring cross-dressing performance: Miss Juanita MORE! No mere Streisand-synched, class-act, Juanita dusts off overlooked musical nuggets of the past and gives them their shiny due. Despite punk-rock tribute trends and goth night explosions, Juanita's focus stays primarily, perfectly, on that sublime subcultural slice of sonic history known formerly as "race music" and currently as R&B. Her dazzling production numbers utilize large casts of extras, several acts, and impeccable costumery that pays tribute to everything from Scott Joplin's ragtime to Motown's spangled sizzle, dirty underground '70s funk to Patti LaBelle's roof-raising histrionics.
Not For Sale showcased 20 years of collaboration with the release of a self-titled book.
In 2011 Jackson, the French Bulldog became part of the MORE! family.
In 2013 Juanita was featured on the cover of 7×7 in "The Secret Life of Juanita MORE!"
Community collaborations
In 2015, the Academy of Art University students designed Juanita MORE! totes.
Juanita received the San Francisco Human Rights Commission HERO Award in 2016. Each year, the Human Rights Commission and its Equity Advisory Committee seek to acknowledge and honor individuals who advance civil rights in San Francisco.
In 2017 Juanita served as the Grand Marshal of the Krewe de Kinque Bal Masque XIV – 14 Karat Gold.
At the Come Together Rally & March Against Hate, thousands of demonstrators denouncing racism filled the city's streets. Right-wing activists who had planned a show of force here found themselves holding meetings in secret locations to avoid the wrath of counter-protesters.
The rise of an empire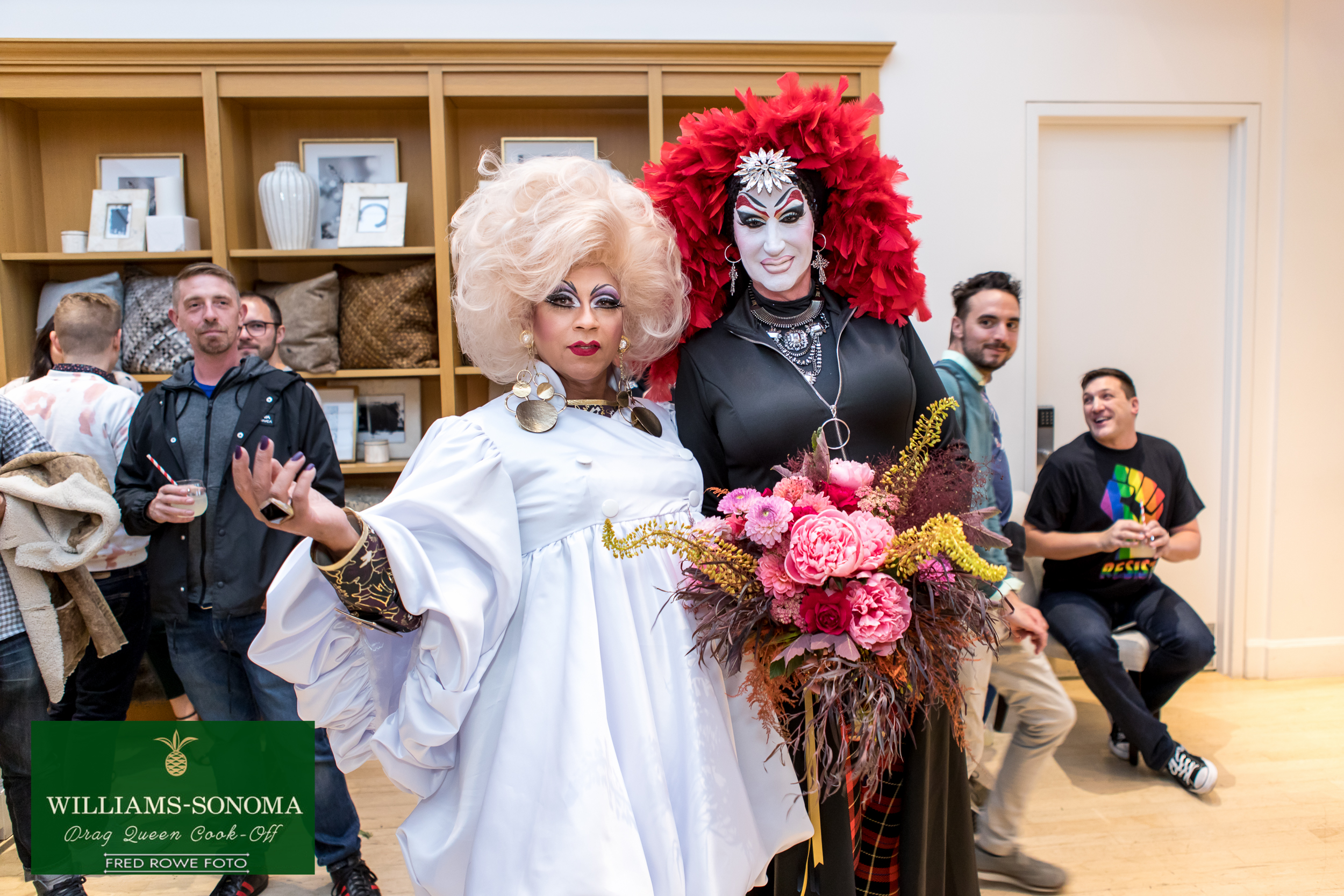 Williams Sonoma Drag Queen Cook-Off. In 2018 Juanita won the title of the Williams-Sonoma Annual Drag Queen Cook-Off benefiting The Trevor Project.
RELATED: This is how the fabulous Juanita MORE! rules San Francisco nightlife