There are multiple ways to arrive at Guatape, an Andean resort town located in Antioquia, Colombia, that bridges upscale luxury with unabashed local culture. If you can't handle worlds and social classes colliding, then maybe just roam within the compound of one of its surrounding 5-star hotels. 
For travelers and ex-pats making the journey from Poblado, Medellin: rent a car or hire a driver. During weekends, plan for traffic. 
Contracting a local driver obviously comes with the perks of Dolce Far Niente, and a bilingual person will prove helpful for visitors who don't speak Spanish. On the other hand, car renting allows for more freedom, especially if your planned activities finish late. (Party people better ensure one of them stays sober and doesn't fall asleep during the occasional evening tail-to-tail tiring traffic.)
The road trip (sans traffic) is about an hour and forty minutes long. However, there are more scenic routes, especially if you're interested in indulging in Colombian authenticity along the way. 
Breakfast at Salto del Tequendamita 
One of the downsides of Poblado's gentrification is the loss of traditional cuisine via restaurants catering to tourists and ex-pats, especially Americans, and their passion for all things covered in sauce and bread crumbs. Entering Salto del Tequendamita, you will immediately be greeted by its 400-feet waterfall roaring in tranquility over the cliff's edge. The restaurant El Tequendamita offers outside (unencumbered views of the waterfall) and inside seating. We highly recommend ordering the "Desayuno," which comes with arepa (get ready for mozzarella in its purest form), 'huego' scrambled eggs with homemade sweet bread, and coffee or chocolate. Talk about a traditional and delicious Colombian breakfast! Total price? 15 mil pesos or about $5 rounding up. 
Plaza de Mercado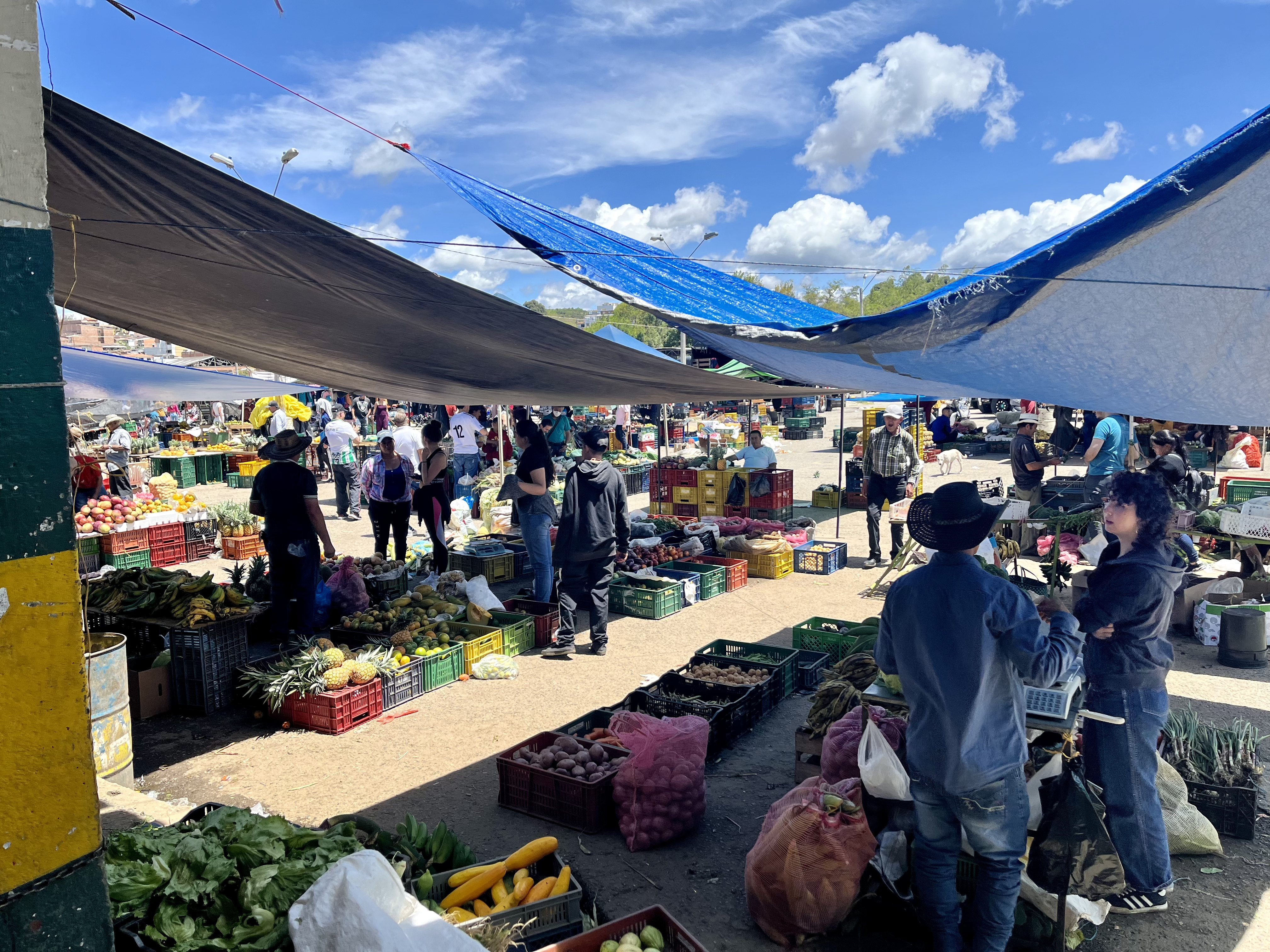 As you continue the "Vuelta Orienta," as our driver, Sarita, referred to choosing to take the scenic oriental route, make dessert another Colombian delicacy: its bountiful exotic fruits. In fact, the country offers over 400 edible native species, including goldenberry, gulupa, dragon fruit, guanabana, passion fruit, mora, and granadilla. Plaza de Mercado is a fruit marketplace filled with vendors selling all these delicacies to locals and tourists. 
Sarita asked if it was OK to purchase from Margarita, one of the fruit vendors who lost her husband during the pandemic. It's common for local workers to form bonds and try to help each other. These small acts of kindness embody Colombian hospitality and culture at its root. 
We also passed San Antonio, another small town famous for its desserts. Again, researching and asking the right questions will ultimately maximize the experience for your travel taste buds. "Estamos en dieta," we told Sarita, thinking about our upcoming boat ride. 
That brings us to… Guatape. 
The Pueblo
What can we say besides that it is freaking cute! The town is a colorful small village of stores, eateries, homes, and locals earning an honest wage. Its vibrancy started with families painting images along the sides of their homes, more specifically to indicate what kind of business they offered. We suggest allowing some room for spontaneity in exploring the entire village, most of it walkable unless you're planning to stay the night at one of its surrounding resorts. Toktoks are the town's taxis (think the pueblo version of a jeep) but way more exciting to ride.
When dining, remember that diet restrictions aren't really a thing here, specifically dairy. Many dishes will include cheese without specifying it, and specific orders reflect gentrification that got lost in translation. For example, we ordered a vegetable crepe to receive a massive fluffy pancake sandwich. Latte? Black coffee in one cup and warm milk in another. 
Guatape Boating & Water Sports
The most fun you can have in Guatape will undoubtedly occur on the water. The gays appreciate myriad options like no other, so whatever water adventure satisfies your kink (except golden!) can probably be found here. Sarita organized a speed boat (there's genuinely no luxury in travel like curated convenience!), and the experience – more specifically, the views – are indescribable.
Putting your phone down is impossible without immediately seeing another scenic shot to snap. But then, you will quickly grow frustrated that photos and videos just don't do it justice.
Aside from the mountain views and countless seaside mansions and resorts, you'll see Pablo Escobar's estate (including the part that was bombed), the remaining floating cross representing a town now undersea, and Maluma and JBaldwin's homes. 
Uno más, por favor!
We loved it so much that we rented a car and came back the next weekend. This time, we chose to skip straight to the water action and picked a boat for wakeboarding. There was a mix of wakeboarding beginners and veterans, so it's truly a sport anyone can try and enjoy. Athleticism helps. Though if you prefer to abstain and bask in the sun with a cocktail, that's fabulous too. It's almost impossible not to have fun on a boat. Look at one of our first-timers, Camila Rodriguez, prove to the gays that we should all aspire to wakeboard like a girl! 
El Peñón  
After wakeboarding, we decided to stay later (yay for car rentals!) and visit El Peñón de Guatape. It's arguable the face of the town and could be seen from almost any vantage point as it towers up about 656 feet above its base. In fact, plenty of visitors arrive just to scale this 65-million-years-old rock via a staircase with 708 steps built into one side. Or visitors could order pasta instead and enjoy the stunning landscape at the three-story viewpoint tower offering food and drinks. 
RELATED: Guadalajara is your sexy undercover gay gem in Mexico