Before your New Year's Eve resolutions set in, get ready to go big (or go home) one last time in 2022. GayCities found the hottest New Queer's Eve celebrations, from NYC rooftops and circus tents to Mexican beaches and nightclubs in Madrid.
New Year's in Los Angeles
Masterbeat presents its 22nd annual NYE celebration with 5 events.
Dec 30, 2022 – Jan 2, 2023
This New Year's Eve party goes all weekend long, with 5 events hopping between some of LA's hottest clubs. It all starts Friday at DTLA's iconic Belasco Theater with two parties in one. DJs GSP and Sagi Kariv turn in out downstairs for Masterbeat's Masquerade, while Bears in Space and Heidi Lawden spin upstairs in the Belasco Ballroom for the Disco Ball. After a much-needed disco siesta, the festivities move next door to The Mayan for the main event Carnival New Year's Eve 2023. After the ball drops and downtown starts to fade, the revelry moves up to Hollywood for the XXX: Redlight District Afterhours at Academy Nightclub. The weekend wraps up at the historic Avalon Theater for the Neon Circus closing party. For our party boys looking for a nearby high-end crash pad, be sure to snatch a suite at the W Hotel and catch up on your REM cycles after this NYE marathon.
---
'Queerchella' in Miami Beach
Jake Resnicow and Pollen Presents Dreamland: New Year's Festival
Dec 29, 2022 – Jan 2, 2023
If you're ready to go all out this NYE, this four-day festival dubbed Miami's queerchella is the celebration for you. The weekend is made up of five parties featuring performances by Sofi Tukker, Spencer Huff, Matt Denton, and Ty Sunderland, to name a few. This marathon of music kicks off Thursday with Neon Dreams at The Oasis, then flows into Friday for Meat XXL at M2. The festivities crescendo into Saturday at M2 Deluxe for the main event Dreamland New Year's Eve featuring a surprise special guest DJ. Revelers can enjoy a coda to this weekend on Sunday with a duet of events at the Oasis, with Horse Meat Disco in the afternoon and Purple Disco Machine at night. At some point during this cacophony of queerness, you should probably replenish the carbs you danced off. Consider hitting up Big Pink in South Beach for some traditional diner fare to absorb a weekend's worth of NYE libations.
---
Techno & Leather in Madrid
PRIDESH NYE Week
Dec 28, 2022 – Jan 8, 2023
For our fetish-focused jet setters who find themselves in Spain for New years be sure to smack up PRIDESH NYE Week. The moniker "week" is a bit of a misnomer since this cavalcade of kink runs for twelve days. These 12 Days of Kink-mas, as it were, feature a cast of Europe's best DJs in the fetish scene playing a myriad of styles, such as Indie-Dance, MH&T (aka Melodic House & Techno), and Progressive House. And for some sweaty fun off the dance floor, sneak off to the Sauna Puerto de Toledo bath house and pick up local papí.
---
Moulin Rouge party in San Francisco
NYE 2023 Presented by PRINCESS x OASIS SF
Dec 31, 2022 – Jan 1, 2023
PRINCESS plus OASIS plus NYE equals a menagé trois of fun in San Francisco. This Moulin Rogue-themed event features three stages of entertainment, including a non-stop 30-minute drag spectacular from some of SF's fiercest local queens. And for our football-loving bromosexuals, pull it together Sunday afternoon to watch the 49ers vs the Raiders at Castro's sports bar Hi Tops.
The Morning After in SF
It's A New Day + Breakfast Of Champions Block Party 2023
Jan 1, 2023
Keep the celebrations going with The Great Northern at their New Year's day block party going from 4 am to 9 pm New Year's Day. With over 90 DJs, 8 stages, and VIP cabanas, this is more of a festival than a block party. Burlesque dancers, aerial circus performers, magicians, and pole dancers provide even more entertainment throughout the day. Get involved with the interactive playground, twerkshop, bingo, and goat yoga. There's so much to do, you'll forget about your hangover from the night before, but the freshly made cocktails and food trucks available will help out too.
---
Key West's famous Shoe Drop
NYE at the Bourbon Street Pub
Dec 31, 2022 - Jan 1, 2023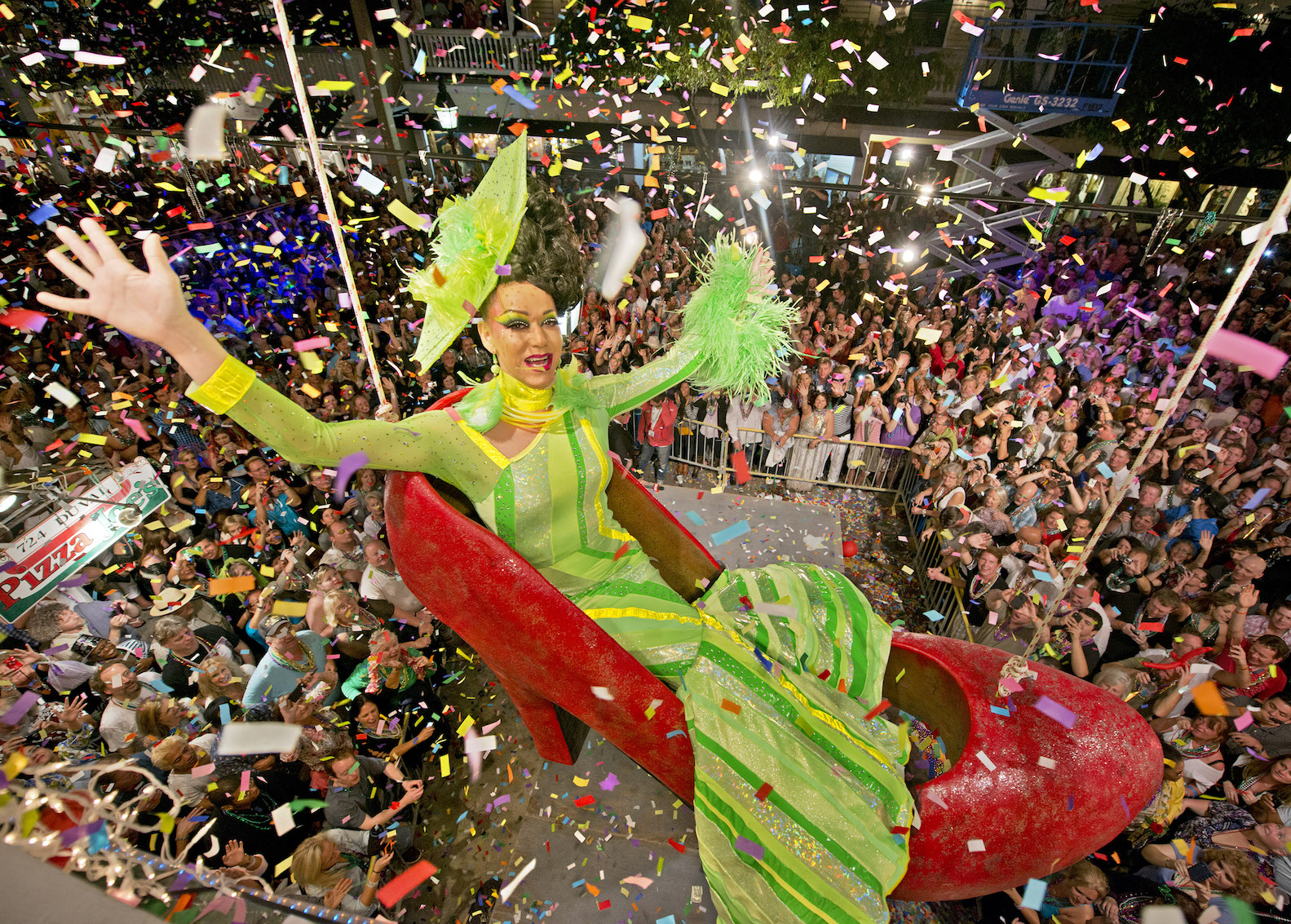 The shoe drop at Bourbon Street Pub has been a Key West New Year's Eve tradition since 1996 when local drag queen Sushi first stepped into the eight-foot red stiletto. The night starts with an hour-long show leading up to the shoe drop at midnight. The event has become world-famous, even garnering coverage from Anderson Cooper. There's limited space inside the pub, but the party overflows onto Duval Street where anyone can crowd around. Still, the street gets crowded, so show up early for the best spot. And for a plan B, mosey down the street and stake out a spot 801 Bourbon Bar.
---
Get scandalous in London
Le Scandale New Year's Eve Party
Dec 31, 2022- Jan 1, 2023
The vibrant party-minded Carwash Crew invites you to dress up in effortless glitzy glamour and party with clubbers who really know how to get down on the most sophisticated night of 2022. Hosted in Central London's The Loop, this NYE event encourages partiers to don lewks inspired by your favorite pop icons and bust a move to a litany of retro beats.
And on New year's Day, if you are jonesing for more man candy, groove over to Vault 139 and strip down to your Y-fronts for their Sunday underwear theme. Or for fetishists itching to start the festivities early, hit up Friday's Recon party at FIRE. It'll give you a chance to get dirty before the Carwash Crew scrubs you down on Saturday.
---
NYE in NYC
Gala Galactica at the House of Yes
Dec 31, 2022 - Jan 1, 2023
Gay Gothamites can look toward the future with Gala Galactica at Brooklyn's House of Yes. Featuring the talents of Pontchartrain, DJ Cent, and DJ Ultra Violet, this celebration of all things cosmic boasts a constellation of cosmic lewks. And for some down-to-earth pregayming before blasting off to the main event, grab a signature cocktail at Park Slope's Good Judy.
Play Hard at Industry
Industry Nightclub NYE 2023 Celebration
Dec 27, 2022 - Jan 2, 2023
For NYE options south of the border, jet down to the gay vacation destination of Puerto Vallarta to work up a sweat at Industry. Boasting seven parties over as many nights, this week-long fiesta features a bevy of international DJ talent and caliente go-go boys. And for more shvitzy fun, strut down to Spartacus and nab a naughty niño in the sauna.
---
Who's Your Daddy?
DILF Palm Springs "COUNTDOWN" NYE 2022
Dec 31, 2022 - Jan 1, 2023
As a prominent gay retirement destination, Palm Springs is famous for its diverse selection of silver foxes, making it the ideal location for Joe Whitaker's DILF NYE event. Hosted in the Palm Springs Convention Center, this sugar daddy soiree features the musical talents of DJ Max Bruce, T'Don, and DJ Alex Ramos. As with all DILF parties, donning jockstraps, harnesses, and hanky codes are highly encouraged. And for more fetish-y fun, grab your favorite DILF(or GrILF) and uber over to Cathedral City and shake your leather-clad booty at the Barracks.
Continue reading...