It's time to polish your boots and dust off your best leathers, Folsom Street Fair is back, baby!
On September 24, from 11 am to 6 pm, kinksters will take over a corner of SoMa District in San Francisco, on Folsom Street between 8th and 13th, to create a world where exhibitionists and voyeurs reach perfect harmony. Peruse one of the many fetish vendor booths and watch the hottest scenes unfold on the street. Who knows? Maybe you'll walk away with a new kink.
The iconic kinky carnival celebrates its 40th birthday this year. So, it's safe to say, Folsom Street Fair is the Daddy of all kink festivals. For those who want a bit of guidance through this very San Francisco event, here's everything you need to know, from booths to performance stages and to-go cocktails, as well as solid advice for attendees from local community leaders.
Jump to…
---
Map
---
Libations
To avoid traffic jams, your favorite Leather District bars are serving to-go cocktails at booths outside their storefronts. Each bar's sales will benefit local LGBTQ+ charities.
---
Main Stage Performances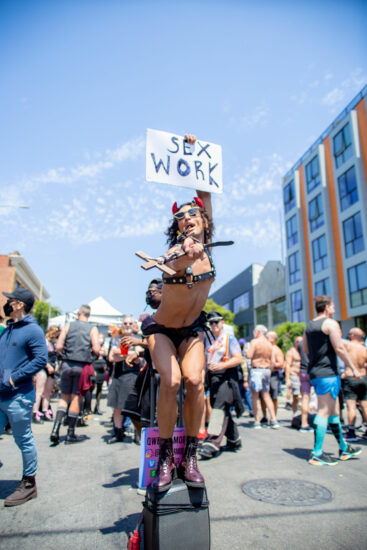 There are seven community stages with a variety of entertainers performing all day long.
DJ & Gogo Stage curated by Fawkstales, featuring the hottest beats and gogo's all day long.
Drag Stage by STUD Collective and Oaklash.
The Playground hosted by Alotta Boutté in an exclusive womxns area.
Wrestling Stage presented by Full Queer.
Folsom Street Live!, A Sounds Like Fury production.
The Eagle Stage by SF Eagle featuring live music and dirty beats.
Bondage Stage by the Twisted Windows & KinkPOC Bay Area.
Plus the legendary BDSM Demo Area by Society of Janus.
---
Folsom Street Fair Booths
As always, you'll find a wide variety of leather goods and fetish wear made by local artisans.
---
Where to find the queer crowd near Folsom Street Fair
Find Folsom Street Fair before and after parties on Andymatic and Bloom.
Related:
---
Word on the Street
Here's solid advice for Folsom Street Fair attendees from local community leaders.
Danarama says, "Take it slow."
"It can often take hours to walk from one end of Folsom to the other. So one of the best ways to enjoy the fair, I have found after decades of attending, is to get out of the flow of traffic and watch the crowd go by. Take a pit stop at your favorite booth or watch a performance at one of the community stages, you might be surprised at what comes across your path."
"Just remember: You can look, but you can't touch (without asking for consent)."
Ivy wants some helping hands!
"As a San Francisco native, Folsom Street Fair is like an institution to me. I first started getting into it through volunteer opportunities. I used to help out at a corset booth, and now I know how to get people laced up at lightning speed. This community lives on volunteers, and there are plenty of fun opportunities to help out."
A note on consent from Blue:
"If you're not into exhibitionism, you may want to look into a group called Ask First. There's mutual respect for privacy in our community because some members do not want their family or coworkers to know about their kinky side. If you come to this fair, you may end up in some photos. Wearing a sticker from Ask First lets people know that you would prefer if they asked you before taking a photo with you in it."
Lief's advice for out-of-town attendees:
"Folsom Street Fair is not just a West Coast thing, people travel from all over the world to San Francisco for this event. So, you have to book your hotels in advance if you want to stay close to the fair."
---
Kink-friendly hotels near Folsom Street Fair
---
Stay up to date on the latest travel and nightlife stories…