It's time to polish your boots and dust off your best leathers, Folsom Street Fair is back, baby!
GayCities has teamed up with Folsom Street and The Fight Magazine to bring you this official guide to Folsom Street Fair.
For those who want a bit of guidance through this very San Francisco event, here's everything you need to know, from booths to bondage stages, to-go cocktails, and cannabis gardens…
---
Folsom Street Fair 2022
Digital Event Guide
---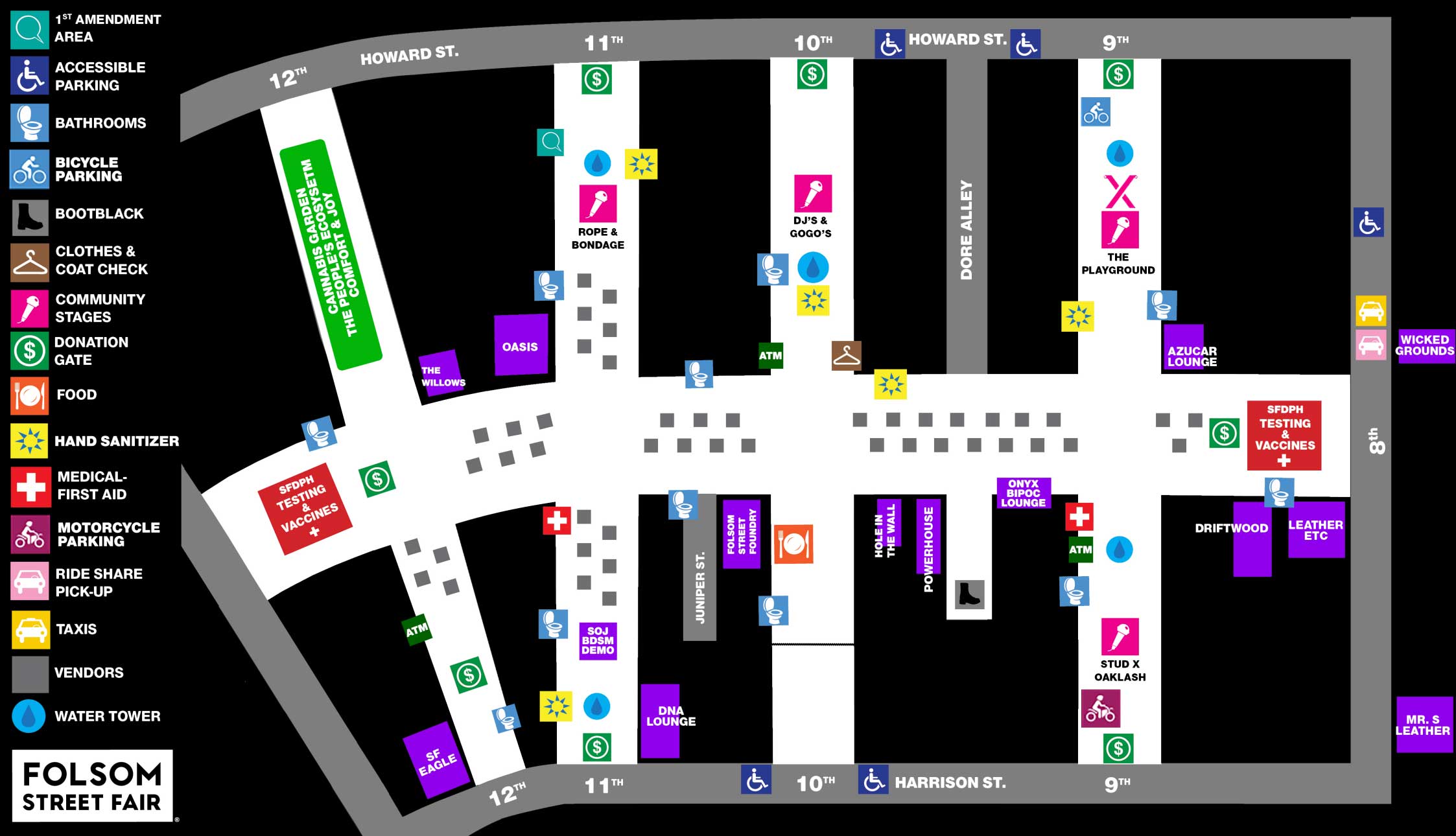 When: Sunday, September 25, from 11 am to 6 pm
Where: Folsom Street between 8th and 13th, in San Francisco's SoMa District
---
---
Libations
To-go cocktails, the cannabis garden, leather goods, and more…
---
To-go cocktails
To avoid traffic jams, your favorite SoMa bar is serving to-go cocktails at booths outside its storefront. Each bar's sales will benefit local LGBTQ charities.
---
Cannabis Garden
For the first time ever, Folsom Street will play host to a Cannabis Garden. Since the recreational use of cannabis is legal in California, you will be able to safely purchase and consume cannabis products in the designated area on 12th Street. In this lounge curated by The People's Ecosystem and Comfort & Joy, you'll learn how cannabis and sex can go together like whips and chains! (Must be 21+ to enter.)
---
---
Stages & Community Activation Spaces
There are five main stages with fetish entertainers performing all day long. You won't want to miss these community-curated acts:
Bondage Stage
40 performances. Over 70 of the best bondage practitioners in the US (and a few international guests). 3 simultaneous acts over 7 hours.
Presented by Twisted Windows and KinkPOC Bay Area
Drag Stage
The famous STUD collective collides with Oaklash, the Bay Area's drag and queer performance festival, to curate a weird and wonderful, delightfully dirty, and pervy show.
Presented by the STUD x OAKLASH 
DJ/GoGo Stage
Don't forget to tip your go-gos!
Presented by Fawkstales
FEATURING:
FAWKS • T∆R∆DOX • BLVKSITE STUKES • B_X_R_N_X_R_D
The Playground Stage
These tantalizing performances are the highlight of Folsom Street Fair, showcasing women, trans, and nonbinary folks. Catch the action up close or watch from the all-gender, all queer, QUEER COMMONS right next door!
Hosted by Alotta Boutté  
Schedule:
11 am – 1pm: DJ Olga T
1:20 pm – Alotta Boutte, Rizzo Rogue, Flux Vertical Theatre (2 acts)
2 pm – Red Bone, Tyrone(Sadira), Sydni Devereaux, Flux Vertical Theatre
3 pm – Fatty Cakes and the Puff Pastries
4 pm-6 pm DJ Sgt. Dies Wies
Queer Wrestling Stage
Get ready to take your Folsom experience to the next level at the Full Queer Wrestle Stage. Bears and spandex and queers OH MY!
Hosted by Pollo del Mar, Marco Mayur, Rosie Fingers
Community Activation Spaces
In addition to the Cannabis Garden, you'll find several Community Activation Spaces throughout the fair, including a BDSM demo space hosted by the Society of Janus. Exhibitionists and voyeurs reach perfect harmony. Watch the hottest scenes on the street and maybe walk away with a new kink.
RELATED: The Rebellious History of Folsom Street Fair
---
---
Booths
As always, you'll find a wide variety of leather goods and fetish wear made by local artisans.
---
---
Folsom Street Fair FAQs
Answers to your burning questions…
Is there an admission fee?
No, though donations are strongly encouraged. If you want to help out, but money is an obstacle, you can donate your time by volunteering for the event.
Are there public restrooms?
Yes, there will be portable facilities throughout the fair.
Will I get carded?
IDs and Vaxxx cards will be checked at the gate.
Are face masks required?
Masks are recommended, and we don't mean the gimp kind. 
Just like last year, COVID shots and tests will be onsite at the main entrances to the Fair. There will also be 2,000 MPX vaccine doses on hand for those in need. You can visit one of the SFDPH booths at either end of Folsom Street (8th Street or between 12th/13th Street) and get poked!
Is nudity allowed?
Yes, feel free to strip down. Per a law banning street nudity in San Francisco, permitted street fairs, like Folsom Street Fair, are exempt.
What is the policy on sexual activity?
Folsom Street follows all local, state, and federal laws and intervenes in any discovered instances of "lewd behavior". While organizers do their best to enforce a three-strike system, Folsom Street Fair is notorious for its public displays of nudity and sexually explicit atmosphere.
Photography?
Yes, you are permitted to take photos. If you want to take a photo of someone other than yourself, make sure to ask for consent first.
Smoking?
This is a smoke-free event. Please respect your neighbors, and don't smoke. At the same time, we know that some of you need a cigarette fix or maybe you're a cigar aficionado; so, you have two options: 1. Exit one of the main gates and re-enter when you're done; or, 2. Find a smoke-friendly business on the fairgrounds.
Are there places to sit down?
Yes and no. There are general seating areas at the Performance Stages and Community Activation Spaces, though the rest of the fair is standing room only.
Can I bring my dog?
All pets are strictly prohibited.
Can I bring my child?
All attendees must be 18 years of age or older to enter the fair, the environment is very much for adults.
Where's the after party?
Check out these calendars for more details: Andymatic, Bloom, & Erobay
More questions? Visit Folsom Street's FAQs page.
---
---
Word on the Street
Here's solid advice for Folsom Street Fair attendees from local community leaders.
Danarama says, "take it slow."
"It can often take hours to walk from one end of Folsom to the other. So one of the best ways to enjoy the fair, I have found after decades of attending, is to get out of the flow of traffic and watch the crowd go by. Take a pit stop at your favorite booth or watch a performance at one of the community stages, you might be surprised at what comes across your path."
"Just remember: You can look, but you can't touch (without their consent)."
Ivy wants some helping hands!
"As a San Francisco native, Folsom Street Fair is like an institution to me. I first started getting into it through volunteer opportunities. I used to help out at a corset booth, and now I know how to get people laced up at lightning speed. This community lives on volunteers, and there are plenty of fun opportunities to help out."
A note on consent from Blue:
"If you're not into exhibitionism, you may want to look into a group called Ask First. There's mutual respect for privacy in our community because some members do not want their family or coworkers to know about their kinky side. If you come to this fair, you may end up in some photos. Wearing a sticker from Ask First lets people know that you would prefer if they asked you before taking a photo with you in it."
Lief's advice for the last-minute traveler:
"Folsom Street Fair is not just a West Coast thing, people travel from all over the world to San Francisco for this event. So, you have to book your hotels in advance if you want to stay close to the fair."
GayCities recommends these LGBTQ-friendly accommodations:
---
---
All photos are courtesy of Folsom Street and partners