Since we've offered up some sizzling winter escapes for Summer lovers, it's only fitting we pay our cold blooded readers the same respect. For many, the idea of the perfect winter holiday is cozying up by a fire with a lover and a good glass of wine, or bundling up to explore the icy beauty of the season. Or perhaps you prefer to cultivate your own heat using the magic of friction.
However you want to go about it, here are eleven of the best blustery city guides on GayCities to get inspired. As always, click the city name to explore deeper.
1. Antwerp
It may have peaked as a European power in the 16th century, but Antwerp hasn't the feel of faded glory in the slightest. The city has one of Europe's richest concentrations of art nouveau architecture. Take a ride to fairy-tale-like residential street Cogels-Osylei on one of the adorable trams, which appear to pop up in the most unlikely of places throughout the city. And speaking of rides, six-floor leather/fetish bar the Boots, opened in 1983, ranks as one of the best of its kind in the world, attracting men from across Europe, especially during the annual Belgium Leatherpride in mid-January.
2. Brighton
Just half an hour by train south of London, Brighton is a favorite quick getaway for big city British gays. Its crisp seaside air, compact walkability and laid back bohemian ambiance make it a perfect place to unwind. For a city its size (just over 150,000), Brighton boasts a remarkable number of gay-geared bars, cafes, and B&Bs.
3. Lake Tahoe
The landscapes around Lake Tahoe are mesmerizing year-round, whether under several feet of powder or not. Add to it fine dining and friendly locals, one hell of a Gay Ski Week in February, and of course epic skiing and snowboarding, and Lake Tahoe quickly becomes a go-to spot for the queer traveler looking for some alpine fun.
4. Asheville
Generally, the adage about not going to small towns when you're looking for queer-friendly travel is a smart one. Asheville, North Carolina is the exception. If you're looking for a romantic getaway with your Mister or Misses Right instead of cruisin' the local scene for a Mister or Misses Right Now, you might consider Downtown Asheville.
5. Oslo
Oslo is one of the charming smaller capitals of Europe. In winter there is world-class skiing, both downhill and cross country, only twenty minutes by tube from the city centre. Norwegians are keen on partying, especially when weekends roll around, and though they may appear a bit shy at first, you will soon realize that most will go to great lengths to help visitors enjoy their stay.
6. Aspen
Located high in the Rockies, Aspen has long been known as a glamorous winter getaway for the jet set scene. For more than thirty years, Gay and Lesbian Ski Week in January has served to make Aspen a popular gay getaway as well.
7. Prague
Since the fall of the Iron Curtain, Prague has become one of Europe's (and the world's) most popular tourist destinations. Gay tourism has definitely been on the rise since the 1990s, with around 25 gay bars, discos and saunas in the city as a whole.
Salt Lake City is probably most known for its breathtaking neighboring ski slopes and as the home of the Church of Latter Day Saint's largest temple, but Salt Lake City itself (unlike small town Utah) does not have a Mormon majority. Did we mention the breathtaking neighboring ski slopes? You may think you have SLC pegged, but think again.
9. Whistler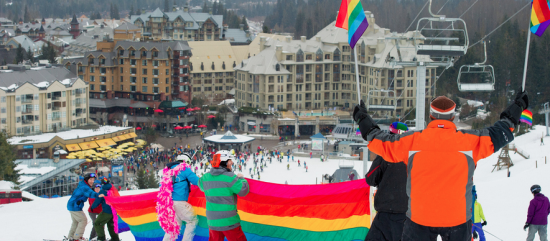 Disclaimer: Unless you're in town for Winter Pride, you won't find any gay bars in Whistler. While the town is very gay-friendly and all the bars and clubs are welcoming, the scene will likely lean heavily towards the straight side of the spectrum. Winter Pride is another story entirely. Usually held the first week of March, the whole town is taken over as gays from near and far ascend up the mountain for a week of fun on and off the slopes
10. Zurich
Zurich has one of the highest standards of living in the world, so it isn't surprising that it is a great place to visit. The city has proportionately more clubs than any other across Europe. Zurich clubs range from bright, friendly spaces to darker, heavy cruise scenes and everything in between.
11. Montreal
The Village–or "le Village"–is the epicenter of Montreal's gay scene. Innumerable restaurants, shops, bars, nightclubs, and cafes dot the vicinity with their characteristic flair, and even the local metro stop is decked out in rainbow pizzazz. Regulations in Canada lean very liberal, which may make your night at the corner strip joint a bit more exciting than expected.