Who says you can't have it all? Nicknamed "America's Finest City," many travelers head to San Diego for its stunning coastline and outdoor activities. But San Diego's cultural offerings also draw international attention and accolades.

Meander through a museum or gallery or score tickets to one of San Diego's stunning performance venues, and you're bound to discover a celebration of LGBTQ+ artists and perspectives. GayCities grabs a front-row seat to some of San Diego's most popular cultural attractions.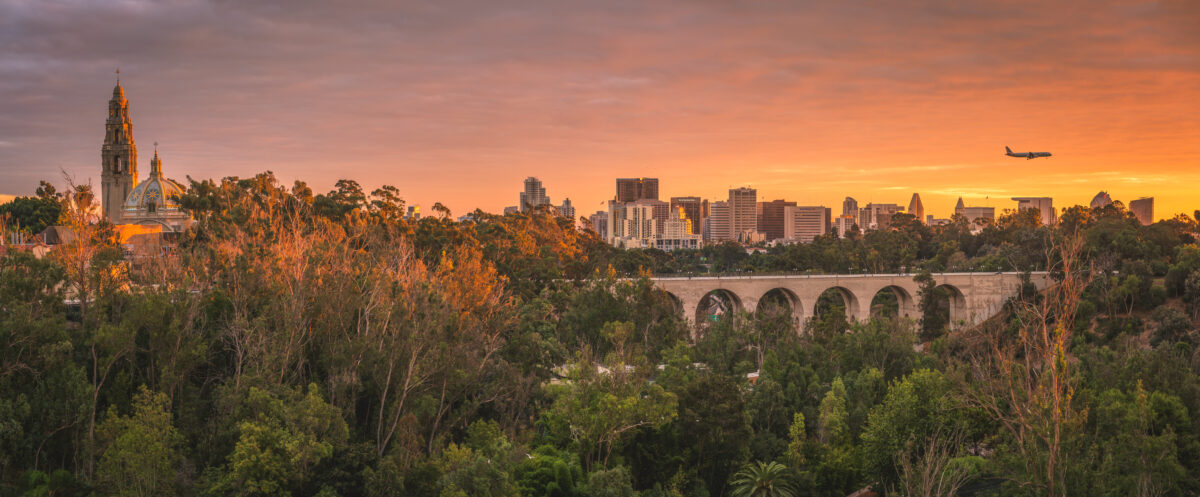 Related:
San Diego theater — from Broadway-bound hits to 'Dyke Remix'
Over the decades, San Diego has become a launching pad for some of Broadway's biggest hits and a developmental home for more intimate new works.
Diversionary Theatre, founded in 1986, provided a cultural home for San Diego's LGBTQ+ community at the height of the AIDS crisis. Over the decades, the theater company has evolved as a hub of performance advocacy, presenting new works and queer classics like Love! Valor! Compassion! and Bent. This season includes a legacy revival of Tennessee Williams' The Glass Menagerie and the world premiere of TL;DR: Thelma Louise; Dyke Remix — a wild theatrical experience inspired by the 1991 film.
La Jolla Playhouse (an incubator for dozens of Broadway-bound shows, including Come From Away and Jersey Boys) presents six world premieres this season. Matthew Broderick stars in Babbit, based on Sinclair Lewis's 1922 novel. Tony winner Idina Menzel (Wicked) makes her La Jolla debut in Redwood, a new visually stunning musical about a woman who ventures on a journey of self-discovery to Northern California. (We predict this one is Broadway-bound, so catching it in San Diego would be a musical theater triumph!)
Theater classics are reimagined at The Old Globe, one of San Diego's most acclaimed and historical theater companies. Upcoming highlights at the Balboa Park venue include a lush adaptation of Edith Warton's Gilded Age classic The Age of Innocence and the US premiere of the hit London musical Ride. (Tip: Head to Animae for a phenomenal pre-theater meal led by executive chef Tara Monsod.)
Related:
Time your visit with a touring production at the San Diego Civic Theatre or a special performance like The Bald & The Beautiful, a live podcast recording featuring Trixie Mattel and Katya (December 7). The venue is also home to the San Diego Opera (Puccini's Madama Butterfly arrives this spring.)
The Conrad Prebys Performing Arts Center's four performance spaces are as captivating as the acts that populate them. Meticulously designed acoustics and architectural details add to the flair of boundary-pushing programming like Les Ballets Trockadero (February 2) and Meow Meow (March 10).
Picture-perfect San Diego celebrates the visual arts
Neighborhoods overflow with creative energy, from museums and galleries to vivid murals and public art.
Balboa Park is San Diego's largest cultural destination. Home to more than 18 museums and cultural offerings, the 1,200-acre neighborhood's beauty emanates from every angle. Take a midday stroll through the Japanese Friendship Garden, then head to the Mingei International Museum, which celebrates global folk art, craft, and design. Upcoming exhibitions highlight the art of Japanese paper art and woven crafts, featuring a large-scale mural by San Diego artist Yomar Augusto.
With locations in La Jolla and Downtown, the Museum of Contemporary Art San Diego includes more than 4,700 works in various mediums. Kelly Akashi's "Formations" (through February 18, 2024) is the first major retrospective of the artist's work over the past decade and encompasses a range of techniques and materials, including glass, bronze, wax, and rope. Prolific LGBTQ+ artists like Andy Warhol, Joey Terrill, and Jay Lynn Gomez can be found in the permanent collection.
Other neighborhoods put their unique spin on San Diego's artistic sensibility. Liberty Station, the former Naval Training Center, features Spanish Colonial Revival architecture and is home to over 100 galleries, museums, artist studios, and dining venues. Explore Chicano Park in Barrio Logan, the city's oldest Mexican-American neighborhood and home to the to the largest concentration of Chicano murals in the world, with more than 100 paintings on seven acres dotted with sculpture, gardens, picnic tables, and playgrounds. The nearby Chicano Park Museum and Cultural Center highlights the grassroots efforts to preserve the neighborhood's heritage.
Fashion lovers need to look no further than the Cedros Avenue Design District, home to nearly 90 retailers, art and design specialty shops, and plenty of sidewalk cafes to enjoy an al fresco meal or cocktail before venturing on. For shopping with a view, La Jolla's Prospect Street (aptly nicknamed the "Jewel by the Sea") showcases independent boutiques, original jewelry, and international brands.
In addition to offering elegant, designer fashions in sophisticated apparel shops, La Jolla is also known for its exquisite and original fine jewelry of magnificent, brilliant gems, and some of our favorite well-known brands. And on the first Thursday of every month, Walk in A.R.T. pops up in Hillcrest, featuring a rotating roster of artists and vendors.
For the ultimate visual spectacle, plan your getaway visit to align with the annual San Diego Comic-Con International convention, held each July at the San Diego Convention Center, where you can mingle with thousands of cosplay attendees, attend panels, browse and purchase memorabilia, and grab a selfie with your favorite pop culture celebrities. As a year-round cultural hub, the Comic-Con Museum, located in nearby Balboa Park, celebrates all things pop culture. Current exhibits include a tribute to Stan Lee, a 25th-anniversary look at the anime series Cowboy Bebop, and Collen Doran's illustrations of works by Neil Gaiman.
San Diego's music scene strikes a chord
From intimate stages to soaring outdoor spaces, San Diego's live music scene thrives. The city's music legacy dates back to the 1960s and 70s when artists like Frank Zappa and Tom Waits got their start. (Zappa went to Mission Bay High School, and Waits worked as a doorman at Heritage Coffeehouse, a small folk music venue.) Recent hitmakers Adam Lambert and Andra Day grew up in San Diego amid the city's dynamic music and performing arts scene.
Belly Up is one of the city's most notable venues and celebrates its 50th anniversary in 2024. Named "one of the hottest live music venues on the West Coast" by Rolling Stone, Belly Up has welcomed artists of every genre, from the B-52s and Ben Folds to Aimee Mann and Devo. And just a few miles south, one of San Diego's newest venues, The Sound at Del Mar Fairgrounds, continues the city's tradition as a home for electrifying music acts.
"It's always been about the family and community it created," founder and former owner Dave Hodges said in a 2011 interview. "Seeing the evolution of life… and being a part of so many people's lives for that many years — that's just been one of the high points of my life."
The sense of community Hodges established continues among San Diego's more intimate music venues. Local bands and hard rock can be heard at The Casbah, while Soda Bar offers a platform for emerging musicians and budget-friendly cover charges (typically $10 or less, depending on the show).

San Diego's stunning backdrops make for the perfect outdoor music venue. Gallagher Square, part of Petco Park, is home to Sycuan Stage and a calendar of events, including Proper NYE/NYD — a two-day music festival featuring dozens of acts to ring in the new year. Quartyard, constructed from repurposed shipping containers, has become a huge draw in the East Village (near downtown) for its roster of live music, craft beer garden, coffeehouse, and public art. Look no further than Beach House for a chill, oceanfront setting in Mission Beach, where you can enjoy craft cocktails and beer, fire pits, live music, and those epic sunsets for which San Diego is famous. Those who want to embrace San Diego's outdoor scene can also experience live music at Humphreys Concerts by the bay, where kayakers paddle to the oceanside venue to enjoy live concerts from the water.
Related:
No matter which way you turn, The Rady Shell at Jacobs Park offers stunning views from San Diego's skyline to the perfect sunset. Programming ranges from classical offerings and tribute bands to today's hottest acts. The Shell Provisions (the venue's culinary program, helmed by Top Chef alum Richard Blais) can transform your concert into the ultimate dinner theater experience.
Whether you're looking for a concert- or theater-packed weekend or one special event as an excuse to travel, San Diego's arts and culture scene has something to offer. And when the house lights come back on, step into a fantastic neighborhood and continue the night's adventures. 

Ready to travel? Start planning your trip at sandiego.org.
Funded in part with City of San Diego Tourism Marketing District Assessment Funds.