An ideal year-round climate, seventy miles of pristine beaches, and world-class attractions make San Diego an unrivaled vacation destination. 
Savvy travelers appreciate San Diego's wide range of offerings, from award-winning cultural institutions and unique neighborhoods to Michelin-starred restaurants. Whether you're looking for low-key and budget-friendly or a smart splurge for a special occasion (destination wedding, anyone?), "America's Finest City" lives up to its nickname.
GayCities offers an insider's look at some of the city's distinct neighborhoods and experiences to make your San Diego getaway a trip to remember.
Discover San Diego's neighborhoods
San Diego boasts more than 100 distinct neighborhoods, each with a unique vibe. Queer travelers often head to Hillcrest, the epicenter of the city's LGBTQ+ community. University Avenue's main thoroughfare brims with restaurants and retailers, including Hillcrest Brewing Company, the first gay-owned brewery in the world (one of more than 150 craft breweries in San Diego). But Hillcrest is just the beginning. 
Connect with locals in North Park and South Park, two adjacent uptown neighborhoods, where historic venues converge with eclectic, independently-owned retailers. The Observatory North Park opened in 1929 as a popular movie house. The space was reimagined in 2015, and now hosts live music events, including queer headliners like frontman Tyler Glenn of Neon Trees (October 10, 2023). Shopping in South Park reveals boutiques, vintage stores, and one-of-a-kind finds alongside local roasteries that contribute to San Diego's coffee culture.
Stroll the laid-back neighborhood of University Heights (Hillcrest's eastern neighbor) to appreciate the Craftsman-style architecture and tree-lined streets. Take a break in Trolley Barn Park (named for the former site of a streetcar barn), or head to Kairoa Brewing Company, which brings a taste of New Zealand to San Diego. Kairoa's 10,000 square feet offer plenty of room to enjoy its locally crafted draft beers. It's also pet-friendly for those traveling with their four-legged friends.
Michelin-starred dining plus travel-worthy meals for any budget
The first Michelin Stars were awarded in 1926, and since that time, US restaurants have continued to make their mark on the world dining scene. San Diego's award-winning restaurants include 12 Michelin-distinguished establishments. Among them is Southern California's first and only three-Michelin-starred restaurant.
Chef William Bradley has helmed Addison since 2006, bringing attention to California ingredients with global influences. The 10-course tasting menu evolves with the seasons and may include stand-outs like Koshihikari rice with applewood-smoked sabayon and Regiis Ova reserve caviar. Sushi Tadakoro and Soichi (both with one star) offer omakase menus, where the chefs determine courses based on the freshest seafood available. 
In 1997, the Michelin Guide added the Bib Gourmand distinction, which honors a "simpler style of cooking, which is recognizable and easy-to-eat" — as well as budget-friendly. San Diego's nine Bib Gourmand restaurants reflect the city's multicultural influences, including the East Village taqueria Lola 55, family-owned Ciccia Osteria, and breakfast and brunch comfort food at Morning Glory in Little Italy.
World-class performing arts
San Diego's arts scene thrives in Balboa Park, the city's cultural hub and home to more than 18 museums, two Tony Award-winning theaters, and a variety of cultural institutions and public spaces. Live stage shows include groundbreaking new works, reimagined classics, and queer-centered stories spotlighting LGBTQ+ narratives. 
Opened in 1935, San Diego's Old Globe modeled its architecture after London's original Globe Theatre, known as the home of Shakespeare's theater company. The theater's legacy continues with the premieres of many Broadway-bound works. This fall, the Old Globe presents the hit musical Cabaret (through October 8, 2023).  
La Jolla Playhouse dates back to 1947 and has an equally impressive history as a Broadway incubator, including Come From Away and Jersey Boys. Travelers can be the first to see such productions in La Jolla's four theaters, ranging in size from 98 to 492 seats. Broadway favorite Joe Iconis (Be More Chill) premieres his latest work, The Untitled Unauthorized Hunter S. Thompson Musical, this fall (through October 8, 2023). 
Diversionary Theatre, founded in 1986, has become a home for LGBTQ+ and ally theater-makers. Its seasons and community outreach focus on queer stories and those from other marginalized communities. Direct from her Broadway role in 1776, Sara Porkalob's one-woman show Dragon Mama spans 25 years set to a '90s R&B soundtrack. (through October 8, 2023). For the first time, the theater will present a legacy revival of Tennessee Williams' The Glass Menagerie, asking, "What is the cost of personal freedom?" (November 30 – December 23, 2023). 
The Rady Shell at Jacobs Park (a new outdoor performance venue and home to the San Diego Symphony) offers even more opportunities to experience musical artists, film score tributes, dance, and yoga. 
Explore San Diego's wildlife
While you're likely to run into some friendly bears at San Diego's gay bars, there are many opportunities to connect with real wildlife, too. Southern California is brimming with opportunities for encounters on land, sea, and air. 
Gay birder Christian Cooper (host of National Geographic's Extraordinary Birder) has reinvigorated national interest in birding, and with 515 bird species to discover throughout San Diego County, there's plenty to see in a range of settings.
For those who like to keep their eyes on the ground, The San Diego Zoo's 100-acre wildlife park is home to over 12,000 rare and endangered animals, including two Sumatran tiger cubs (born July 12) and a new red panda (born July 6). "Inside Look" tours offer visitors a more intimate experience. The Safari Park offers an additional 1,800 sprawling acres of savannah for immersive exploration, with various tours from a 130-foot-high flightline to an exclusive wildlife trek. 
Take to the ocean for an underwater exploration, where adventure-seekers snorkel and scuba dive among schools of fish and massive kelp forests, and for advanced divers, Wreck Alley, which showcases the HMCS Yukon, a 366-foot-long Canadian vessel intentionally sunk to create the ultimate underwater playground. 
For those who prefer to appreciate wildlife from a distance, views from the Old Point Loma Lighthouse at Cabrillo National Monument during low tide reveal a bounty of ocean life, from crabs and mollusks to mesmerizing anemones. 
Immersive art
Technological advancements have pushed the art world to reinvent itself with exhibitions that invite visitors to experience works in new and innovative ways. San Diego's cultural institutions and art galleries are at the forefront of new creative forms. 
The WNDR collective has amassed groundbreaking artists, designers, and technologists to reimagine space and encourage dialogue. WNDR Museum San Diego is one of only four locations nationwide where visitors can experience the collective's 360-degree experiences. Its current show, "GOD: TEMPO," uses project mapping, video design, multi-channel audio, and other elements to create a kinetic metronome and our relationship to time. 
The Museum of Us, located in Balboa Park on the unceded ancestral land of the Kumeyaay people, overhauled its mission in 2012 to address the land's colonial past and create a new generation of programming that explores the human connection. Current exhibits include "Hostile Terrain 94," a participatory map installation that brings awareness to the challenges at the US-Mexico border, and "Living With Animals," which traces our centuries-old relationships with everything from pests to pets. 
San Diego's public art and murals also feature many spots to pause and take in the sights.
Living the high life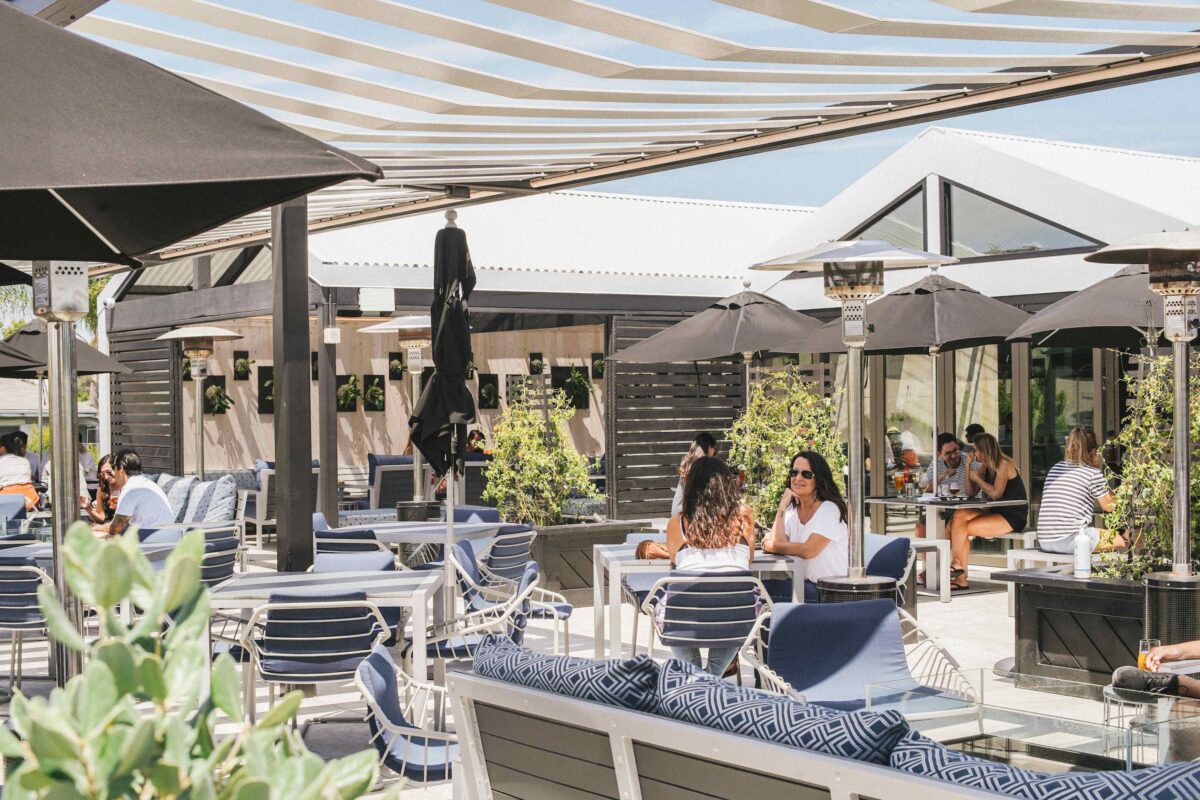 Dozens of rooftop bars, lounges, and restaurants in San Diego allow visitors to enjoy stellar city views, ocean breezes, and picture-perfect sunsets. Regardless of which neighborhood you find yourself in, there's likely a path to the sky where you'll discover craft cocktails and more examples of the city's culinary scene.
Techo Beso ("rooftop kiss" in Spanish) opened in May 2023 atop the AC Hotel San Diego Gaslamp Quarter, draws inspiration from Tulum, and features Mexican-style bites, including house guacamole and Al Pastor chicken wings, along with innovative cocktails and Poolside Saturdays (1 p.m. – 7 p.m.) featuring house music from a roster of the city's best DJs. 
San Diego's largest oceanfront rooftop restaurant and bar, Cannonball, offers stellar views, plenty of space for group gatherings (including several fire pits to gather around once the sun sets), fresh sushi, and craft cocktails. For even more ambiance, Acoustic Thursdays features live music by some of San Diego's local musical artists. 
For the ultimate LGBTQ+ rooftop gathering spot, head to Porto Vista in Little Italy. Each Friday, beginning at 5 p.m., the 5th floor's Top of the Bay becomes the place to unwind from the work week or kick off a weekend visit. The hotel (also known for its contemporary art collection) has hosted the gathering since 2014 and is a great spot to connect with locals.
For those who prefer to let someone else do the talking, Rooftop Cinema Club San Diego screens modern classics at the Manchester Grand Hyatt. The set-up includes lounge-style deck chairs and blankets, studio-quality headphones, and HD video.
Coffee, kombucha, & kava: In San Diego, a good time can be had by all
While San Diego has earned accolades for its breweries and craft cocktails, there are plenty of spots to discover innovative non-alcoholic beverages. 
Women-owned Adore Coffee House opened downtown in March 2023 and specializes in cold brew. Forum Coffee's house-roasted beans are used in a wide range of coffee concoctions, while The Coffee Method's location inside a floral shop is another perk of the venue, which showcases fair-trade and single-source beans.
Kombucha, a fermented, slightly sparkling beverage also made from tea, is having its moment, too. Just be sure to specify that you're seeking a non-alcoholic variety since kombucha can be fermented to an alcohol content similar to beer. Nova Easy Kombucha produces three non-alcoholic types, along with hard releases, including La Ola Dragonfruit, a collaboration with the San Diego Wave, the newest member of the National Women's Soccer League.
Kava (not to be confused with "cava," the Spanish sparkling wine) lounges have been popping up around the city, showcasing the centuries-old tradition of brewing tea from the kava plant. Kava Collective, Gather Coffee & Kava Bar, and Sunset Kava Lounge are notable spots to check out and often offer complementary programs like open mic, vision boarding, and meditation. For kava with a view, head to Trilogy Sanctuary, a wellness center with a vegan café, rooftop yoga, workshops, and events.
When the sun sets
Cool coastal breezes provide the perfect backdrop to explore San Diego's nightlife. The 16 walkable blocks throughout the historic Gaslamp Quarter could fill multiple vacations with more than 100 restaurants, bars, nightclubs, and retailers. 
Part Time Lover, a "Japanese-style listening bar," has a high-fidelity sound system, highball cocktails, and a record shop in the back. Convoy Music Bar in the Convoy District offers a similar vibe in a beautifully designed space, offering a speakeasy setting with an alley entrance (look for the "On Air" sign), dim lighting, and custom imported Japanese Kenrick speakers.
Flicks in Hillcrest celebrates its 40th anniversary this year as one of San Diego's welcoming gay bars. Patrons come for the outdoor patio and lively dance floor, described by one GayCities reader as having a "great diversity in age range and events." Since its inception, Flicks has also engaged in the LGBTQ+ community by sponsoring local gay sports leagues.
San Diego's drag scene
RuPaul's Drag Race alum Chad Michaels is one of many jewels in San Diego's drag crown. The All Stars Season 1 winner's career began at the Dreamgirls Revue at Urban Mo's Bar & Grill, which remains one of the city's go-to venues for live entertainment. The revue continues its tradition on Wednesday nights and presents a roster of high-energy themed events, including Church of Glam (Sunday afternoons), Showtunes Tuesdays, and Gayme Night at Mo's (Mondays). 
Lips has an equally packed roster — 10 weekly shows featuring some of San Diego's legendary drag performers, including Paris Sukomi Max (Tantilziing Tuesdays) and B*tchy Bingo with Armani Colby (Wednesdays).
Can't-miss annual events
If you're looking to anchor your San Diego getaway with a signature event, there are plenty of opportunities to connect with similarly interested travelers and locals. 
Annual happenings like Comic-Con International, CRSSD (a two-day electronic music festival that takes place in San Diego Waterfront Park), the San Diego Bay Wine & Food Festival, and the Del Mar Thoroughbred Club racing season are among hundreds of events scheduled throughout the year.
San Diego Pride, held each July, draws over 250,000 attendees and includes a rally, parade, festival, and community-building activities. In September, FilmOut San Diego showcases world and US premieres and filmmaker Q&As after screenings.
Other San Diego LGBTQ+ events include Nightmare on Normal Street to celebrate Halloween in Hillcrest, Taste of Hillcrest each spring, Hillcrest CityFest Street Fair in August, and the San Diego Padres Pride Night at Petco Park. 
Ready to discover more about San Diego? Visit sandiego.org/lgbtq
Funded in part with City of San Diego Tourism Marketing District assessment funds.
Pack your bags, we're going on an adventure

Subscribe to our weekly newsletter for the best LGBTQ+ travel guides, stories, and more.