For 45 years, the international conference and contest for leather lovers known as IML has been held in Chicago bringing in an average of 20,000 attendees from around the globe annually.  
International Mr. Leather celebrated this Sapphire Anniversary in 2023 over Memorial Day Weekend in the Windy City at The Congress Plaza Hotel & Convention Center. Opening ceremonies kicked off on Thursday at 8 pm. and continued through late night hours on Monday.
Fetishes are a big part of this festival and many involve BDSM, which is a compound acronym that stands for bondage, discipline, dominance, submission, sadism, and masochism. Consent and safety are crucial tenets of the leather kink community. 
Inside the iconic venue, a popular market popped up selling various fetish items. Single-day admission was $10 and ticket holders were required to be 21 or older. Bars were spaced out to serve guests as they mingled and shopped along the way. Bootblack facilitators were on the third floor to shine up shoes for a fee.
Information about preventative HIV medication was available for those wanting to learn more about PrEP (Pre-Exposure Prophylaxis) and condoms were readily available for distribution. 
Award-winning lubricant Boy Butter and fairly priced CheapLubes.com were two standout companies that returned again in 2023 with a large selection at the leather mart. 
Adult novelties and toys accompanied a vast amount of leather gear featured throughout the venue. Courtesy of JimSupport, a portable sling raffle opportunity was offered several times during the weekend for a lucky winner. 
Themed dance parties and special events were planned throughout the weekend. Handlers and pups met up to play off their leashes and rubber fans gathered in the Rendezvous room. 
On Saturday in the Florentine Ballroom POW! Superhero Fetish Party had folks dressing up as comic book characters and dancing to late-night DJ sets. The crowd enjoyed Crocodile Rockstar playing Elton John tunes on the piano plus a cabaret performance by Penny Tration before the dance party.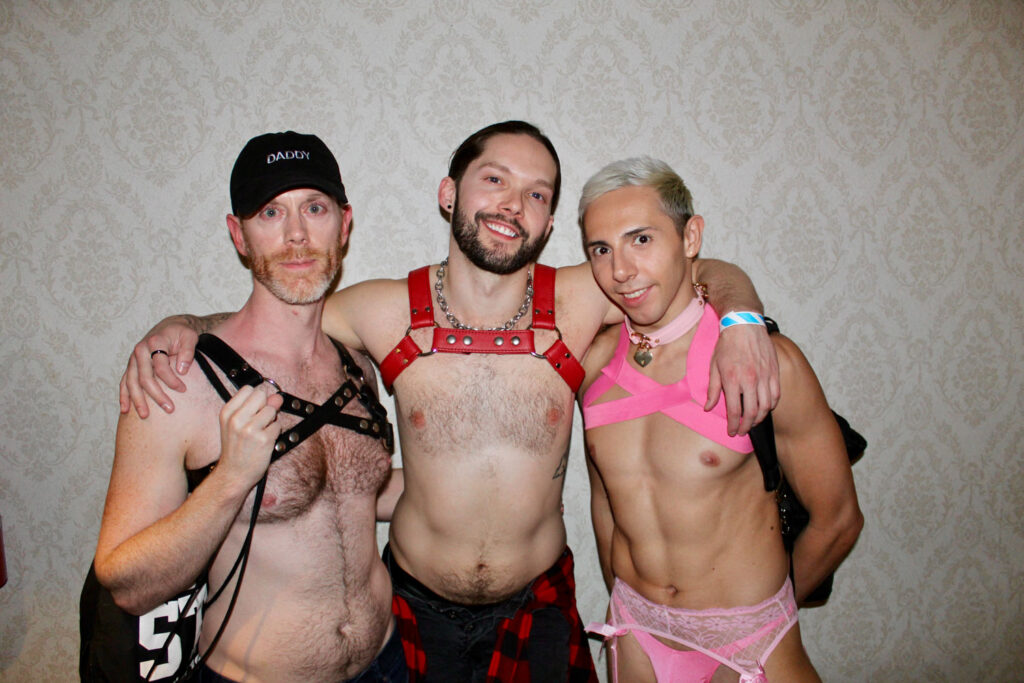 The winner of International Mr. Leather's class of 45 was Marcus Barela hailing from Los Angeles, California. Barela was crowned the champion at the nearby Auditorium Theatre and will continue to reign for a full year. The first runner-up was Chris Gonzalez and third place went to Matthew Moody. 
CircuitMOM Productions hosted the massive IML Victory Celebration and the annual Black and Blue Ball which featured DJs Ale Maes from Chicago and Isaac Escalante from Miami. The revelry lasted for five hours at House of Blues on Dearborn Street on Monday at 9 p.m. eventually closing down the weekend celebration on Tuesday morning at 4 am.
Among the sponsors of the kinky festival this year were Leather Archives & Museum located on the north side of Chicago, newspaper publication Windy City Times and lubricant company Swiss Navy. 
more photos…
Related: