March brought much-needed Spring color to California's Sierra Nevada mountains. Mother nature may have served up brutal winter storms, avalanches, and atmospheric rivers for Elevation, but that didn't stop the gays from having a great time on the slopes of the famous gay ski week.
The stage was set for a gay invasion…
Elevation guys are known for being Mammoth and so is their ambassador. Woolly, Mammoth's furry mascot, welcomes us to the mountain.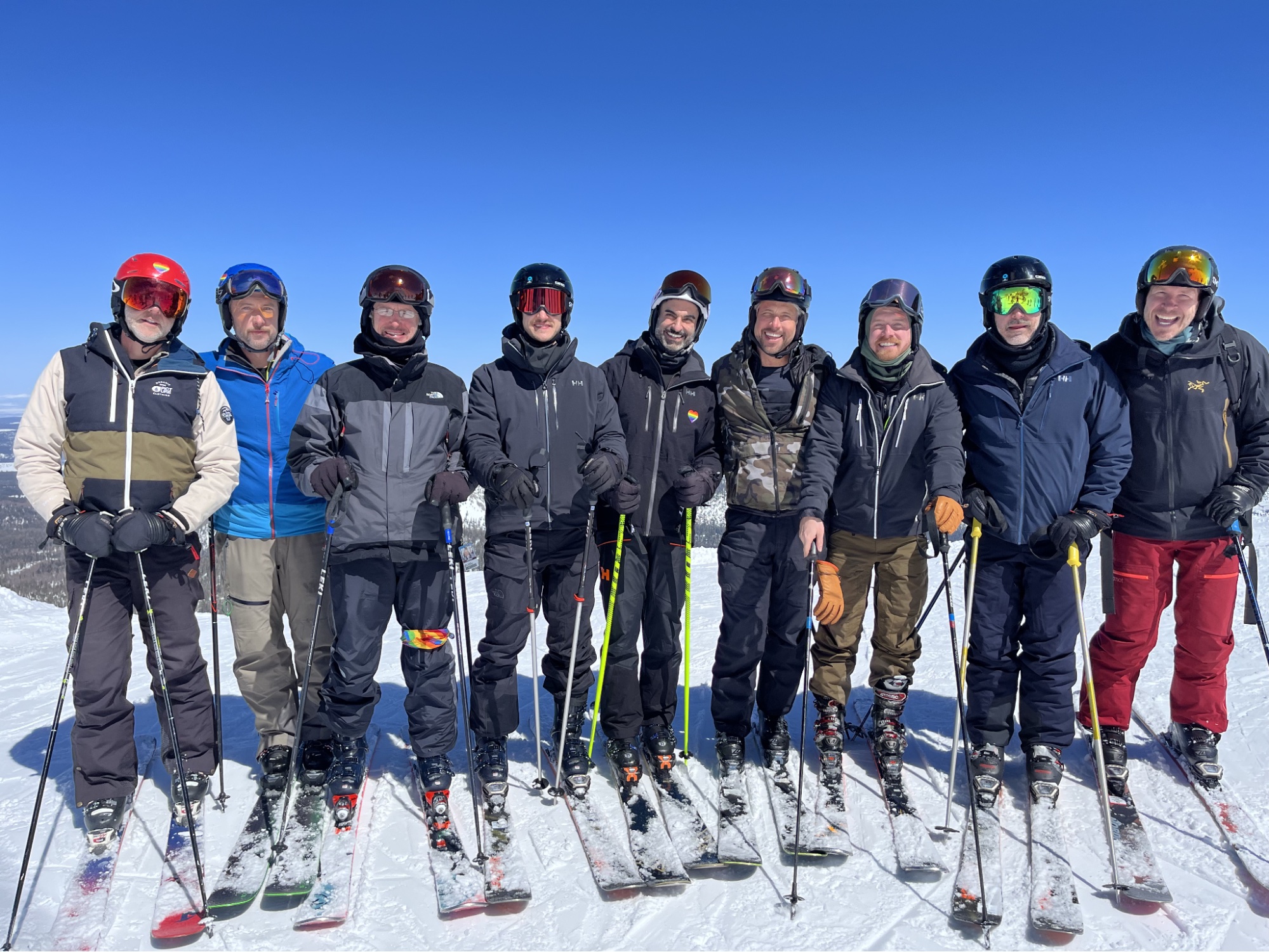 Friends quickly reunited for quick photo ops before swooshing (and swishing) their way down the mountain. This group of San Francisco gays was particularly happy to meet up near the Face Lift Express lift.
Wednesday's Welcome Apres-ski at Shelter Distillery brought guys from Palm Springs together, all looking good in shades of gray.
Thursday's Apres in the Village provided everyone with a dog tag that could be color coded with a sticker. Red = not available, Yellow = Let's discuss, Green = Available. By the end of the night, all of the green stickers were gone, but plenty of red and yellow sat sadly in a disheveled pile on the table.
Bonus points for pairing the dog tag with a string of pearls.
Go-go dancers kept the beat going at the afternoon Apres's. As always, tips put smiles on their faces.
Friday's "Apres at 10K" was super popular – everyone rode the gondola midway up the mountain, reaching the highest apres-ski party in the world. It would not have been complete without a surprise performance by RPDR 13's queen Utica.
Friday evening brought the ever popular Glo Ho, whose name says it all. The dance floor was packed.
Saturday's Rainbow Run was basically a Pride parade from top to bottom. Everyone met at the top of Gold Rush lift and made their way down the mountain in unison.
Rainbow flags were a must.
Fortunately, the sun came out for the parade, allowing some to strip down to the delight of the crowd–and the photographer.
Costumes were encouraged
Saturday's onesie Apres was a fan favorite. It was held at the Hawaiian bar, where the mai-tais flowed.
Many coordinated their onesies into fivesies.
Elevation 2023 culminated in the Saturday night Gear party, where less was more.
We are already looking forward to next year's Elevation…