Unlike many countries in Asia, Taipei has an out-and-proud LBGTQ+ district full of rainbow crosswalks and flamboyant queers called the Red House Gay District. Here you'll find Taiwanese and international gays sipping beers at sidewalk watering holes not afraid to be seen. The combined neighborhoods of Zhongshan and Ximen have a thriving nightlife scene where you can find anything from mega clubs filled with theatrical drag performances, gritty underground techno hot spots, intimate karaoke lounges, k*nky cruise bars, and a healthy dose of bear dens…
Café Dalida
This hetero-friendly drag bar is where Taipie's polished queens perform in an intimate and lush garden setting for your enjoyment. Don't miss Café Dalida where many of Asia's top queens got their start, and where you might just stumble upon the next Drag superstar twirling in this humble cafe.
Casa Cafe and Bar
Casa Bar is located in the center of the Ximen district, has stiff cocktails, and tasty snacks such as Japanese curry or traditional Taiwanese dumplings.
Commander D
Climb down into this dimly-lit subterranean leather dungeon for fetish forward experience. Commander D plays international dance music, hosts k*nky shibari bondage shows, and is known for its cruisey "anything-goes" atmosphere. Especially when the bartenders lower the blinds at night.
G Star
G-Star is a gay megaclub filled with choreographed drag shows, multi-colored lasers, and sweaty Taiwanese twinks loosing themselves to K-pop anthems. Need a break from the madness? Belt it out in private karaoke rooms on the second floor. We can't, however, confirm that is the only thing happening there.
Goldfish Bar
Although this may be the fishiest bar in Taipei, Goldfish Bar is actually filled with hunky bears guzzling down glowing cocktails under the neon-lit underwater-themed grotto. Don't fret, even if you're not a muscle queen or bear chaser, the aquatic atmosphere and friendly staff won't make you feel like a fish out of water.
Hanes Singing bar
Tucked down a side street next to Zhongshan station, Hanes is a cocktail lounge with comfy booths where karaoke is the name of the game. You won't find private rooms here to share with your new friends so make sure to brush up on your singing voice so you don't shatter a glass.
Hunt
Hunt is a relatively small basement neighborhood bar, but packs a punch with its kooky-named drinks and sexy themed night such as J-lube wrestling, shower shows, small towel nights, and underwear parties. The crowd is rowdy and the boys aren't shy.
Mudan
Mudan is a colorful little gay bar in the heart of The Red House gay district with an expansive patio where patrons enjoy libations, fried foods, and the neighborhood eye candy.
Pawnshop
Known for its diverse programming of Asian and international underground DJs, Pawnshop has three spaces dedicated to techno, live music, and house. Not officially labeling itself a gay bar, this club pulls a very queer crowd looking to dance through the night.
Omni Club
People from all over the world come to Omni for its dazzling lights and vibrant sounds. It's a stylish club with popular gay nights and mixed crowds on other nights. Make sure to check it's social media account to stay up to date.
Wonder Bar
Popular with women, fems, and they/thems, Wonder Bar takes the form of a trendy lounge and a colorful nightclub for a one-of-a-kind queer woman Taipei experience.
Bear Junkies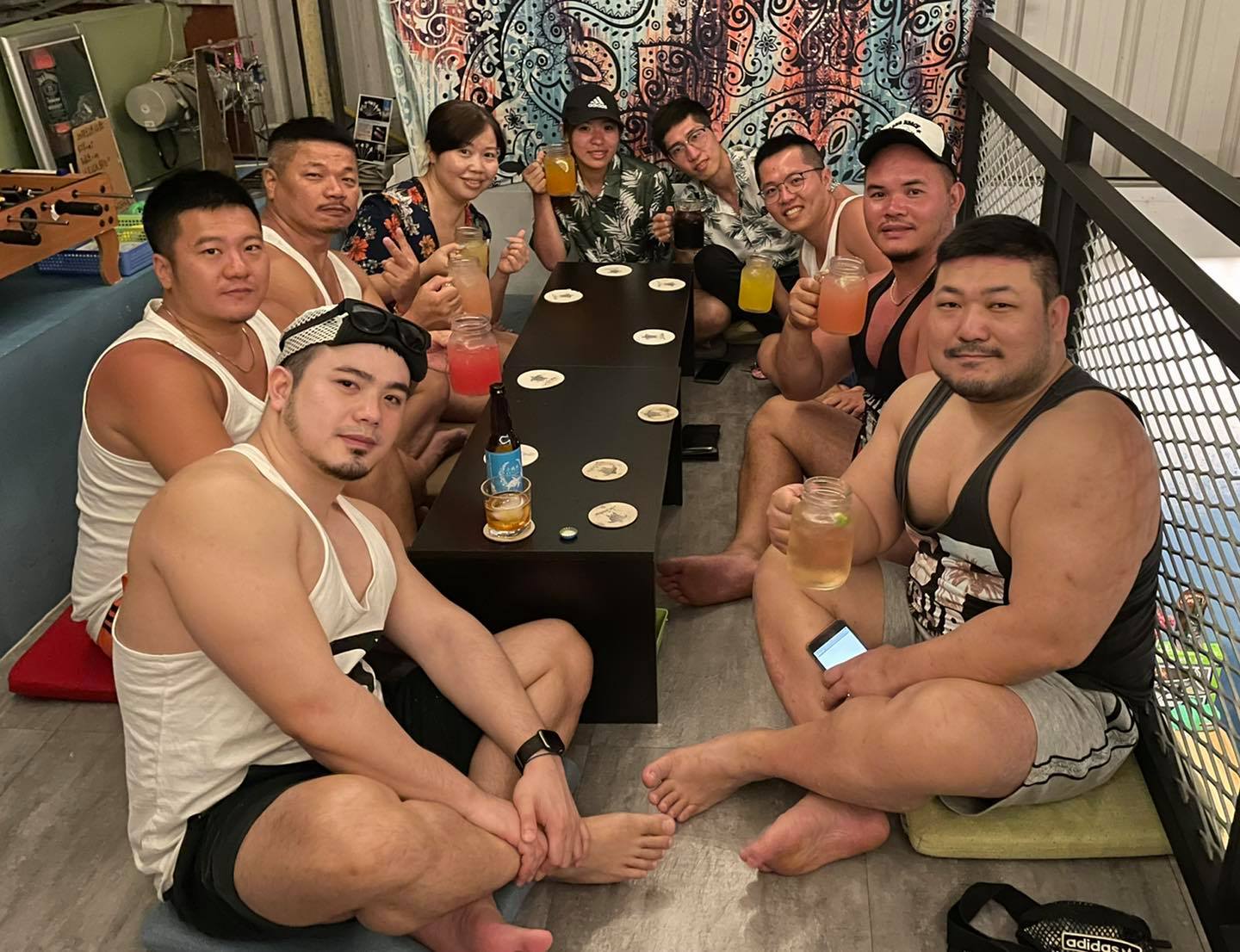 By day you'll find Taipei's bears brunching on fried food and recovering from last night's outings, but by evening Bear Junkies becomes a casual beer den where the city's husky hunks and their admirers can be found clinking cocktails.
23 Music Room
23 Music Room is a gritty DIY-feeling record shop and bar that feel like you're partying in someone's decked-out garage. This space often hosts queer takeovers and pulls an alternative indie crowd. Are you an upcoming DJ? Don't skip out on open deck nights to share your skills and vibe.
Grey Area
Unapologetically queer, Grey Area is a culmination of Taipei's underground party people in the form of a multi-floor club complete with a bar level, sultry lounge, and a Funktion-1 soundsystem stacked dance floor.
Pack your bags, we're going on an adventure

Subscribe to our weekly newsletter for the best LGBTQ+ travel guides, stories, and more.