Spring's approaching. That means the gays have already started booking Amtrak trips to hotspots like Fire Island, Provincetown, and Palm Springs sans the angst, cost, or hassle of the airport.

Amtrak rides can also create a moment away from the hustle and bustle to recharge your mind and spirit: Dare we call it conscious transit? In other words, treasuring the time spent between departure and arrival is a unique chance to be absolutely purposeful with your intentions.
Think about it: You're comfortable enough to nap, catch up on work, or just watch the gorgeous landscape roll by. Perhaps you want to map out the long weekend ahead in a notebook. Or listen to your favorite band. Or make a new friend in the Café Car. You don't often get an uninterrupted block of time to just enjoy, so why not make the most of it?
Here are five ways Amtrak is upping the ante on traveling.
1. Make new friends
Whether you're with a travel bud or with a cute stranger you just met onboard, sharing a train ride creates a splendid opportunity to bond. For instance, taking Amtrak's famed Northeast Regional from New York's Penn Station to DC's Union Station, via Philadelphia and Baltimore, provides a close-up of some of America's greatest cities and the opportunity to build lifelong connections.
Amtrak's Café Car is a little getaway within your trip, enabling you to catch up with a friend or get to know the aforementioned cute stranger over coffee, wine, or yummy snacks.
Let's also not forget June's Pride season, when Amtrak is filled with rainbow-covered travelers and countless queers find more wonderful people to add to their chosen families. What better way to embrace these chance encounters than choosing social-friendly transport?
2. Comfortable & spacious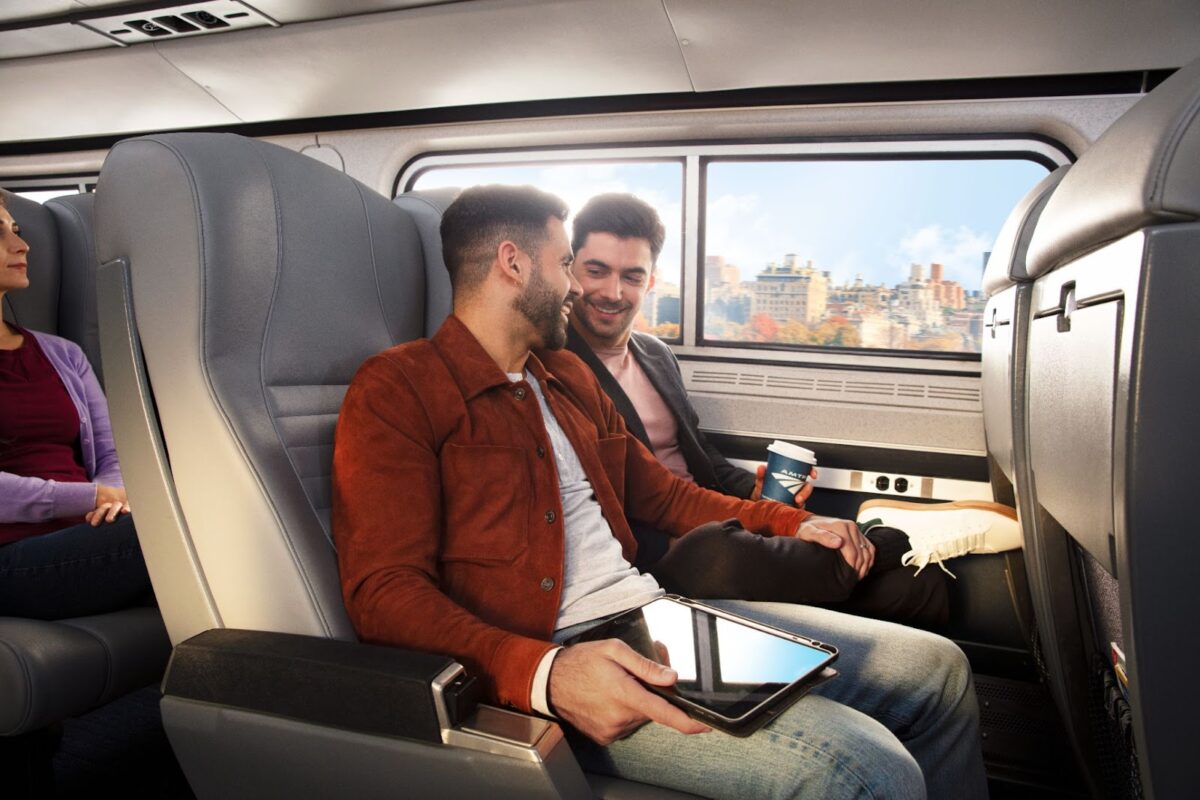 Leg room, anybody? Seriously, we can never get enough. Feeling comfortable is the secret recipe to taking your mind off transit. That's why Amtrak is the ultimate transportation mode for multitasking.
Whether you want to rest, work, or play, Amtrak accommodates every traveler's needs and desires. For example, Quiet Cars are available for guests who prefer a subdued ambiance and no phone calls.
What really distinguishes Amtrak as the go-to transit option for the gays is something that seems rather simple but is not – there's a bathroom in every car. Because, of course, the only bathroom line the gays should wait for is at the club. Amtrak cars are spacious enough to stretch your legs, walk around, and bust a move, or three!
You can rest easy knowing your travels contribute to a greener planet. Trains emit between 66 and 75 percent fewer carbon emissions than automobiles and airplanes. And Amtrak is taking this even further by pledging to achieve net-zero greenhouse gas emissions across the Amtrak Network by 2045. Who doesn't stan a sustainable queen?
3. Frequent & flexible
The gays are a people on the go, so we need transport that's ready whenever we are. With 21,000 route miles in 46 states, Amtrak operates more than 300 trains each day. Surely, one of these train rides will fit even the most spontaneous or busy schedules.
With our chosen loved ones near and far, we're obviously going to choose transportation that connects major US cities. Whether you're planning an adventure across the country or surprising someone in a neighboring state for a special occasion, booking a last-minute ticket doesn't need to come with dread (or an exorbitant price tag). Amtrak is flexible with your time and your wallet.
Do you have a special celebration in mind for a trip? Don't be shy to invite your friends, honey, because Amtrak offers 60% off up to 8 tickets with share fares. Available on Coach seats on most Amtrak routes – including popular routes like the Northeast Regional, Empire Builder, Auto Train, Downeaster, Palmetto, and California Zephyr – the more, the merrier is the motto.
4. Healthy snacks & food
Grown-ups should be able to eat and drink whenever they damn well please, and that is the fun of taking Amtrak. You not only skip waiting for a stewardess to come around to you with a limited selection of flat sodas and stale snacks, but you get access to a broader range of delicious meal options (hello burgers!), libations, and nibbles. There's a designated Café Car for passengers that want to break away from their seats or enjoy food in a more social atmosphere. Or you can re-up on wine before resuming your streaming binge with Amtrak's free wifi.
What makes food and drinks taste better? A view! Amtrak has all the big window energy a traveler desires. So relax on the wide seats, charge your devices, and prepare for some me time.
5. Convenient – arrive downtown
The gays are all about location, so we love transportation that delivers us near the right spots. Amtrak is the most cost-effective and sustainable way of arriving. Downtown is typically where you'll find most gays in any major city, and Amtrak stations will put you right in the heart of all the action. And not just any downtown locale. Amtrak stations are some of the most beautiful buildings in the world.
Convenience is more than just comfort and accessibility. Life happens unexpectedly, so Amtrak offers no change fees, empowering your wanderlust without having to set your adventure in stone.
RELATED: Amtrak Acela – your ticket to a stylish East Coast Pride getaway