The first time I experienced the phenomenon of soccer was when I was 13 years old, visiting my father for the summer in Bogotá, Colombia. Long story short (if that's ever possible from a 1st-person narrative writer), he'd force me to play against my will with my quadruplet brothers and the local teens and young adults, who'd meet up at the same makeshift concrete field at the same time every day for matches.
I remember my resentment towards him at first and my surprise when I began to enjoy myself, waking up in the morning eager for the afternoon's game arrival. My brothers and I barely knew anything about any of our fellow players, but we all acted like lifelong friends (or nemesis, depending on which side you were on). 
Fast forward to my adulthood in New York, a land where the only sport is catching the subway; I never played soccer again. In fact, I completely forgot about it, like a Grindr hookup that might as well have happened in another life. 
Now, I'm traveling the globe as an expat and unintentionally found myself in Buenos Aires during the 2022 FIFA World Cup. Even though the actual competition occurred in Qatar, the streets were taken by storm with light blue and white striped jerseys whenever it was Argentinian game days. I allocated this time to catch up on work at coffee shops. My local friends had invited me to watch the games, but I channeled my inner Mariah: "Fútbol? No la conozco!"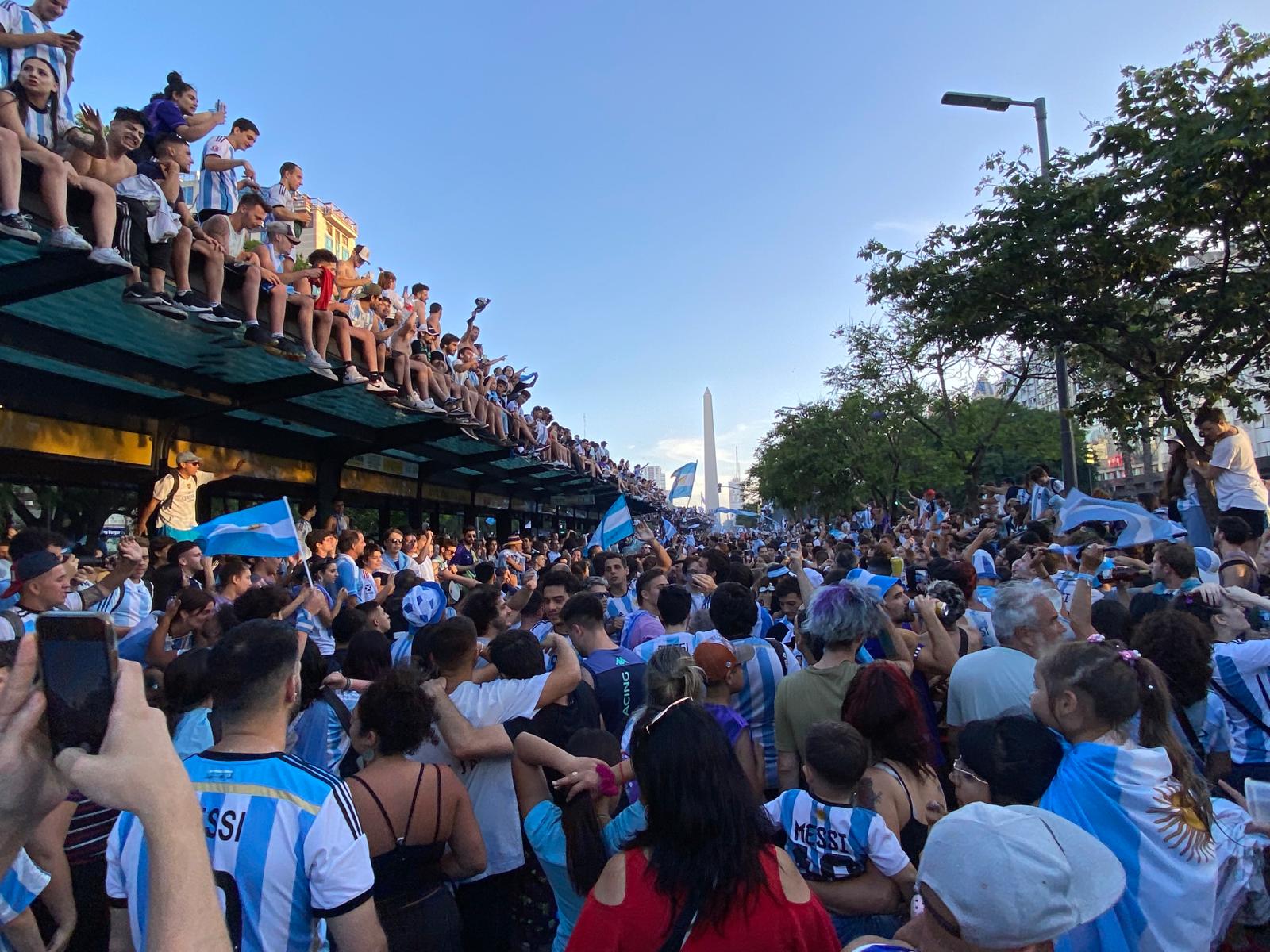 I underestimated the passion in Argentina; every place was filled with fans or had visibly upset staff if you expected them to be serving instead of watching the game. People even stood outside kiosks watching through a small television screen. In other words, it felt extremely uncomfortable doing anything besides being enthralled by Lionel Messi's final chance at World Cup glory. 
I decided the World Cup was a perfect opportunity to use my building's rooftop pool and work on my tan. I kept track of the score through the tone of the screams that could be heard from the streets below. Then, it came time for Argentina's final match, and coincidentally, it was for the title of World Champions. They made it to the finals against France. My friends threatened to disown me if I didn't participate in what could be history in the making. The last time Argentina won this title was nearly 40 years ago, in 1986. 
"How many people get the chance to be in the winning country of the World Cup?" My Peruvian friend Sebas asked me. 
"Fine," I said, "I'll go." 
The friends I've made here are from all over, including natives and fellow expats like myself. Regardless, you wouldn't have been able to tell who is who. Each of them smudged their cheeks with paint colors emulating the Argentinian flag. I considered my presence enough of a sign of support. 
We joined countless others on the streets watching the game through big screens displayed at popular local hotspots. As we witnessed Lionel Messi and Ángel Di María scoring their respective goals, every person cheered as if they had won the ultimate prize on Wheel of Fortune. When France unexpectedly tied, the people around me looked like they had just received a terminal diagnosis. Both soccer teams scored an additional goal; folks lost their freaking minds. 
The cynicism I felt for sports was still there, but the camaraderie and exhilaration reawakened within me. Strangers held each other through the lows and lifted each other higher through the highs. I knew all about this sense of pride and community values from my LGBTQ+ community. (They never shut up about it!) 
Still, I didn't expect to feel so much joy when Argentina won the penalties. I felt like I was in a familiar place, marching the streets with friends and strangers like one massive family. I've done this several times for LGBTQ+ Pride, and it was the same except for an entire country – sans harnesses and rainbows. 
What I love about Buenos Aires is the lack of division between queerness and heteronormativity. There are limited 'gay' spaces because inclusivity and acceptance are so prominent. Millions of people crowded the city's capital, and I allowed my past thirteen-year-old Latin soccer fan self to merge with the present proud gay New Yorker. We're one. 
RELATED: 'Being gay is being free' – Buenos Aires marchers share what Pride means to them