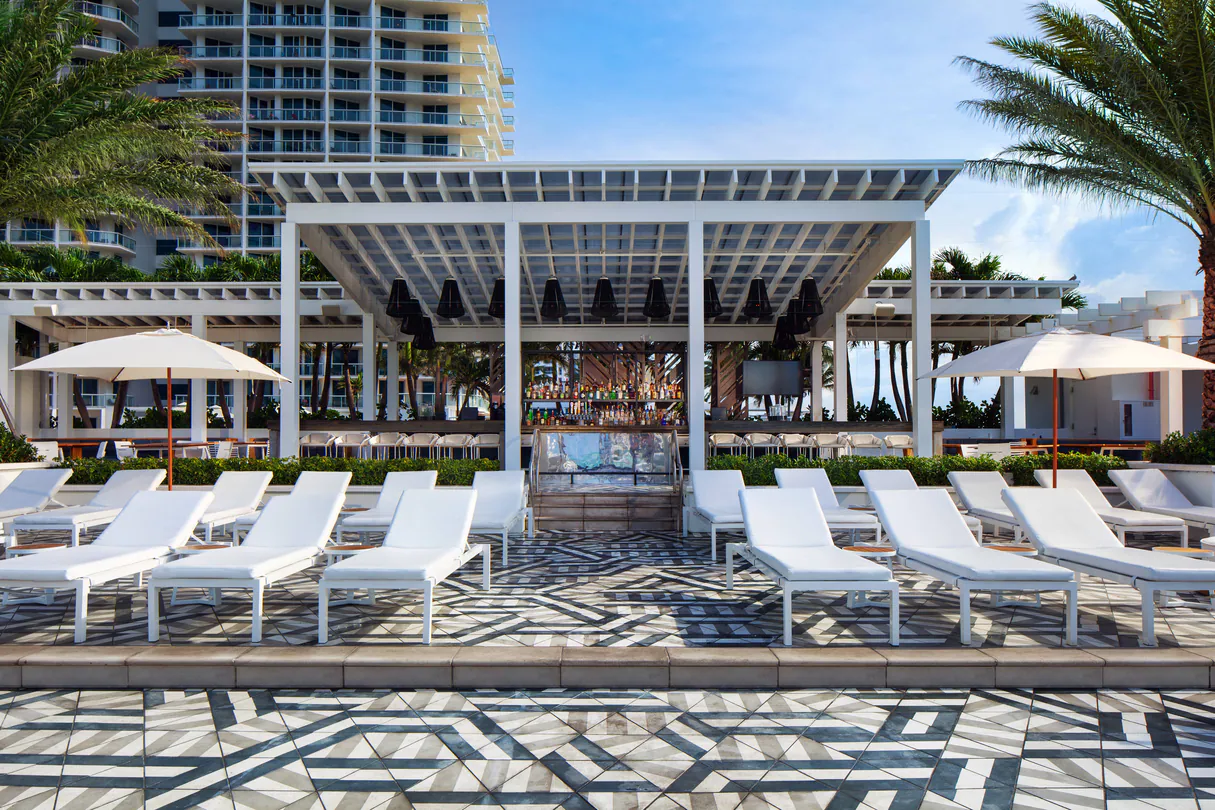 Fort Lauderdale, one of the most diverse cities in Florida, is experiencing a hotel boom. Evidenced by six new lodgings that opened in 2020; 10 in 2021; and another seven anticipated to open in 2022.
GayCities recently checked into the W Fort Lauderdale, a swanky beachside stay, and we found all the gay fun nearby to put on your radar.
W Hotels has long been a supporter of queer travelers and will be partnering for the next three years with WorldPride, including next year's off-the-charts celebration in Sydney. But for those who want to stick closer to home, W Fort Lauderdale offers plenty of fun in the sun and easy access to some of Fort Lauderdale's best LGBTQ nightlife, bars, and activities.

In 2015, W Fort Lauderdale partnered with the Greater Fort Lauderdale Convention and Visitors Bureau to host the "Love is Love" wedding celebration in honor of the announcement for same-sex marriage equality in Florida. Since then, the hotel has hosted drag brunches, guest appearances by nightlight and queer icons like Susanne Bartch and Tyler Oakley. There's plenty of fun to be found on-site, or grab one of the hotel's white and pink cruiser bicycles (included in resort fee) to start exploring.
Wilton Manors
We must start with the Gay Elephant in the room: you cannot visit Fort Lauderdale without making a trip (or a few) to Wilton Manors. If there has ever been a gayborhood created with fun and convenience in mind, Wilton offers an entire land strip of gay bars and clubs located a couple of feet from one another. Local favorites include Georgie's Alibi Monkey Bar, Hunters Nightclub, the Eagle, Johnson's (if you want to experience the art of naked go-go dancers), and where everybody ends up (and SoFlo's most well-known club), the Manor.
Want to display a lewk like none other? W Fort Lauderdale has partnered with the local arts program ArtServe to create Sprayed in Style, in which an artist will turn your fashion into a one-of-a-kind collectible.
No Man's Land
Looking for a date night spot where your date won't be stolen? Avoid the Venus Fly Trap that is Wilton Manors and take them to No Man's Land, where the lighting alone is intimate and dark enough they won't be able to see beyond your face at the table. The venue markets itself as a refuge from the ordinary, and its wide selection of creative libations, small plates, and vintage design channeling the romance of the renaissance makes No Man's Land a hidden gem to invite potential lovers.
NEXT PAGE: Las Olas Boulevard, brunch spots, and more…
Las Olas Boulevard
For once, straight people didn't need the gays to make a neighborhood fabulous. Downtown Fort Lauderdale's famed Las Olas Boulevard is highly pedestrian-friendly, with over 150 shops, restaurants, and bars. During winter, you can experience a New York vibe and stylish crowd without 3 inches of snow. The name means "the waves" in Spanish, and the tide has picked up the city's younger generations for nightlife, shopping, and dining. It's worth a visit just for a stroll down the riverwalk.
SoBe Vegan
If you're vegan, look no further than Sobe Vegan for a wide selection of meals, juices, and desserts. Every turn of the restaurant is an Insta-worthy moment and was planned to offer a camera-ready setting. Vegans can indulge in savory cravings typically not available at restaurants — you're spared from the repetitive claws of another Beyond burger! Other dining options at the W Fort Lauderdale include Steak 954 by James Beard award-winning restaurateur Stephen Starr, El Vez for creative Mexican, and fresh bites at the WET Bar & Grill, though you'll be more likely to feast on the poolside crowd.
If you hate choosing, this 220-person seated restaurant offers three unique rooms designed to seamlessly take guests from day to night. Whether brunch, lunch, or dinner, Holly Blue's aesthetic has that universal flair that will match all your looks. Their winning dishes are the Half Dozen Market Oysters, Twin Cold Water Lobster Tails, and Potatoes Dauphinoise. Insider tip: Wear blue to match the patio's decor hues for your next fabulous shot.
Fort Lauderdale Hair
Ok, so while this is not necessarily entertainment, we're sure you understand how difficult it is to enjoy yourself without your hair adequately done! Traveling to a new city and needing a haircut rarely ever works out without holding back tears at the finished product. But master hairstylists and colorists Zachary Travers and Lorenzo Littlefield at Fort Lauderdale Hair have your back. As gay men themselves, they're on a valiant mission to ensure no queer person or traveler in Fort Lauderdale ever endures a bad hair day again. Their talent and client reviews speak for themselves.
And when the day is done (or just begun), a full day of beauty and pampering can be found at W Fort Lauderdale's AWAY Spa, from a 10-minute "Quick Fix" neck, back, and shoulder massage to an 80-minute detox massage to recharge for another night out.
RELATED: So what exactly happens at Pig Week in Fort Lauderdale?