Pride Month is fully underway and there are a plethora of ways to celebrate.
Whether you're into dancing all night or keeping it more low-key, GayCities wants to help you get out there and celebrate in style when traveling to Pride.
So, with the help of some friends, we've come up with this list of travel must-haves for Pride month. Coincidentally, the friendship began on the beach at Pensacola Pride 2015. Now, seven years later, it's still going strong!
Here are our top ten Pride travel essentials, all illustrated by a collection of photos of our Pride travels together:
1 – Crossbody fanny
A good crossbody fanny pack not only can be fashionable but make your life easier. You can store much-needed gum, a portable charger, your cell phone, and almost everything else we mention in this list! They allow you to be hands-free to take photos, eat and dance like nobody's watching.
2 – Sunglasses
Trust us you are going to want to bring a pair of frames that fit your face and your style. Preferably a classic look that can easily match all the outfits you're planning to pack.
3 – Good walking shoes
"White shoes, god forbid they are dirty" – Brian Hwang
Style and comfort can be laced up in a white sneaker. It's also guaranteed to match everything in your suitcase.
4 – Swimwear
It should come as no surprise that our suitcases would be filled with speedos. We can almost guarantee that there will be a need for swimwear, regardless of your Pride destination's proximity to the beach.
5 – Crop tops
Crop tops once reigned as an 80s summer trend, and have since become a mainstay in popular culture. Crop tops are comfy, cooling, and actually flattering when cut to fit your aesthetic.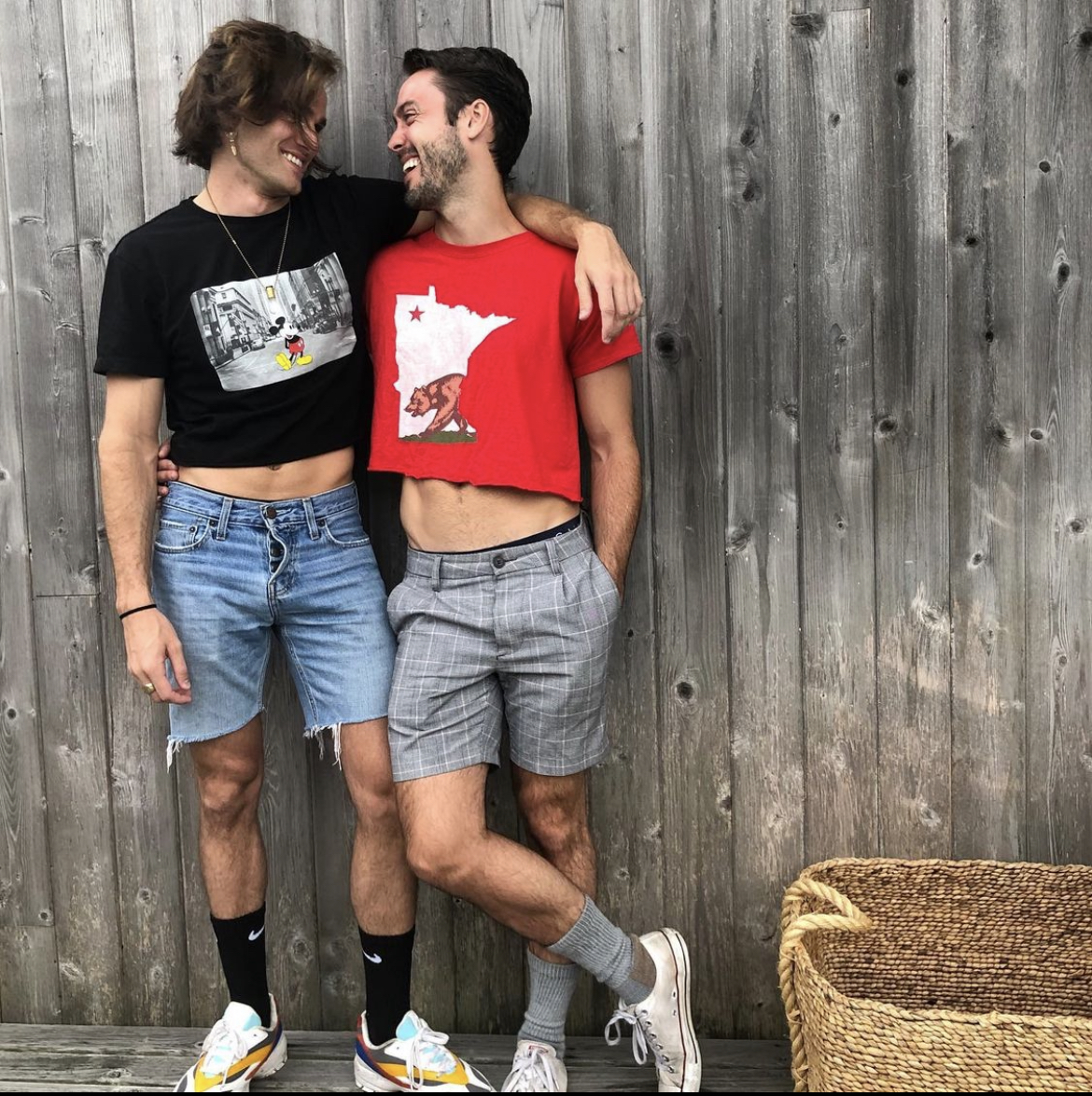 6 – Bucket hats
For bad hair moments, protection from the sun or just to be cute AF… Bucket hats are a sexy way to relive the 90s.
7 – Handheld fan
Bring a handheld fan! YASSS Queen! You'll thank us later (especially folks in hot and humid cities). Your fan will provide a quick cool down or makeup reset on a crowded dancefloor while giving you an opportunity to make a statement.
8 – SPF
"It's the ignorance for me! You gon have wrinkles if you think SPF is seasonal! But continue." -Rihanna
Even if you expect Karl the Fog to show up on Pride weekend in San Francisco, sun care should be at the top of your skincare list.
Sunscreen is a daily necessity – Most Pride activities will be outside.
9 – Disposable camera
Don't call it a comeback!
Using a disposable camera can create awesome memories with a vintage film feel, and can be more meaningful than iPhone shots. You'll also have a fun time reliving those special moments of lasting friendships when you get the film developed.
10 – Refillable water bottle
Don't forget to drink plenty of water! Most major Pride events will have drinking water stations throughout the event footprint.
Though, staying hydrated at Pride goes beyond drinking water. Make sure you replenish essential electrolytes with drinks like coconut water, rich in potassium and magnesium.
Plus, staying hydrated helps you wake up less hungover from partying hard the night before.
11 – Having Pride*
*BONUS
If you want to go all out this Pride month, it's not all about a perfect rainbow outfit, glitter, fun hats with slogans, and creative pieces of clothing, but a good attitude.
Pride is a time to celebrate the queer trailblazers that came before us while gaining confidence in who we are.
Extra travel tips for Pride
1. Safe Sex Essentials: Don't forget to bring your own condoms, lube, wipes, and Prep!
2. Note businesses that are LGBTQ-friendly year-round, not just during Pride month. Find inclusive places to enjoy Pride, beyond clubs and bars, in GayCities' Travel Guides.
3. Don't forget to EAT! If you and your squad are booked and busy, set a time in your busy schedule to eat. Especially when drinking, we don't want you drinking on an empty stomach!
In a pinch, you can always get food delivered to your exact location. Many food delivery apps are offering special promotions for Pride month.
What are your Travel Essentials for Pride? What are you taking with you? Let us know by tagging @GayCities on Instagram.
Related: