Despite becoming a cultural hub of drag and transness in Mexico City, Club Roshell retains its original mystique. Founder Roshell Terranova knew balancing the club's increased notoriety with privacy was pivotal for the safety of all her guests. In a machismo country where exploring your identity can get you killed, there is still no other place like it. 
When the transgender actress and activist started Club Roshell in 2004, she sought to create a space that celebrated tranvestismo (transvestism). Although the term has been deemed inappropriate in modern culture, Terranova wanted to solve the problem that there was nowhere to explore transness, drag, and everything that falls in the spectrum of transgender identity. After all, where does a man go to find guidance with applying makeup and accessorizing?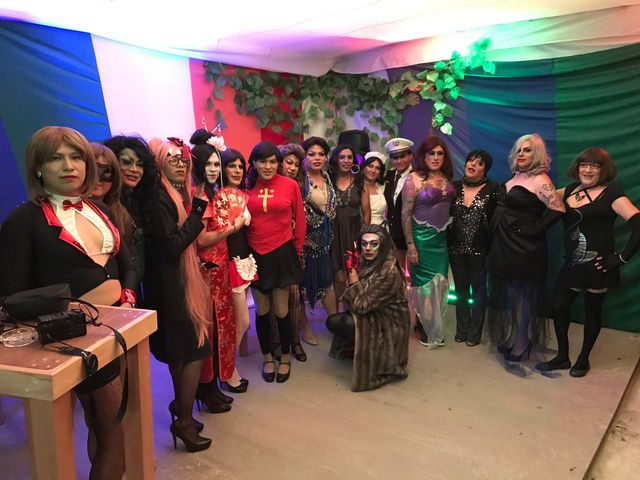 Mexican journalist Juliana Silva reported in 2019 that upon entering Club Roshell, Terranova greets you with warmth and openness, regardless of where you come from, your age, or how you identify.
In fact, Terranova hopes her "Casa Roshell" (House Roshell), as it's referred to in Spanish, becomes part of your journey in helping understand your identity. Beyond their acclaimed cabaret shows and regular performers, the venue offers curious minds the ability to book private services to help with wigs, garments, and makeup. The club encourages experimentation and self-exploration without the fear of labels.
The main room of Club Roshell is the largest, offering your typical stage with red velvet curtains. This is where its highly-anticipated weekly variety show happens, featuring notable guests, regular performers, Terranova decked out in cabaret glamour herself, and most uniquely, drag performers of all identities making their debut. 
Even the most famous gay television show arguably, Rupaul's Drag Race, fails to be as accepting to trans folks like Club Roshell. Yet, Terranova managed to combine art, identity, and entertainment in a way that has never been done before: without judgment or exclusion. 
Silva writes that "la casa" has various rooms, and in each one, there is a magical veil that casts shadows of warm reds, oranges, and pinks on the walls. She emphasizes that what truly makes this place unique is that it's more than just a business. During the week, there are evenings on the central patio of the house, where they serve food, and strangers and friends bond like family. Often, folks encounter like-minded people for the first time. 
Filmmaker Camila José Donoso said she understood the sacredness of the space on her first visit. "Time had a different pace in the club," she told streaming platform Mubi. "Its own rhythm and everything seemed to belong to a different time: the generational mix of people and the music, the dark room, the melodramatic tone of the seduction games, so Mexican and so indebted to the language of soap operas, the love dramas, the questions about identity—all that appeared in front of me like an oasis, a shelter in the darkness to lock yourself in, isolating yourself from a reality you want to leave outside." 
Donoso later released her nonfiction film "Casa Roshell," paying tribute to the club and some of its beloved performers. Regarding its production, Terranova ensured the privacy of those involved was protected to the fullest extent of their wishes. The film transports viewers into a world that intentionally exists outside the spotlight.
Beyond transforming her home into a refuge for queerness and identity, the activist has not been shy about protesting Mexican Congress, demanding its LGBTQ community be heard. She hopes to one day see the legalization of gay marriage across her country. 
Last year, she was one of more than 100 Mexican LGBTQ candidates to run for office. Voters had the task of filling 500 seats of the lower chamber of Congress in state and local posts across Mexico. It was reported as the largest number of LGBTQ political candidates in Mexico's history. Terranova sang cabaret at Club Roshell to celebrate the closing of her campaign. 
Although getting queer leaders elected is another uphill battle, the event marked a historical occasion for visibility. Terranova remains as director of Club Roshell, eager to welcome (and, perhaps, nurture) any soul who dares to visit and make their identity and fantasies feel at home. 
RELATED: Pride in Places: The celebratory spirit of Pulse lives on even after the mass shooting