Liam Ocean remembers the day he fell in love with San Francisco.
After a job interview five years ago, the Seattle-native rode a rented bike across the city, from the Bay Bridge to Golden Gate Park.
"The park was closed to cars, and I joined the mobs of people enjoying the sun and the outdoors," Liam recalls in an interview with GayCities. "I was amazed to find so many different types of people enjoying such large green spaces. At that moment, I just knew I could be free to be whoever I wanted here, and this is where I would find my queer performance community."
Liam's passion, it soon turned out, was playing with fire – safely. He quickly mastered fire dancing, hula hoop dance and a host of other performance techniques that, along with his model looks, have put him in high demand for event entertainment.
Today, his incredible performances are practically synonymous with the city, from circuit party stages to dance routines in the park. During pride weekend June 28-30, he's performing at Taboo! Pride Friday at Oasis drag club, then at Electroluxx later in the night. Saturday night you'll find him at Comfort & Joy's Afterglow.
That's all before the Pride parade gets started the next morning.
Liam generously allowed GayCities to follow him around on a Sunday afternoon to some of his favorite only-in-San Francisco places.
At first, I was intimidated by people who lived here in the city. They all seemed so cool and unique and important. But after seeing people dress how they wanted and dance in public like it was nothing special, I felt free to be whoever I want, whenever I want. People are free to express themselves here and you can just feel it. Nobody will bat an eye at you for doing something out of the norm.
My mom wants me to focus on my career in healthcare and become her idea of a mature adult. She doesn't want me to play with fire, associate with the wrong crowd, or hurt myself. Mom is Asian-American and has strong traditional Chinese values. My dad supports everything I do, and I'm more excited to tell him about most of my performances
The Mission
This contraption is my electric unicycle, a type of scooter I recommend for everyone. Imagine a form of transportation that is fast and essentially free, with no traffic, no parking, no theft or maintenance issues. Most all, it's extremely fun and feels like you're flying. Personal electric vehicles are a green form of transportation that have the capability to change society and transform civilization.
The Presidio
Growing up, I didn't know exactly what I wanted to do, but I had a certain kind of creativity that I needed to let out. Drawing was too hard, writing wasn't satisfying, but when I saw hula hooping a decade ago, I realized that was it. Four years in, people started asking me to do shows at small parties. That's how it started. I started getting gigs performing with LED hoops when I moved to San Francisco in 2014.
Growing up gay, not quite Chinese and not quite white, I never really fit in. I was somewhat sheltered as a child and still consider myself shy, but I have always known deep down I am very capable because of the very high standards I was held to by my parents. This made SF feel all the more like home when I moved here–a place for misfits with something crazy they are passionate about showing the world. I love it here, although I do still ponder the concept of belonging now and again.
The Bay Area Hoopers, the group that started the modern hoop dance movement, is still alive and well. They were my first family when I moved here. They are a group of kind-hearted, open, welcoming, and easygoing people I connected with immediately. Our shared values of having fun, being kind to each other, and sharing tricks let everyone connect in a relaxed way. I still hold them very dear.
Today, performing has become a regular part of my life. Many people are mesmerized by the magic lights I spin at parties around SF, and I like to take that opportunity to find out what they're passionate about and encourage them to follow their own. If they want to learn to dance with props, like hoops or fire, I tell them to come to Dolores on a Sunday. That's an open invitation for everyone reading this article!
Sutro Baths
The baths are breathtaking. These ruins on the edge of the world are at the same time desolate and beautiful and somehow reminiscent of a destroyed castle taken back by the earth to be slowly hollowed out by the sea.
AIDS Memorial Grove
The Grove is a sacred place, and the feeling of being there is awe-inspiring. It memorializes the great tragedy of an epidemic that took so many of us and the powerful love we have for those we lost. The names of the dead etched in stone cannot be forgotten, and it's emotional to think about what that means to so many people who've lived through it, right here in the heart of San Francisco, the center of it all. My favorite thing about the Grove is flagging in the park, where we come together each summer as a diverse community and spin brightly colored flags in an uplifting dance that honors those who have passed with a celebration of life.
The Castro
Beaux plays great music and has some super fierce performers. I hear the gogo boys are top notch (wink). Whether I'm on the stage or the gogo box, I enjoy being close enough to connect with guests, who are good-natured and ready to have fun. It's nice that there's not only a dance floor but ample room in the front by the window to sit on couches, drink, and relax.
Music is a constant in my club gigs. I love Lady Gaga for being unafraid to be over the top, and her song Born This Way of course for the constant reminder to believe in yourself no matter what anyone says. Madonna, too: I've performed to Girl Gone Wild so often over the years. It's just a perfect fit for hooping, burlesque, and just about any fun or queer performance.
The Castro
The guys at Knobs know we gays want to be over the top and they're ready to help. My favorite finds have been a variety of mesh or unique cut tank tops I couldn't find anywhere else. My wardrobe has gradually grown over my years in the city because when I need a risque outfit for a theme party or gig, I scour the Haight and Castro to bring new looks together. My friend and fellow performer Ismael Acosta creates custom pieces for my special occasions as well.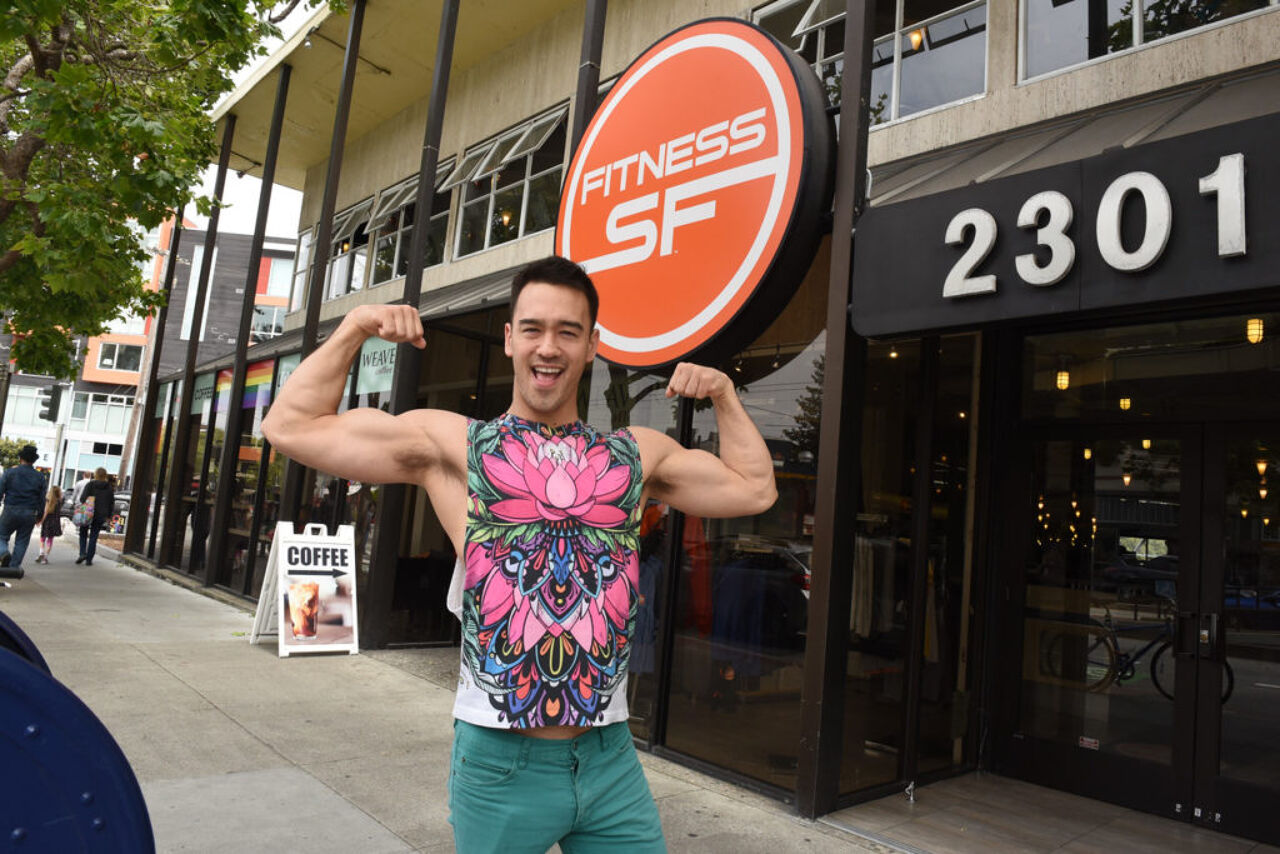 I try to get to the gym at least three times a week. It's a form of meditation, it's healthy, and it gets you gigs. It's all for art, baby. Fitness SF has a lot of amenities. My favorites are the Castro location (above), know as the gay gym, and SOMA, the big boy gay gym. Tip to avoid distractions: Listen to your favorite song on your earbuds and use your gym crush as inspiration, which works really well until he comes by to talk to you.
San Francisco Pride
Coming for Pride? First of all, this is San Francisco, so wear whatever you want, as long as you love it. Whether it's rainbow regalia or nothing but a jockstrap, you'll fit right in, and nothing is too outlandish. Before and after the parade, there's everything from rainbow-and-feather-boa drag brunches to packed art parties, both underground and above.
This Pride, catch me at Taboo! Pride Friday at Oasis, then at the inclusive art party Electroluxx later in the night. Saturday I'll be performing at the one and only Afterglow. I'm hoping I'll have enough energy to march in the parade Sunday morning.
See you out there.
Photos by Steven Underhill except for "pride" by Jouke Lanning and "fire" by Brian Sorensen