Sometimes there's nothing like a good old fashioned greasy spoon diner. A spot where you can hang out with friends in a casual setting or have a quick bite on your own. 
While Debbie from Queer As Folk might not be there to take your order we still flock to these locations for comfort, community, and a hot meal. They are community institutions where we meet for dates, where we have our first or last job, where the meals are affordable for young and old, where we cruise without loud house music, where we gorge on carbs the morning after a night on the town.
But as real estate has gotten more expensive in our urban enclaves, and non-gay people have moved in, these spots and this way of life is threatened. So in honor of great queer spaces–and Dining out For Life–head out to your closest diner.
Here are a batch of our favorites that have survived despite the times:
1. Orphan Andy's, San Francisco
Adventures  in San Francisco can leave anyone hungry. Looking for late night pancakes and a little chicken fried steak after a night of bar hopping and toking in the Castro? Orphan Andy's has you covered. Take a step into the retro 24-hour diner, a true SF institution to sober up or kill a hangover after a night out on the town. Andy's definitely fills up when the bar's close. Pop in around the clock for great people watching and some yummy old school diner grub.
2. Rue la Rue, New York City
One could eat out every night in the Big Apple and still never hit every greasy spoon or neighborhood haunt. Rue La Rue Cafe is the brainchild of Michael La Rue who met Rue McClanahan at a charity event and opened a Golden Girls themed restaurant in Washington Heights earlier this year. The restaurant, featuring a variety of memorability and serving such dishes as "Dorothy's salted caramel cheese cake" and "Rue's Orange Poppyseed Cake." Be sure to take a picture with the actual yellow phone used on the set of the hit (gay) show.
3. Melrose Restaurant, Chicago

Chicago is the nation's third largest city and has a thriving gay community with a broad array of hotspots. Melrose Diner is a 24-hour establishment in Boystown, making the perfect antidote for your late night excursions. Coconut toasted French Toast with bananas and custard? Check. Poblano Eggs Benedict? Check Check. Expect to feel at home at Melrose regardless of if you're inside with the crowd or out on the quaint patio. Founded in 1961, Melrose Diner has been a local staple in the neighborhood.
4. Peter Pan, Wilton Manors
Gay Fort Lauderdale is a tropical paradise for locals and tourists alike. The city offers gay beaches, sexy resorts and gay bars galore… but there's one great spot to get some late night grub. Peter Pan is open 24 hours for anyone feeling peckish after a night of revelry, where gay men mix with every other walk of life. The usual American diner fare is on the menu.
5. South Street Diner, Boston
Formerly "The Blue Diner," South Street Diner was built in 1947 by the Worcester Drinking Company to serve local factory workers. The around the clock establishment has become one of the most popular spots to hang out with friends, celebrity watch and keep the party going after the clubs close. Known as Boston's only all-night dining spot seven nights a week, South Street isn't necessarily an exclusively gay establishment, but it certainly does bring the boys to the yard.
6. Clover Grill, New Orleans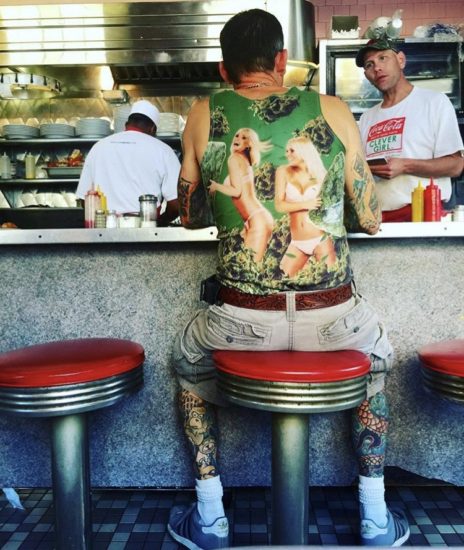 Clover Grill is a New Orleans staple and is the best diner you will find in the French Quarter. Serving breakfast 24 hours a day, the Clover Grill is always ready for your order. If you happen to find yourself out and hungry in the wee hours of the morning, the Clover Grill will hit the spot.
7. The Roxy, Portland
Although it lacks a specifically gay district, Portland makes up for that with all that it does have to offer, everywhere. Breakfast (and drag) is served 24/7 at Roxy, a quirky and popular Portland diner. Big, bookish menus are full of treats, including a breakfast menu with pancake offerings named after celebrities like Pamela Anderson and Dolly Parton, depending on how stacked you like them.
8. Einstein's, Atlanta
"Hotlanta" attracts men and women from around the South who come here to live free. Though there are plenty of places to see and be seen many will agree that one great place to hit anytime of day is Einstein's. Both gay-friendly and family-friendly, Einstein's provides a friendly and relaxing atmosphere and good food. The cocktails are great, as are the sweet potato fries. The weekend Bloody Mary Brunch is hugely popular.
9. Hamburger Mary's, Milwaukee
Milwaukee is a city that's definitely not lacking in the food realm. With great restaurants on the East Side, Bay View, Walker's Point, and all over the burbs there are tons of options to hit. Hamburger Mary's is the perfect option for a night out at a good old fashioned gay diner with a little high kick. Though the original was in San Francisco and there are a variety of Hamburger Mary's all over the country there's something fun and especially outrageous about Hamburger Mary's Milwaukee where Trixie Mattel turned it out before becoming a "Ru Gurl". Pop in for tasty apps, juicy burgers, and delicious desserts (and plenty of Brew City sass!).
10. 18th & U Duplex Diner, Washington D.C. 
The diner food and booze at Duplex Diner brings in DC's A-list crowd including politicians, pages, and cute boys who are just passing through town. Decorated with all kinds of rainbow and non rainbow knick-knacks and memorabilia—it's a kitsch lover's paradise. Thursday nights are definitely the busiest night of the week at Duplex but there's no bad night to swing by and grab a bite. Pop in every Friday at 8pm when RuPaul's Drag Race is in season.
Any faves we missed? Let us know in comments…