Winter is finally here and the slopes are alive with the pulsing energy of snow bunnies tearing it up and getting their skiing and boarding on. There are always plenty of options for snow birds fly South to catch some rays but snow seekers really have to find the right spot maximize the winter synergy.
We put together a list of some of our favorite spots to get away for your own little winter wonderland. 
1. Whistler
Whistler Pride happens a bit early this season, from January 22-29 the slopes will be hot, pink, and chilly in all the right places. Hell, even Pam Ann is going to get into this year's fun. If you're hungry for a little snow before or after the big gay ski week pack a bag and hop a flight to British Columbia. Whistler Blackcomb is one of the biggest ski resorts in North America.  Bonus is the quaint chalet-styled village back down the mountain. Plenty to see and do in this adorable little winter destination. Get into it.
2. Aspen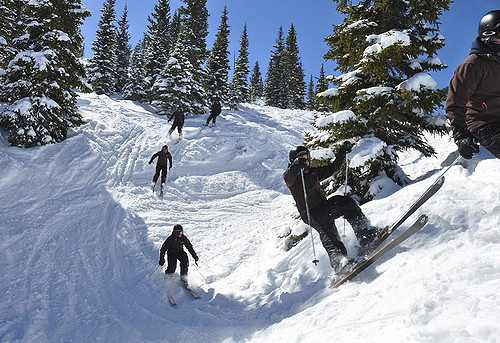 The Rocky Mountains are a force to be reckoned with year-round but in the winter Aspen is booming with all kinds of fun. Aspen's Gay Ski Week is celebrating it's fortieth anniversary from January 15-22 this winter. If you haven't booked your flight and rooms yet there's still time – but there's really no bad time to hit the slopes in Aspen this winter. Slope-seekers have flocked to this decadent winter resort area heavily since the 70's. The impressive Elk Mountains rise up on the south and western corners of Aspen with the Williams Mountains and Sawatch Range over to the east. Snowed in? Not a problem, there's plenty to see and do at the town's many restaurants, shops and galleries.
3. Jackson Hole
Today's snow conditions: Packed powder. Open Trails: 120/133. Open lifts 12/12. Snow depth 23″base 80″ summit.
Jackson Hole, a 48-mile long Wyoming valley surrounded by jagged mountain peaks, is basically synonymous with world-class skiing. Jackson Hole itself is comprised of the snowy towns Jackson, Kelly, Moose, Moran, Wilson and Teton Village. Skiers flock to the Jackson Hole Mountain Resort at the base of the Teton Mountains, the Grand Targhee Resort in nearby Alta, or to the centrally located Snow King Ski Area & Mountain Resort for some of the best skiing in the world. Locals and tourists alike get into all kinds of winter mischief, from snowmobiling, dog sledding tours, sleigh rides, snowshoeing and snow tubing (those crazy kids). Head back into town (pick a town, any town) for some hot cocoa and check out the eye candy as crowds of cuties lug their gear down from the mountains.
5. Salt Lake City
If you think of Salt Lake City as a conservative, oppressive place then head out and see for yourself. The LGBTQ community has set up shop and the vibrant local gay community lives their fantasy in this pristine capital city. "Ski City" was the official host of the 2002 Winter Olympics and encompasses Salt Lake City's distinct neighborhoods and four incredible mountain resorts: Alta, Brighton, Snowbird and Solitude. An alpine glacier carved out the infamous Little Cottonwood Canyon over 20,000 years ago and it's sassy granite walls and jumbo boulders are waiting for you to zip by and take in all it's glory. Be sure to hit the heated outdoor pool at either Alta's Rustler Lodge  or Snowbird's Cliff Spa (at the swank The Cliff Lodge) after smacking the slopes with all your might.
6. Lake Tahoe
Lake Tahoe, like many winter destinations, is gorgeous year-round. Situated in the Sierra Nevada, this enormous freshwater lake straddles California and Nevada. In the winter, the sweeping and powdered landscapes will take your breath away.  Though Lake Tahoe's Official "Lake Tahoe Winterfest Gay and Lesbian Ski Week" has come and gone the boys (and gurls) are still hitting the sprawling valleys and soaring peaks to no avail. Head to any one of the epic twelve downhill resorts or seven cross country resorts or just get a moving with a sled, skates, snow-shoes, or on the back of a snow mobile with that hot, beefy lumber you met on Scruff the other night.
7. Zurich
Zurich, situated at the north of Lake Zurich in northern Switzerland, is the country's largest city with over 1.9 million locals. Visitors can dive into the lively nightlife and artistic culture of the amazing capital city and venture through the gateway to the Alps. Experience panoramic views of snow capped mountains and fashionable (and handsome) European adventure-seekers. Nearby ski resorts include Flumserberg, Davos and Klosters. Get out in the snow for most of the day but save some energy for the clubs at night. There's something for everyone in Zurich…we recommend hitting the Alstadt early in the evening and then Zurich West if/when you want to get into trouble.