DTLA, my friends. Learn it, live it, love it. After decades of being the sad, forgotten stepsister of Los Angeles neighborhoods, DTLA—that's "downtown Los Angeles," for those of you who don't speak Hipster—is finally beating with the heart of a proper urban core, with shops and restaurants lining the streets and odd artist-types of people wandering about. Even the street art—including this mural (photo above) that takes up an entire wall—is exciting.
Technically "downtown L.A." only refers to the little clump of high rise buildings that sprinkle around the junctions of the 5, 10, 101 and 110 freeways (a.k.a. "highways" to the rest of us). But the DTLA moniker embraces other nearby neighborhoods, like Little Tokyo, the gritty Fashion District, and the warehouses-turned-cafes of the Arts District. This Arts District is where the cool kids hang out, sitting in coffee shops and discussing monetizing their Instagram accounts or the latest exploits of their hiking clubs. But don't feel bad about trying to fit in. Hipsters are generally a friendly bunch and are notoriously gay-friendly.
DTLA has a lot to offer. Here are just a few spots to get started on the adventure:
Pocketo
820 E. 3rd St.
Nifty little shop selling men's and women's clothes, sexy kitchen stuff, and little gifts like a Carry-On Cocktail Kit for transforming airline alcohol into delightful drinks.
Wurstküche
800 E. 3rd St.

Gourmet sausages—because we all love sausage (insert gay sex joke here)—made from pork and chicken, as well as rattlesnake, duck, rabbit, or buffalo, and vegetarian if you must. The rattlesnake really does taste like chicken. Good stuff.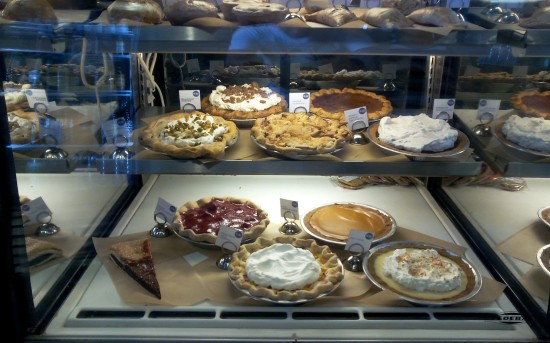 The Pie Hole
714 Traction Ave.
Sweet and savory pies, as well as coffee and such. Try the Mexican Chocolate Pie. Seriously. It is the pie on the middle shelf of this above photo, in front on the right, with the white cream on top. It does not taste like enchiladas. It tastes like magic.