(Provincetown's Herring Cove Beach)

Last week, we could almost smell the ocean salt and bronzer here at the GayCities offices as we compiled a list of the 10 best gay beaches in the world. But we carefully  tiptoed around clothing-optional destinations.
Then we realized stripping down to your birthday suit in public isn't something to be ashamed of, especially if you got the package to deliver. Besides some of the best gay beaches encourage locals and travelers alike to bare it all. So we decided to bare it all ourselves this time with the world's ten best nude gay beaches.
The photos are fairly SFW, but proceed with caution if your cubiclemate might swoon at the site of some side-butt. And if we missed your favorite naturalist oasis, drop us a line in the comments section.
Click through to see the scorching hot list of 10 best nude beaches.
Photos: rmody999, janoma, Antoine Taveneaux, Elmschrat, abearlover2, steveisaacs, enigma63, orinrobertjohn, pistolsdrawn, chelseafb, gruflick, snarl71, terrywself, richardds9, perryleo, LWWL, JackBlair, letsgosf, tipsfortravellers, GayLisbon4u.com
UP FIRST: Black's Beach in San Diego
San Diego, CA: Black's Beach
Probably the most famous nude beach in America, Black's Beach is also San Diego's popular gay destination. (Imagine that!) A secluded area beneath the bluffs of La Jolla's Torrey Pines, the nudist area starts about 100 yards from the Gliderport trail head and ends a mile up at the steel buoy south of Flatrock.
Only the portion of the beach governed by the state park is clothing optional—nudity is not allowed on the section run by the city of San Diego.
NEXT: Haulover Beach in Miami

Miami, FL: Haulover Beach
One of the few nude beaches in Florida, Haulover Beach is about 11 miles north of South Beach. The north end is the clothing-optional section that's frequented by gay men with a smattering of women.
NEXT: Gunnison Beach in New Jersey
Highlands, NJ: Gunnison Beach
A short ride from New York City, Gunnison is a great spot to let it all hang out. Once part of an Army base where soldiers used to skinny dip, it's been a popular naturalist destination since the 1970s (and New Jersey's only legal nude beach for over a decade). Bonus feature: Since Gunnison is technically federal land, alcoholic beverages are allowed. (There is an vehicular admission fee of $10 per car.)
NEXT: Little Beach in Hawaii

Maui, Hawaii: Little Beach
Little Beach (also known as Pu'u Olai) is a 660-foot stretch of shoreline in Makena State Park, separated from Big Beach by a steep lava outcropping. One of the few places in the Aloha State where public nudity is kosher, it's also home to fire dancing and drum circles every Sunday.
NEXT: Baker Beach in San Francisco

San Francisco, CA: Baker Beach
The north end of Baker Beach, which attracts gays wearing bathing suits or just their birthday suits, was the original home of Burning Man in the late 1980s. It atones for SF's ubiquitous fog with stunning views of the Golden Gate Bridge, which rises above the cool gray mist.
NEXT: Herring Cove Beach in Provincetown
Provincetown, MA: Herring Cove Beach
While it is technically illegal to disrobe here, the National Park Service generally looks the other way (too bad for them) and you should be able to cover up quickly in a pinch.  Women go topless in the lesbian section just left of the parking lot, while boys bare all about three-quarters of a mile down the way. The dunes are infamous for cruising, so don't wander off the beaten path unless you are looking to be found.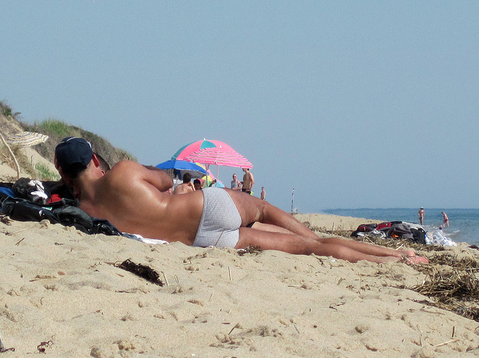 NEXT: Hanlan's Point in Toronto
Toronto, Canada: Hanlan's Point
To get to this oasis (legally clothing-optional since 2002), take the Hanlan's Point ferry at the foot of Bay Street and Queen's Quay. After you reach the shore, walk about 15 minutes up a paved path and then stroll through the brush to the coast, where pristine white sand is not the only natural beauty to behold.
NEXT: Sandy Bay in Cape Town

Cape Town, South Africa: Sandy Bay
One of the last remaining untouched areas on South Africa's Cape coast, Sandy Bay is an unofficial nudist beach, though its relative inaccessibility means it's unlikely you'll be bothered (unless you want to be). The nude area is a 20-minute walk from the car lot, or you can traverse the Hout Bay dunes, which—along with the mountains—provide privacy and shelter from strong winds. Expect a more tranquil experience than party atmosphere.
NEXT: Obelisk Beach in Sydney, Australia
Sydney, Australia: Obelisk Beach
Many an Aussie lad has shown up at Obelisk with nothing but a bottle of water and some suntan lotion. Nude sunbathing is allowed, but only on the beach. Other clothing-optional take place in the secluded paths leading to and from the shoreline, where the ocean water is a dazzling shade of cerulean.
NEXT: Beach 19 in Lisbon
Lisbon, Portugal: Beach 19
The 19th stop on the little train that runs along Lisbon's Costa de Caparica is where the nude beach starts (and gets its name). To get to Beach 19, also known as Praia de Bela Vista, walk down the hill, past the straight area and the railroad tracks and you'll run right into gay bodies basking in the seemingly endless sun.