GayCities encourages you to stay safe during the Covid 19 pandemic. If you choose to travel, we recommend that you follow all CDC Travel Guidelines and adhere closely to all local regulations regarding face coverings, social distancing and other safety measures.
After being furloughed from my photography job in Manhattan mid-March, I relocated to Atlanta to be with my Georgia Peach, my amazing boyfriend. I was eager to meet some new friends and pick up my camera again.
My goal was to capture the unique experiences of the Atlanta Queer community during Quarantine and to find out what brings them–and you–joy and peace right now.
-Ames Beckerman 
Cody & Lane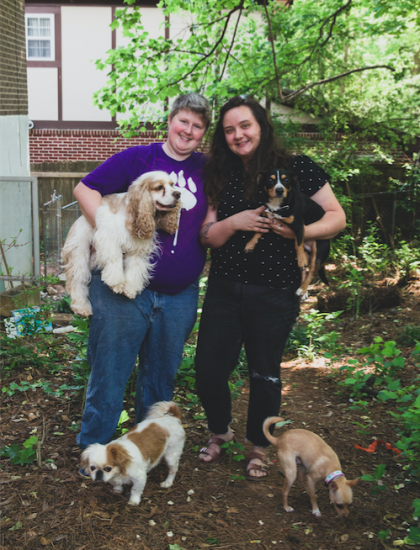 Lane: "I know the quarantine has been rough for most everyone but we were fortunate enough to be able to move in together at this tough time. Having someone to support you and do fun things together made this a really positive impact on us."
Jeffrey, Ben, Will & Rick
Jeffrey: "We have enjoyed game nights together. It was a great way for the four of us to enjoy each other's company. We have also had meals together in the dining room almost every evening. Before the Quarantine, this would rarely happen. It brought back family mealtime."
Jamie and Jay 
Jamie: "This time has allowed us to discover creativity and skills we didn't know we had.  I think it also brought us closer as a couple."
Cookie & Brandon
Brandon: "Because I don't have to commute to work I've been able to use the extra time to develop a habit of meditating, stretching, and journaling every day. As of today, I've been doing it for 60 days straight."
Bethany and Sara
Bethany: "We have started doing 'Corona Look of the Day' photos for each day of Queerantine. It has grown into a project with many admirers, thus giving us something good to feel about doing! It's also super-fun to play dress-up while creating the next chapter of your love life. We are doing the project to promote disability visibility and counter the ableist discrimination bound up in Covid."
Ben
Ben: "During my furlough, I dedicated an hour or so a day to sitting outside and reading.  I finally finished a book I had started ages ago and am picking up pace through another two right now. This and the weekly meditation meetings over Zoom were all doable commitments during a much-needed reset. I've learned I'm so much happier without so many things filling up my time and just making space for what fulfills me."
Check back next week for a second photo gallery from Ames Beckerman