GayCities encourages you to stay safe during the Covid 19 pandemic. If you choose to travel, we recommend that you follow all CDC Travel Guidelines and adhere closely to all local regulations regarding face coverings, social distancing and other safety measures.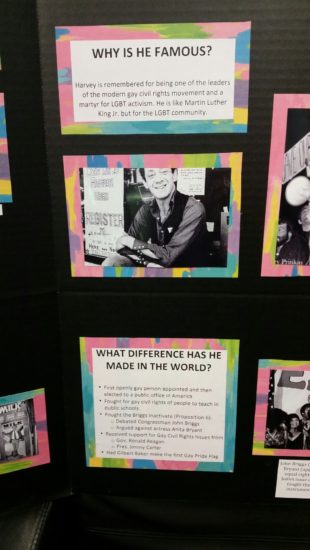 This just in from the Kansas City Center for Inclusion, in Kansas City, Mo., is this adorable story about a fifth grader who was super-excited to show off his school project.
Topic: his hero, Harvey Milk.
The text in the screenshot from the organization's Facebook page says: "On a chilly Monday afternoon in February, we received a call from a couple with a unique request on behalf of their son. The boy was in fifth grade and wanted to do a practice run through of his school assignment, an LGBTQ presentation. Of course we were thrilled to be requested for a private presentation.

"'Of course!" we said, 'Come on out. We'll see you soon.'"

"Within the following hour, the family arrived, consisting of the two dads and their son," the post continued. "The lad set up his tri fold poster board as if he were unveiling a sacred relic. The board was covered edge to edge in print out photos of Harvey Milk, the Californian politician and Gay Activist, his quotes framing the pictures. After being satisfied that his display was placed perfectly on the table, the youth positioned himself before his audience and lectured expertly on his hero, Harvey Milk.

"He professionally contained his obvious excitement and enthusiasm as he perfectly recited his ten minute presentation on the pivotal member of the LGBTQ community. He touched on Harvey Milk's life, work, and his legacy to the community. He closed his moving, well researched speech by imploring the importance for humans to continue to advocate for LGBTQ folks, because LGBTQ rights are human rights. We applauded the boy as he bowed with a big grin and snuck a glance to his parents, who had nothing but pride written on their beaming faces.

"We as a community center were proud too, knowing that this young boy had not only chosen to share his school project with us, but also that he was carrying on the work of Harvey Milk and was already making a difference in the world."
Out of respect for the privacy of the youth and his family, the Kansas City Center for Inclusion's staff has not disclosed their names.
Related: Teacher followed trans student into bathroom, tried to force him to use urinal
Reflecting on these difficult times, when we have made strides but still face oppression from our own government (and people buying their way into our government), Professor Dumbledore said it best in J.K. Rowling's Harry Potter and the Goblet of Fire: "Dark times lie ahead of us and there will be a time when we must choose between what is easy and what is right."
There is no greater hope in seeing young people, even as they face peer pressure in school, choose the right path when so many adults try to silence them.
To support your local community center, see CenterLink's directory.
Click on these images for close-up photos of the Harvey Milk school project: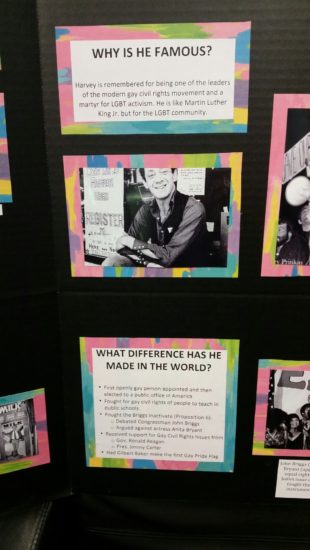 Photos courtesy of Kansas City Center for Inclusion Facebook