From 70 miles of coastline to dramatic vistas for hiking, biking, or just chilling out, San Diego's outdoor attractions make the Southern California paradise a must-visit any time of year. Spending time outside in San Diego can be as action-packed or low-key as you desire, with plenty of spots to enjoy an al fresco meal or rooftop cocktail.

GayCities offers some tips for making the most of your San Diego vacation, with a special emphasis on fun in the sun.
Related:
San Diego for thrill-seekers
If an adrenaline rush is your idea of a good time, San Diego's outdoor adventures on land and sea offer options for every kind of outdoor enthusiast.
San Diego's proximity to the water makes it a global destination for water-related adventures. Hop on a jet ski for an unforgettable adrenaline rush. And if that's a bit too close to the water, Flagship Cruises & Events' new jet boat, the Patriot, harnesses the power of 2,800-horsepower engines for a thrilling ride through San Diego Bay. Snorkeling or swimming with leopard sharks takes San Diego water sports to the next level. Despite their four- to five-foot length, the bottom-feeding sharks are safe to interact with and provide a captivating experience.
Take in the view from above by paragliding at Torrey Pines Gliderport. A 20-minute tandem flight offers views of the coastline, Torrey Pines Golf Course, and cliffside mansions, followed by a smooth landing on Black's Beach (Tip: pack a day bag to spend even more time at one of California's most popular gay beaches).
San Diego's 4,261 square miles are some of the most diverse landscapes in California, from desert palm groves and pristine beaches to shady pine forests. Pack your best hiking shoes for the eight-mile loop that locals call Potato Chip Rock Trail, named for the thin precipice with jaw-dropping views reached about 100 feet below Mt. Woodson summit. Tip: Start early, bring an adequate water supply, and slather on sunscreen to avoid the midday sun and crowds.
Prefer wheels, instead? Rent a bike to explore unique neighborhoods or venture further for more secluded surroundings. Mission Bay's paved 12-mile scenic bike path traverses ten public parks and two nature reserves. For those looking to go trail riding, head to Mission Trails Regional Park. Divided by the North and South Fortuna Mountains, the eastern side suits recreational riders, while the western trails offer more challenging terrain.

San Diego is also the birthplace of skateboarding — an activity surfers turned to in the mid-20th century when the waves were flat. Since that time, San Diego's skate parks have been a worldwide draw. The Mission Valley YMCA Krause Family Skate & Bike Park is ideal for all levels and offers private and group lessons. The no-cost Washington Street Skate Park, tucked under a Pacific Coast Highway bridge near Little Italy, attracts more advanced skaters and features mosaic murals.
Relax and rejuvenate
Sometimes, the best plan is no plan at all. No matter the neighborhood, San Diego can deliver a chill-out vibe, beginning with the perfect picnic. Head to Liberty Public Market in Point Loma (west of downtown) for food vendors and shopping.
Day spas offer relaxed indulgence, including beautifully designed outdoor spaces to enjoy a healthy meal or snack or even partake in a private outdoor treatment. Many hotels and resorts feature outdoor pools and other al fresco amenities, such as the recently renovated Lafayette Hotel & Club, which also offers day passes. A beach day can be equally satisfying, whether under a cabana at a luxury resort or a more casual experience at one of the many public beaches.
A good stretch can also do wonders. An outdoor yoga class's restorative qualities are perfect after a long flight, sightseeing, or for a midday break. Prefer coffee and journaling? Head to Balboa Park's Japanese Friendship Garden or Palisades Park in Pacific Beach to set the day's intention.

A spontaneous day does have one suggested requirement: a beautiful sunset — a no-cost way to experience San Diego's stunning vistas. La Jolla Cove, ranked one of Tripadvisor's Best Beaches in 2023 and known as "the jewel" of San Diego, features well-maintained pathways and stairs, gazebos, and plenty of Insta-worthy vantage points.
Get sporty
Spectator sports offer live-action thrills for those with a competitive spirit. The San Diego Padres have been going to bat since 1969 and, in recent years, co-host Out at the Park with San Diego Pride.
The team's home — Petco Park — celebrates its 20th anniversary next year as one of the nation's premier baseball stadiums. USA Today has named the venue the best Major League Baseball ballpark in the nation four times — more than any other park in the country. It includes dozens of unique food and beverage vendors, including local brews, gourmet cookies, and Tijuana-style bacon-wrapped hot dogs. The park also hosts concert series and special events, and its prime Downtown location makes attendance a breeze, along with its close proximity to the Gaslamp Quarter and many of the city's most popular restaurants and bars.
Snapdragon Stadium opened in August 2022 and is home to the San Diego Wave FC, the newest team in the National Women's Soccer League. In addition to action-packed matches, the new venue attracts top-tier musical acts, including P!nk's Summer Carnival tour, with special guest Brandi Carlisle (October 3).
The Del Mar Thoroughbred Club brings the excitement of racing to the California coast with a kiss of glamour. Founded by Bing Crosby in 1937, the historic seaside track redefines "a day at the races." This year's fall season runs from November 10 through December 3.

Both recreational and professional players take advantage of San Diego's 72 golf courses with a range of scenic settings. See the world's best compete at the PGA Tour's Farmer's Insurance Open each January at Torrey Pines Golf Course with ocean views.
Outdoor dining under the sun and stars
It would take years to eat through San Diego's outdoor dining venues, but a challenge worth taking on: there's no better way to take in a neighborhood than an al fresco meal.
The city's culinary scene has received national attention from Thrillist Travel and Travel + Leisure as one of the country's best cities for foodies, and with good reason. Plentiful access to local produce and multicultural influences have created unique culinary experiences for every budget, including the emergence of Cali-Baja cuisine, a fusion of food traditions and ingredients from Mexico and the Mediterranean
LGBTQ+-friendly restaurants in Hillcrest and surrounding areas make social dining easily accessible. Trust Restaurant's lively patio and floor-to-ceiling windows set the stage for chef/owner Brad Wise's menu, which features house-smoked meats, grilled vegetables, and garden-driven craft cocktails.
The courtyard and surrounding Spanish architecture at Prado Restaurant at Balboa Park date back to 1915, where chef Jonathan Hale's modern Californian menu draws inspiration from seasonal ingredients and local sourcing.
India Street in Little Italy has more outstanding dining options, where rustic dishes can fuel the next day's adventures. The neighborhood has evolved over the past century but has always retained a deep connection to its culinary roots as part of its cultural heritage. Grab a bite at the Little Italy Food Hall and people-watch at the expansive Piazza della Familigia, a cobblestone open-air piazza with views of San Diego Bay.
But there's more than big bowls of pasta to be found in the neighborhood, including Brian Malarkey's (Top Chef, season 3 and All-Stars season 17) Herb & Wood, which showcases Mediterranean flavors and a wood-fired oven. Cloak & Petal serves creatively named sushi rolls and offers a robust happy hour menu, along with plenty of other budget-friendly finds throughout the city.
To truly understand the impact of the region's farming communities, stroll through one of San Diego's farmers markets. The year-round growing season always showcases something new from the nearly 5,100 farms throughout San Diego County, from fresh fruit to snack on throughout the day's adventures to steaming homemade tamales.

For even more wow factor, plan your travel around the annual San Diego Bay Wine & Food Festival (November 8-12), featuring grand tastings, wine experiences, and a Grand Fiesta, which includes the annual Taco TKO, a battle for the city's best taco.
Outdoor culture & entertainment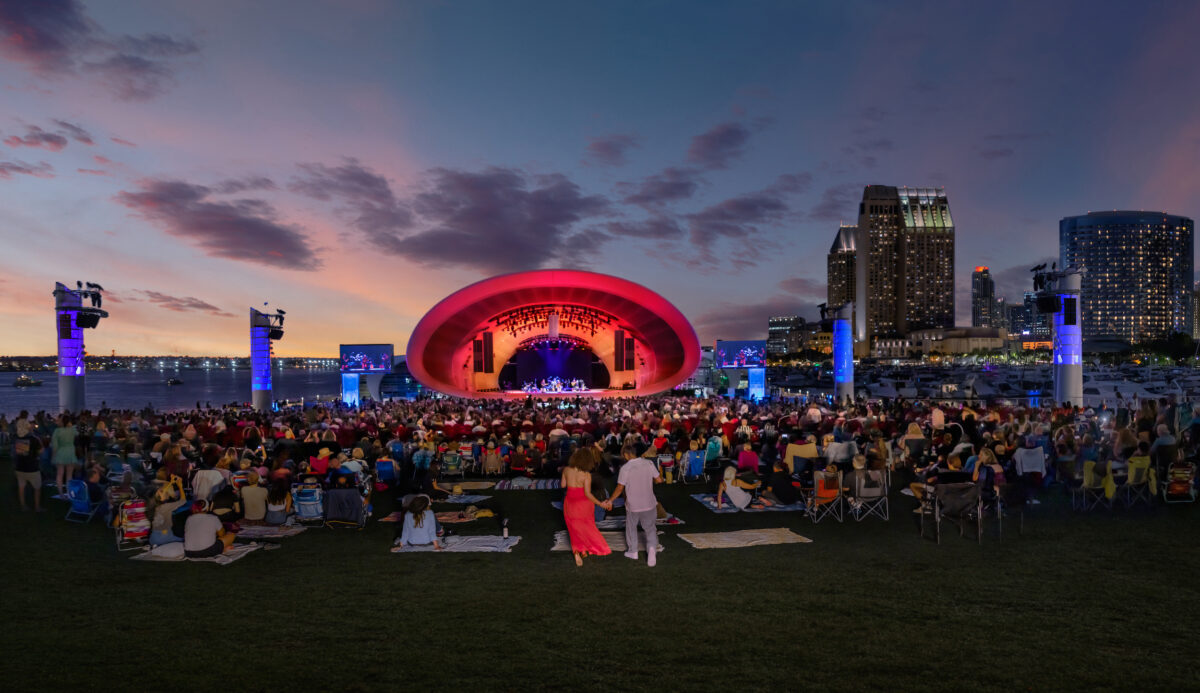 San Diego's arts and culture scene includes award-winning theaters and museums, but one of the city's unique draws is its outdoor venues.
The recently opened Rady Shell at Jacobs Park offers views of the waterfront and skyline. The San Diego Symphony calls The Rady Shell home for its summer season and performs diverse programming from classics to film scores. The event calendar includes can't-miss legends like Pat Benatar and Neil Geraldo (October 4) and our favorite 90s bands, 98º and All-4-One (October 8).
Humphreys Concerts by the Bay on the Point Loma Peninsula presents over 50 concerts throughout the summer and fall, including this season's appearances by powerhouse jazz musician Dave Koz (September 22) and an ABBA tribute concert (September 27).
Exploring local neighborhoods will reveal San Diego's connection to its artistic influences. Public art installations can be seen around the city, adding to the coastline's natural beauty. Highlights include the UC San Diego Stuart Collection, comprised of 18 site-specific sculptures, such as Tim Hawkinson's "Bear," built from 180 tons of rocks. The spherical "Fault Whisper," placed on a shallow section of the Rose Canyon Fault in Fault Line Park in the East Village, may shift ever so slightly with the earth's plates. At the same time, an accelerometer translates that movement into musical notes, perhaps to calm our uncertain future.
Whether on land or sea, dining, drinking, or simply taking in a gorgeous vista, one thing is clear: some of San Diego's best views are from outside.
Ready to discover more about San Diego? Visit sandiego.org/lgbtq
Funded in part with City of San Diego Tourism Marketing District assessment funds.