For a hassle-free vacation where you only have to unpack once while still visiting multiple destinations, nothing beats the appeal of LGBTQ+ cruises. It's been nearly 37 years since RSVP Vacations' first gay cruise set sail from New Orleans. Since then, new industry leaders have emerged, leveraging the power of the gay travel dollar to secure some of the most coveted vessels in the world.
The coming year boasts dozens of itineraries, including large ship charters and more intimate river boats. For those on a budget, sharing an inside cabin is the most affordable way to go, but if you're looking for a smart splurge, plenty of upgrades are availalbe, too. Queer cruising is also a terrific option for solo travelers.
Celebrity's Edge class ships feature concierge-class cabins with infinite-view verandas and 24-hour room service; Virgin Voyages' "Lady Ships" offer "Rock Star" quarters in the spirit of the brand's founder Richard Branson, and river boats like the soon-to-launch Amadeus Nova feature environmentally-conscious technology and modern design touches like drop-down panoramic windows.
GayCities highlights five itineraries for every type of traveler, from the cruising novice to the seasoned sailor.
Related:
VACAYA Caribbean cruise
VACAYA knows how to throw a party. And its experienced team also recognizes that "party" means different things to different people. Whether you're the type of traveler that packs lewks for every party or one who prefers to hang out in the cabaret lounge listening to A-list talent, the V crew has you covered.
VACAYCA continues its partnership with Celebrity Cruises for a Caribbean Cruise (February 17-24, 2024) for a week of wow factor. The itinerary conveniently embarks and disembarks from Fort Lauderdale, with ports of call in San Juan, Saint Croix, and St. John's, with several days at sea to enjoy Celebrity Apex. Part of the Edge series, the vessel boasts 29 bars, restaurants, and lounges, the Magic Carpet (an outward-facing floating platform 13 stories above sea level), and a capacity of more than 2,900 passengers.
Plan on plenty of wardrobe changes — VACAYA is known for its themed parties, including the return of She's a Mess V Dance, where you can sport a mash-up of the week's outfits. More secluded areas of the ship (designed in collaboration with Nate Berkus) provide places to simply unwind, take in the rays, and enjoy the views both on and off the ship.
VACAYA also offers small-ship itineraries to far-reaching destinations like the Galápagos and Antarctica, which sell out quickly.
R Family Vacations OUT in the Tulips! Amsterdam to Brussels
Celebrating its 20th anniversary in 2023, R Family Vacations is best known for its family-friendly LGBTQ+ cruises and land itineraries, and recently added adult-only travel to its offerings. R Family Vacations OUT in the Tulips! Amsterdam to Brussels river cruise (April 14-21, 2024) traverses the Rhine River aboard Uniworld's 1930s-inspired River Queen. The vessel pays homage to the steamships of the era and features Art Deco-inspired interiors.
The full charter begins in Amsterdam, with stops in Schoonhoven, Heusden, Maastricht, Antwerp (known for rising star European fashion designers and diamonds), and Brussels. The destinations offer insights into artist Vincent van Gogh's creative inspiration, while food enthusiasts will appreciate Belgian chocolate, fries, and waffles.
Family travelers can also look forward to R Family Vacation's summer cruise on Celebrity Beyond (July 7-13, 2024).
OUTbound Springtime in Paris cruise
If you're the type who gets queasy even looking at the ocean, a river cruise is a terrific entry point for experiencing the luxury and convenience of traveling by water. And what's more gay than sailing down the Seine with OUTbound founders (and hubbies) Jonathan Bennet and Jaymes Vaughan as your hosts?
Outbound's Springtime in Paris river cruise (April 24-May 1, 2024) offers a curated itinerary for up to 105 passengers aboard the MS Renoir, featuring a "French chic" design inspired by the friendship between Coco Chanel and Auguste Renoir. Stops include the bucolic towns of Vernon, Duclair, Honfleur, and Rouen, bookended by overnights in Paris with plenty of time to discover queer landmarks like LGBTQ+ bookstore Les Mots à la Bouche and high-end shopping at Galleries Lafayette Haussman.
Brand g Prague & Danube River cruise
Brand g's Danube River cruise (August 27 – September 5, 2024) will whisk travelers aboard the brand new Amadeus Nova, a luxury 157-passenger vessel, from Passau to Budapest.
Brand g has been leading queer travelers around the world on LGBTQ+ cruises and land tours since 2011, growing from a two-person operation to a global team of travel enthusiasts, and now offers more than 20 itineraries per year with a focus on bucket list destinations and bespoke experiences.
Brand g's European river adventure begins with two nights in Prague before disembarking from Passau, with stops throughout Austria (including an extended stay in Vienna) and a final hurrah in Budapest, Hungary.
Highlights include guided tours of cultural and historical sites (plus an optional Sound of Music tour to Salzburg), with plenty of time to explore queer life in each port city, such as Vienna's upscale martini bar Felixx or Budapest's local hangout Habroló Café & Bar.
Two Bad Tourists Spain, France & Italy cruise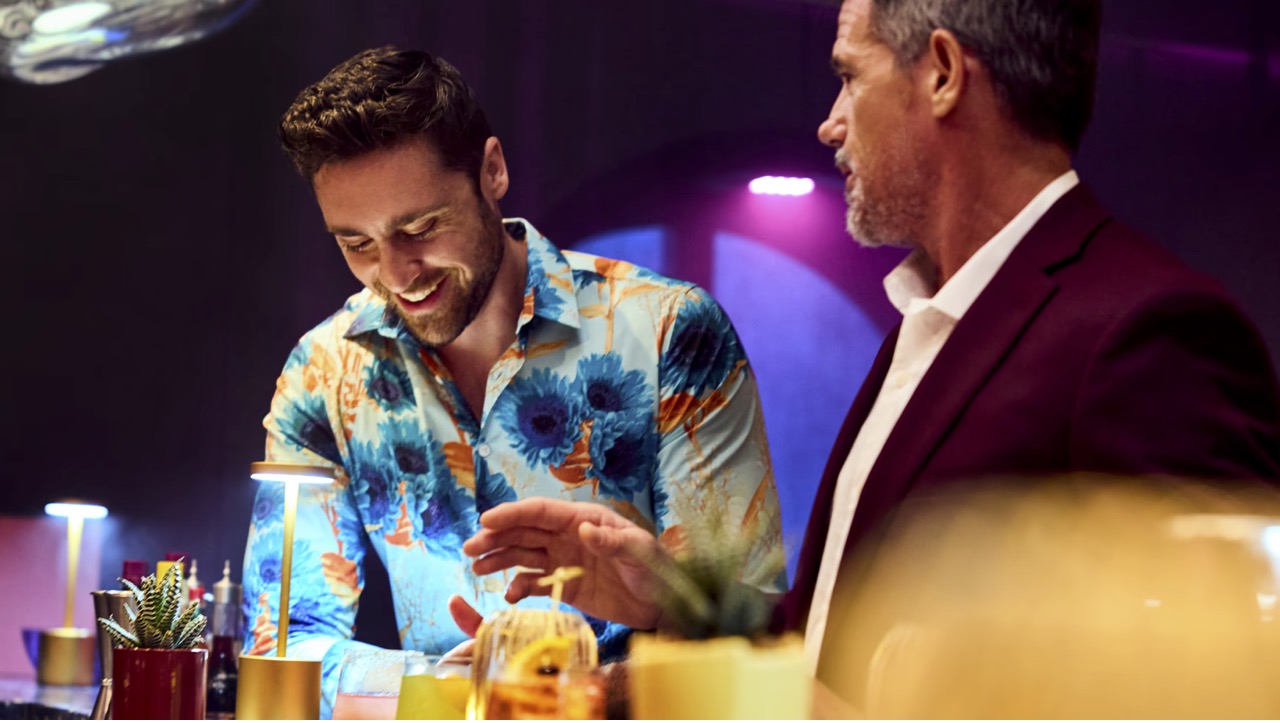 Gay travel influencers David Brown and Auston Matta have been inspiring queer travelers for over a decade as Two Bad Tourists. More recently, the pair has added group travel like LGBTQ+ cruises to their offerings, drawing on their experiences from visits to more than 60 countries.
David and Auston will host a seven-day cruise aboard Virgin Voyages' inaugural ship Scarlet Lady (October 20-27, 2024). Beginning and ending in Barcelona and with ports of call in Toulon, Marina di Carrara, Ajaccio, and a final hurrah in Ibiza, the itinerary offers plenty of time to the gems of southern Europe while also experiencing onboard amenities.
By design, Virgin Voyages adult-only sailings feel grown-up in every way, from menus designed by Michelin-starred chefs to an onboard tattoo parlor. Two Bad Tourists' small group drops a queer anchor for those who also enjoy mingling among allies and like-minded travelers.
Related: