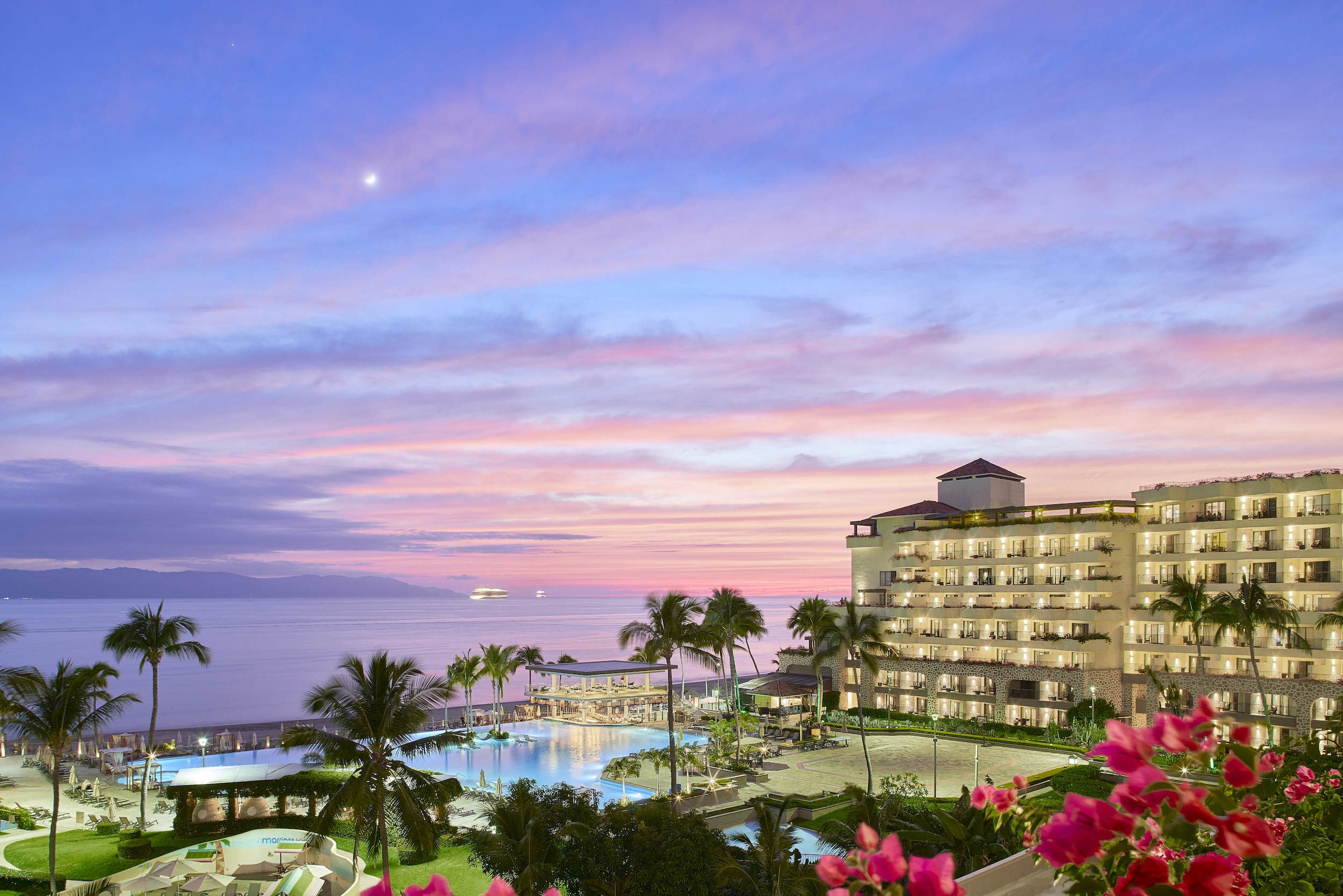 When it comes to queer-friendly experiences in Mexico, Puerto Vallarta reigns as one of the most welcoming destinations for LGBTQ+ travelers heading south of the border. And no matter one's gender or sexual orientation, the Marriott Puerto Vallarta Resort & Spa excels at catering to each guest's unique desires. From sipping Casamagna tequila by an infinity pool or playing a few rounds of pickleball to indulging in a relaxing massage at the Ohtli spa or supping at one of the resort's diverse dining options.
"This place has a restaurant for everyone," explained Roberto Gómez, the Multi-Property Marketing Manager for the Marriott PV as we sat in the resort's open-air atrium. At the table next to us, a trio of American tourists sips on Pacificos, and we can hear the ambient sound of gentle splashing in the nearby infinity pool. To the right of the pool stands Nosh, a two-tiered eatery featuring a raw bar which is ideal for watching the breathtaking Puerto Vallarta sunset. To its left resides Las Casitas, which specializes in traditional Mexican cuisine. These are just two of the resort's eight dining destinations, which also include Champions sports bar and Mikado, an Asian-fusion restaurant. Each caters to different appetites.
"Look at Las Casitas to have a taste of Mexico," Roberto continued. "Go to Champions to get a burger and the best wings in Puerto Vallarta. If you're with your family, definitely go to Mikado because kids love the teppanyaki show." (For those unfamiliar with teppanyaki, it's a Benihana-like experience featuring a wok-like grill built into the table where the meal is cooked in front of you.) For queer couples, the safe space created by Marritott PV is ideal for LGBTQ+ date nights.
"If you're a couple, you need to go to Mikado for a sushi date night. What gets better than that?" said Roberto, adding "They need to go to Nosh to see the sunset and get some specialty drinks."
Roberto's mention of cocktails touches on another defining feature of the resort: its signature tequila Casamagna. Blue agave, from which tequila is distilled, is native to Puerto Vallarta's state Jalisco. In fact, before it was rebranded, this resort was named Casamagna.
"Whenever an American or someone from any part of the world comes to the Marriott, they know they're coming to Mexico, the home of tequila," said Roberto. "They will see agaves as soon as they walk in."
For those interested in learning more about Marriott PV's iconic spirit, the resort offers a tequila-tasting experience hosted by professional tequilier Audry Formisano. Catering to simply a single couple, a group of 250 people, and everything in between, Formisiano guides tequila-neophytes through the differences between anejo, blanco, and reposado varieties. Of these options, Roberto prefers the last.
"Blanco is strong," he said. "It's not for sipping or drinking it straight. Anejo is too strong for me. Reposado is smoother and softer to my mouth. So, I think my tequila of choice would be reposado."
After indulging in the Marriott PV's decadent cuisine and cocktails, some may wish to work off those vacation calories at one of the resort's many athletic venues, which include a gym, a golf course, and tennis courts. And for those who partake in the nascent sport of pickleball, they have courts for that as well.
"Pickleball has been a big thing lately," observed Roberto. "It's getting big in Mexico and in the US."
After working up a sweat, you'll probably want to pamper those sore muscles at the Ohtli spa. Treatments offered include Thai massage, Jantzu rebirth therapy, and fire opal balance stone therapy. This too is an ideal date activity for couples traveling together.
"We have a couple's therapy, and a special spa place for couples so you can do a date in the jacuzzi. And you can book a package that has sparkling wine and chocolate-covered strawberries. That's a really cool package."
So whether you spend your days sunbathing by the pool, working up a sweat on the golf course, or munching on tapas while enjoying the sunset, the Marriott Puerto Vallarta aims to satisfy all your appetites, both figuratively, and literally.
Related: