"The family is back together again, and we're looking good," RuPaul told the crowd while cutting a pink ribbon to open the DragCon convention floor. "This is really a labor of love for us, and we've been gone for a few years now, but we are back, back, back, again."
Following a two-year, in-person hiatus due to the pandemic, RuPaul's DragCon famously and fabulously returned to Los Angeles last weekend with all the flair, style, and fierceness you'd expect.
Drag queens and fans alike took to the pink carpet to show off their carefully crafted outfits for the convention.
DragCon lewks that make us say WOW
Crystal Methyd is a sparkling gem that shines.
Tynomi Banks blooms with confidence.
Olivia Lux is looking lucious.
Just a quick snip: The Vivienne, RuPaul and Trinity The Tuck do the honors.
Booty everywhere…Michelle Livigne and Lola Chaos Pop are ready to twerk.
Latrice Royale: flush with beauty.
No minion here: Jaidynn Diore Fierce is a powerful queen.
Dusty Ray Bottoms serves up a bit of attitude.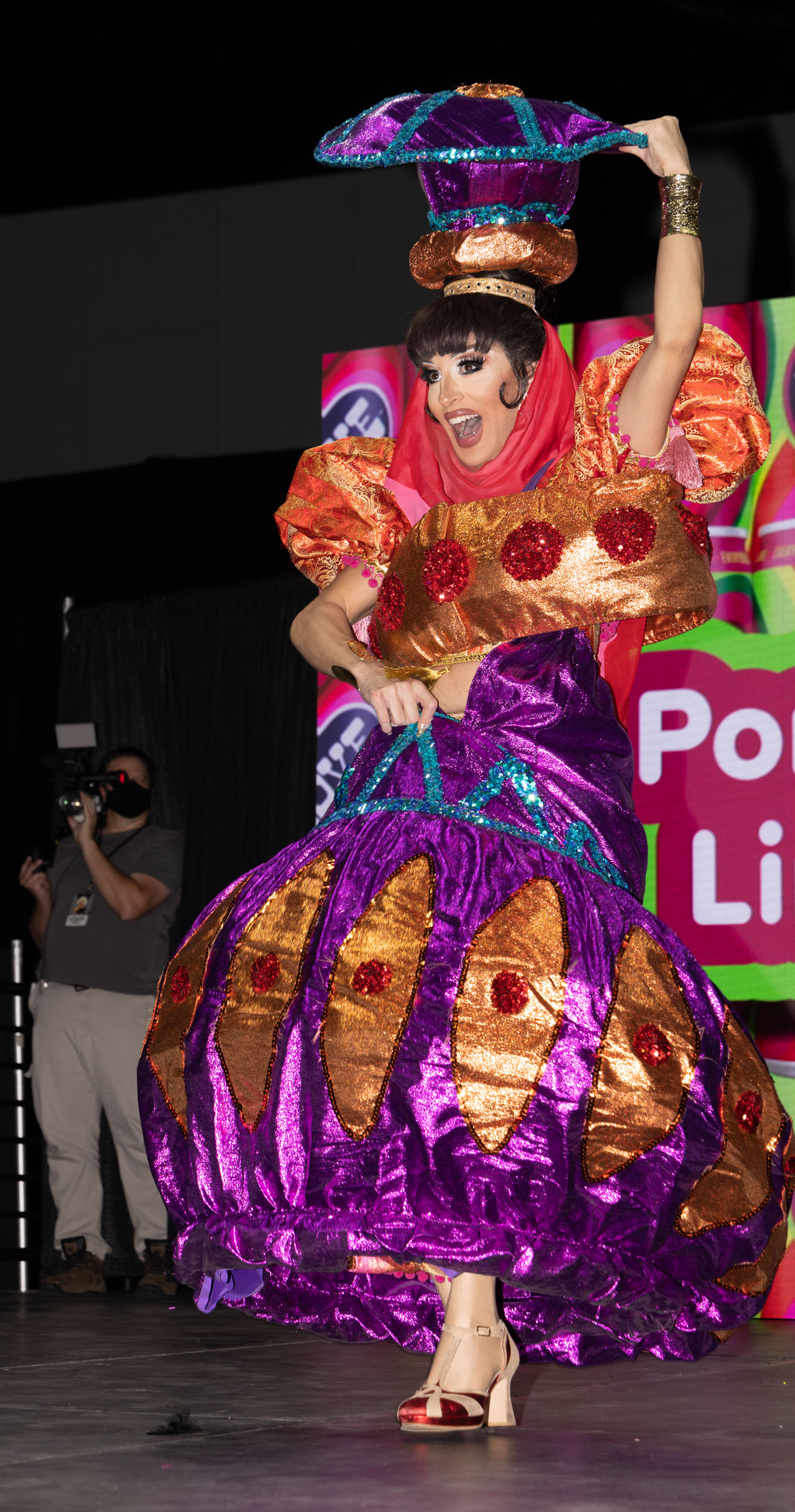 Looking like a superhero…it's Gia Metric.
Every time a bell rings Kerri Colby gets her wings.
"Where am I??" Queerty's Jake (aka Willow Jake), asks himself.
Who wore it better???
We're a fan of this look, are you?
Neon demon coming through mama!
A delicious devil and an ethereal angel…only at DragCon.
We're just gonna say it: they need to start a band.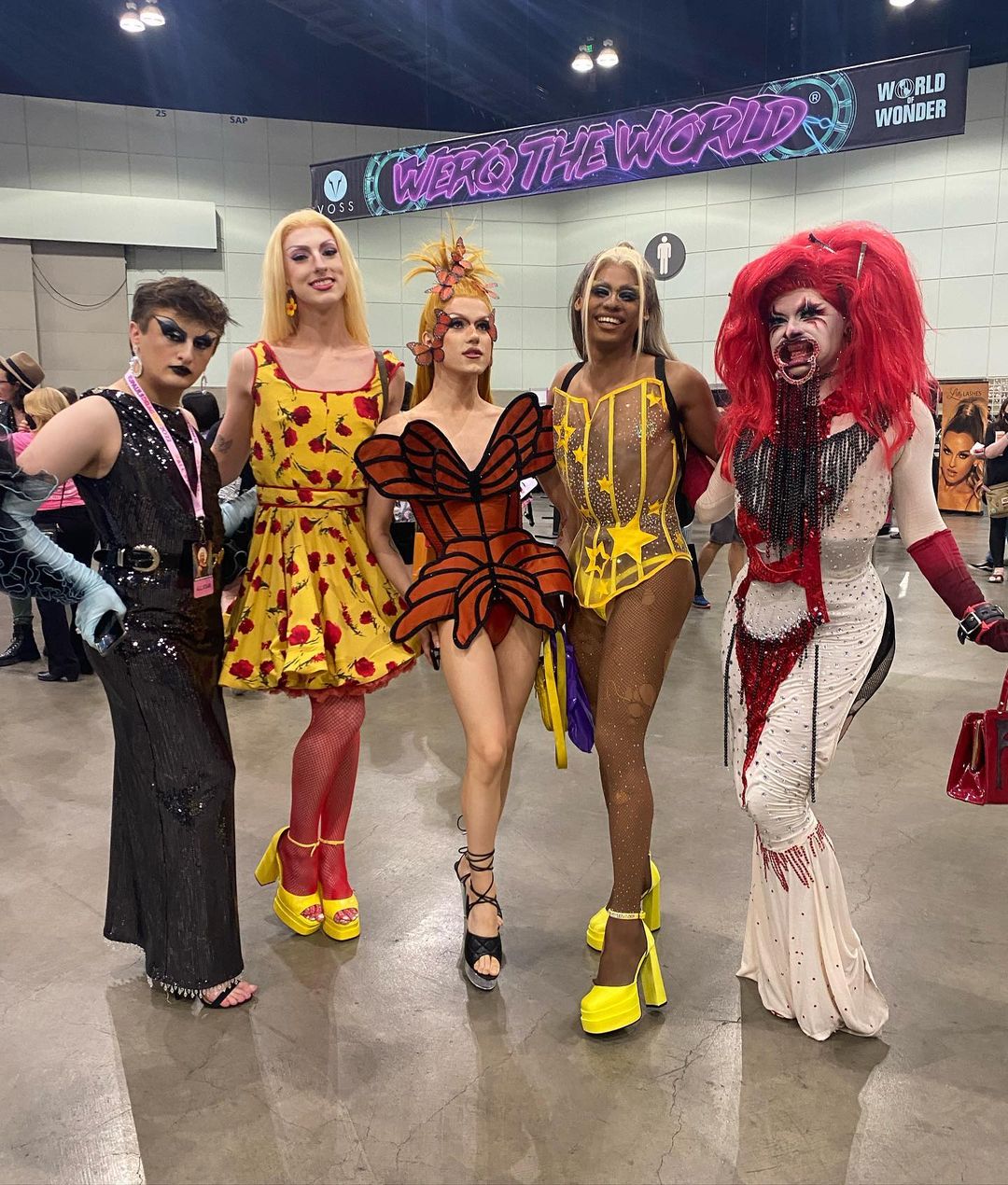 Express yourself with your squad.
No need to strut you're stuff on Hollywood Boulevard, just come to DragCon!
Royalty never looked so fierce.
BFFs getting their picture taken on the pink carpet.
Category is: Bridgerton
The art of drag truly brings families together!
Like a fairy princess, Jessica Wild dazzles.
Jaymes Mansfield poses with Mrs. and Mr. Kasha Davis
Hey mister…or is it master?
Work that body!
According to RuPaul's production company, World of Wonder, more than 50,000 fans and 150 drag queens attended the three-day convention, which was held at the Los Angeles Convention Center. And with five seasons of RuPaul's Drag Race airing since the last DragCon event in 2019, there were plenty of new "Ru Girls" for fans to meet and gawk over. That included stars of RuPaul's Drag Race seasons 12, 13, and All Stars 6 and some international queens who appeared on the U.K. versions of the show.
RuPaul's DragCon empire
RuPaul launched the family-friendly event in 2015 as a way to thank Drag Race fans and give them the opportunity to meet the stars of the hit television show.
This year, the convention floor was packed with LGBTQ+ vendors and exhibitors, and booths offering giveaways. But the main attraction was the queens themselves. And they came dressed to impress. The drag stars were all dolled up in brightly colored gowns, sparkling sequin dresses, feathers, boas and so much more as they mingled with attendees and had their photos snapped with eager fans.
RELATED – PHOTOS: Check out the new queens starring in 'Drag Race Live' Las Vegas
All photos courtesy of Jake Thompson and Photo Larry.