West Hollywood almost experienced a devastating loss last week, when Lady Gaga made headlines by taking a spill after dining at Pump, the glam garden restaurant governed by Lisa Vanderpump of Real Housewives fame.
Fortunately a crisis was averted, and Gaga climbed into her car and circumvented the catastrophic clutches of California curbs without calamity.
Just a few days later, however, all was the picture of poise and perfection at Pump when another pop diva popped by.
That diva, drum roll please, was Willam Belli.
Recording artist, comedian, force of nature — Willam is an empire, fetching millions of fans with her YouTube videos, her iTunes channel, and her concerts around the U.S., Europe, Asia, and Australia.
She's a classy girl.
But behind all the poise and panache, Willam is simply a hard-working Los Angeles industry gal, tirelessly striving to please her fans. So when she has a rare break in her busy schedule, she jumps at the chance to glam it up and have some fun.
Pump is a lovely place, with tables tucked in amongst the trees in the garden.
Willam certainly enjoys such beautiful surroundings. Speaking of beauty, look how she blushes at Constantine, her server.
Because this is L.A., Constantine can be followed on his Instagram account, instagram.com/constantinerousouli. So what looks good, Constantine? Besides you, of course.
Constantine recommends the house-brand sangria.
Willam likes the fresh fruit that is served with the sangria. She stuck her finger in the bottom and lost a nail. Oops! It certainly wasn't the first time she's lost a nail that way!

Willam is always a model of ladylike composure. But don't fill up on fruit, Willam. We're just getting started.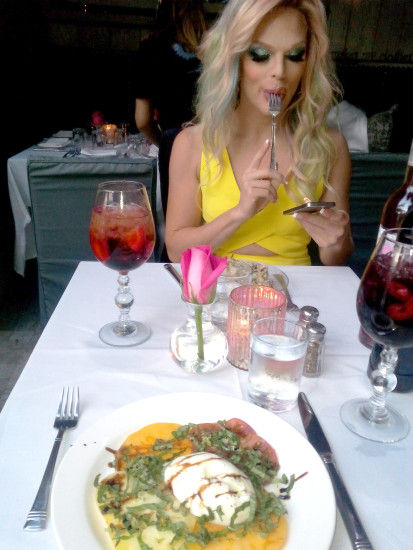 Willam is a girl on the go, so needs to check in with her team from time to time. Put down your phone, the first course has arrived! The fresh tomato salad topped with buratta and basil sure looks good, but Willam enjoys the simple pleasures. Tonight she just wants to nibble on a bit of warm potato salad and suck the mustard sauce off the fork.
Willam knows how important it is to watch her girlish figure, so for her main course she orders a delicious salad. But she can't resist the sight of that delicious English favorite, fish and chips. Okay, just one chip, naughty girl.
Willam skips desert, and with a kiss-kiss she's off to her next engagement. Who will we see at Pump next? One never knows. Until then, enjoy the other sights on staff at Pump:
Pump is located at 8948 Santa Monica Blvd, West Hollywood, at the corner of N. Robertson Blvd.

See the full GayCities guide to Los Angeles