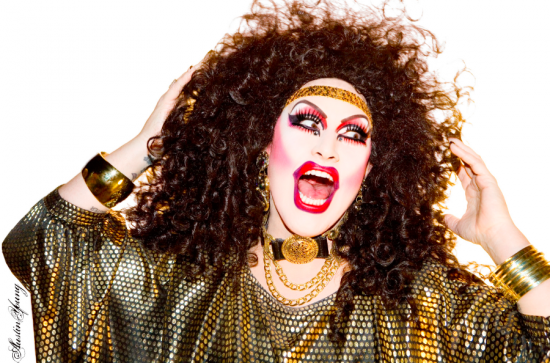 What's your take on the Facebook drag names debacle?
I am so proud of Roma, Heckles and Lil Ms. Hot Mess for standing up to Facebook like they did! And I feel like maybe I was a small part of making Facebook rethink their stance, too. Everyone was asking me, "What are you going to do? Are you freaking out?" I thought, this is a f*cking social media site, not cancer. Scared? So I changed my photo to a meme that said NOT MY REAL NAME and my cover photo to one that said DEAR FACEBOOK, GO BOTHER STEFANI GERMANOTTA! I also constantly posted about how we should all be fearless, that Facebook was being arrogant and I had just one word for them: "MySpace." I feel like I helped rally the troops in a small way by threatening a mass exodus. Power to the people!
What do you think of Ru Paul and her queens? Any favorites for upcoming Season 7?
I watch and enjoy the show, but as a working drag queen who has been doing this for 25 years now, AND who is always trying to book gigs, I really don't appreciate 80 or 90 queens — who are "famous" just because they've been on TV — taking work away from me! Look, anything I say will be interpreted as sour grapes from some bitter old bitch, so I will just say this: Sometimes it's hard being more talented than famous. Oh, and just for the record, I am very proud to be a bitter old bitch!
What's your favorite place in San Francisco?
I love this cheap little Mexican restaurant that Heklina always takes me to called Pancho Villa. She must take every visiting drag queen there for the amazing food because Lady Bunny is obsessed with it, too! I think Heklina even picked up the check the last time we went there, so you know it's really, really, REALLY cheap!
What is your favorite thing to do in San Francisco?
Oh how I wish I could honestly answer this question with "have hot sex!" But sadly, it's pretty much the same thing as any other city I visit: I get to spend quality time with a few friends I haven't seen in awhile and go thrift store shopping.
We hear you'll be in San Francisco for Project Inform's Evening of Hope. Why are you coming out for this event in particular?
To me, the name says it all: INFORM! It is so important to be informed and educated. There are so many confusing messages out there regarding exciting advances in medications and safer sex — what to do, what not to do. It's our duty to make sure that everyone — especially the younger generations — know the latest information. And the most important message to get out there is that despite amazing strides and groundbreaking advances THIS FIGHT IS NOT OVER! It's so important that we do not mince words or be afraid to get that message out. Sometimes I'm afraid that we are being so careful and so PC that we will walk on eggshells… right over a cliff.
What are you looking forward to most about this event?
Where do I start? The DJ's, the fashions… And as a big girl, I'm looking forward to some f*cking fierce appetizers! For all my talk of education and enlightenment, I do love me a fabulous party, honey. Especially one with its heart in the right place.
Click here to purchase tickets to see the queen herself at Project Inform's Evening of Hope on October 25.
More exclusive interviews with Jackie Beat.