Wilton Manors is the LGBT capital of Florida. After the US Census in 2010, the city was deemed the second largest gay city in the United States. Last year over 1.3 million LGBT visitors traveled to the greater Fort Lauderdale area. 
During the day, the Gayborhood is a bustling LGBT business center; home to the International Gay and Lesbian Travel Association (IGLTA), the Stonewall National Museum & Archives' new Wilton Manors Gallery, and the Pride Center at Equality Park.
Once the sun sets, the boys pull off the business attire and into something, well, more comfortable to enjoy this jewel of Florida nightlife. Major events on the gay calendar include PrideFest, BeachBear Weekend, Stonewall Parade & Street Festival, and the Wicked Manors Halloween celebration. But there's plenty of action the rest of the year.
Check out five Wilton Manners hot spots… 
Rosie's Bar and Grill is the place to people watch and grab a bite before diving deeper into the scene. It is home to the seven-day happy hour and a menu with items such "Great Balls of Fire," "Ivana Hooker" burgers, and "Pisa Envy." Rosie's is a lesbian hangout, making it an ideal spot to meet friends for a bite and a few drinks on the outdoor patio but maybe not so much cruising. There's plenty of time for that.
This hot new cocktail lounge is swanky, upscale, and well worth a visit. Located conveniently in the middle of Wilton Drive, Infinity focuses on specialty cocktails and martinis and 2-4-1 happy hours throughout the week. Resident mixologists Omar and Michael pour delicious cocktails like Kentucky Sweet Tea, peach margaritas, and spicy mango martinis with fresh jalapeños for tourists and locals alike. Infinity is an alternative to the wild and crazy nightlife scene; definitely a more Zen vibe to sip cocktails and hang out with friends. 
3. The Manor
Modeled after The Abbey in West Hollywood, the manor is a multi-level 16,000 square foot complex. Basically, the ultimate night out. The club combines vintage style with cosmopolitan sophistication, luring guys not just from across Florida but from every corner of the world.
Recent guests include DJ Manny Lehman, Deborah Cox, and Bianca Del Rio. Crowds flock to the dance floor to live it up beneath crystal chandeliers, cause trouble on the outside arcade, and clink glasses in the lush VIP room. Weekly events include Bubble Gum Fridays and Epic Saturdays with "Hot Latin Go-Go Papis".
4. Hunter's
When the owners of Hunter's Nightclub Palm Springs and Chicago decided to open a Wilton Manors version, it didn't take long before the formula took hold. The establishment features a dance floor, karaoke, happy hours, and guest performances by drag superstars like Latrice Royale.
Weekly events include Cabaret Wednesdays with songstress Debra Hampton, Fourplay/Fireball Thursdays, and Fur Fridays. In the mood to get down? Every Sunday Hunters is a throwback to Studio 54 with the T-Dance to end all T-Dances.
Boots made for walking? Cowboys take to the dance floor every night of the week at Scandal's Saloon. No worries if you're a newbie–dance classes are offered Mondays through Thursdays starting at 7pm. Drinks are cheap and strong at Scandal's, and things get feisty during the daily happy hour (every day until 9pm and all day on Sundays). Poker Peter hosts Texas Hold'em every Wednesday night, Ricky and Andy host Karaoke night on Fridays, and DJ Katastrophy spins a special Patio Remix every Saturday night while The Lady Fancy Show lures the boys and gurls to The Stable.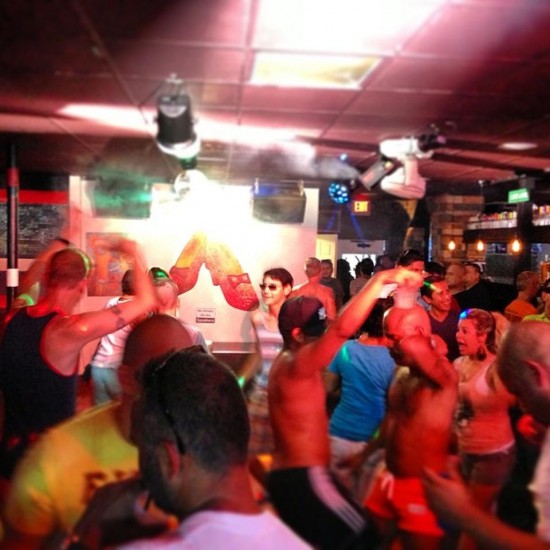 6. Village Pub
Village Pub is a popular home away from home for many in Wilton Manors. This relaxing bar has something for everyone including an 11am-9pm happy hour from Monday through Saturday. The 400-square-foot dance floor provides a workout for those in need of shaking like a polaroid picture. Regulars hang out while knocking back cheap drinks or flirting on the back patio.
Performers such as Lady Bunny, Phil Barnes, Cynthia Manley, and Christopher Peterson have made appearances. Weekly events include Dragicide Mondays, Show Tune Tuesdays, Karaoke Wednesdays, NRG High Energy Thursdays.