Looking for the ideal place to gay it up across the pond this year? As one of Europe's most famous and popular Pride cities (and even having hosted the continent-wide Europride in 2003), the northern U.K. city of Manchester draws tens of thousands of people each year to its sizzling lineup of late August events, and in the process raises tens of thousands of pounds for local LGBT charities. Here are picks for the top 10 things that make Manchester Pride so bloody special.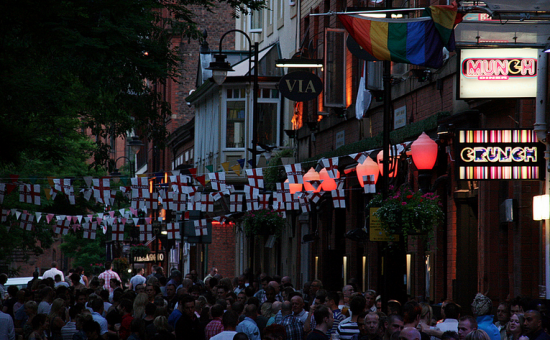 The setting
Manchester's Gay Village is one of Britain's most homo-fied neighborhoods year-round — it even served as the TV backdrop for the original U.K. version of Queer as Folk. Some 40 LGBT venues are here (mostly clustered in the blocks fanning outward from the corner of Canal and Sackville Streets), and during Pride the Village turns into an especially jam-packed gay wonderland.
The crowd
You may not always be able to quickly understand their thick northern accents, but Mancunians are some of the friendliest and cutest folk you'll find in all of Britain, and they're never timid about cutting loose and having a good time.
The shows
Manchester Pride's four-day Big Weekend always features a nightly roster of stellar open-air performances, which in past years has included Gossip, Kelis, Sam Sparro, The Feeling, Boy George and Human League, just to name a few.
The parties
Most of the Village's diverse venues do away with cover charges during the Big Weekend, meaning that for the price of your weekend-long Pride wristband (£22 this year, or about $37), you can wander (or stumble) from ritzy cocktail lounge to raunchy cruise den and everywhere in between without paying a new entrance fee every time.
The dates
With its end of August timing (this year August 22 to 25), Manchester Pride doesn't conflict with many other Pride events around the world, making it a great way to wrap up the summer with a supergay European extravaganza.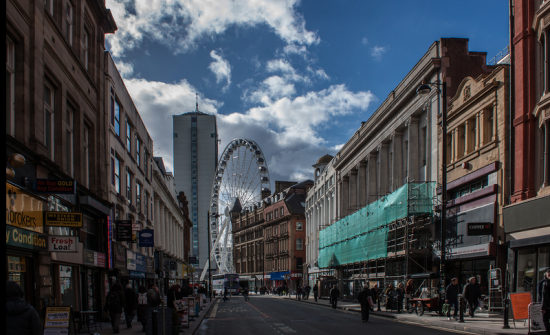 The City
Aside from Pride, Manchester has loads on offer for visitors. Its legendary music scene has spawned artists like The Smiths, New Order and Oasis, and its dining landscape has recently become one of the most talked about in England. King Street is lined with upscale shopping outlets, while funkier options can be be found in the hip Northern Quarter.
The History
Manchester is one of the few cities in the world to openly embrace its illustrious gay past— as the one-time home to Alan Turing, World War II codebreaker and the father of modern computing. You'll find a bench-sitting bronze statue of Turing right at the heart of the Village in Sackville Park.
The Parade
Tens of thousands of locals — gay and straight alike — come out to cheer on Saturday's Manchester Pride Parade, which winds through the center of the city before pouring out into The Village. Perennial crowd favorites are the SLUTS, faux grumpy drag biddies from the Salford Ladies United Temperance Society who chastise gleeful onlookers with signs like "Gay sex gives me the willies!" A-list celebs such as Sir Ian McKellen have served as grand marshal in years past.
The Fringe
Born during Europride in 2003, Pride Fringe is an accompanying program of arts and cultural events that's expanded from ten days to now span the full month of August. Each year about 40 Fringe events happen across Greater Manchester.
The Vigil
As the weekend's fun draws to a close, Mancunians gather together in Sackville Park to remember those lost to HIV/AIDS with a powerfully moving Monday evening candlelight vigil. Not an eye is left dry.
Photo credits: Manchester Pride, Flickr